Short Bytes: A professional overclocker named Allen "Splave" Golibersuch has been able to overclock a 7th Generation Intel Core i7 7700K processor to a clock frequency of 7022.93 MHz. He disabled HyperThreading technology and two physical cores of the CPU.
T
he 7th generation Intel Core processors – based on the 14nm architecture called Kaby Lake – promise
4K out of the box
. Intel announced the processors a couple of months ago, and it's highly likely for desperate overclockers to test the real potential of these next-generation CPU's.
A yet-to-be-launched Intel Core i7 7700K desktop processor was put on the test bed by overclocker Allen "Splave" Golibersuch for the Russia-based website OCLabs. He bumped the CPU clock frequency to a staggering 7GHz after combining it with an ASRock Z170 OC Formula motherboard and using liquid nitrogen as a coolant.
For the processor, having a base-clock of 101.78 MHz, a multiple of 69x was applied to push the CPU past the 7GHz milestone and achieve a clock frequency of 7022.96 Mhz.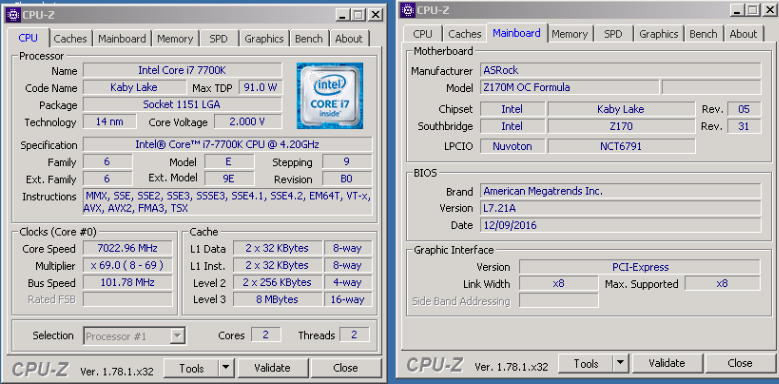 Splave kicked out a bunch of key features. He disabled Hyperthreading and two cores of the quad-core i7 7700K. He set the Vcore voltage to 2V, which is around 1.2V depending on the processor.
Regarding benchmarks, the overclocked CPU was a breeze. With the overclocked speed, the CPU is currently a world record holder for the SuperPi 32m benchmark with 4m 20 sec calculation time. SuperPi asks the CPU to calculate the value of Pi to a particular number of digits. The CPU ended up with 2.953 seconds for wPrime 32M and 1m 33.171 sec for wPrime 1024M.
If you have something to add, tell us in the comments below.
Also Read: Amazon Echo Might Solve A Murder Mystery For The First Time