Google Now vs Google Feed — What are new features?
In June 2012, at I/O conference, Google launched Google Now with much fanfare. It was pushed to compete with Apple's digital assistant Siri and provide contextually relevant information. I, personally, was a big fan of Google Now and its information cards that even informed me the current location of Amazon packages.
Earlier this year in July, Google decided to kill the Google Now brand. But, that doesn't mean you're going to miss all those features; it has now been replaced with Google Feed. The glimpse of Feed was seen in late 2016 when news stories were added as a part of Google Now. With the complete rollout of Google Feed, the users have got more control over what they can read about in Feed.
Now, right from the search results, one can choose which topics to follow. In some cases, you'll see a new Follow button, which can be used to add topics to your Feed. After that, based on your search history and engagement with Google products, you'll be served news stories. Right from the Feed, you can unfollow the topics. Further, in the article, I'll tell you how to use Google Feed and its different features.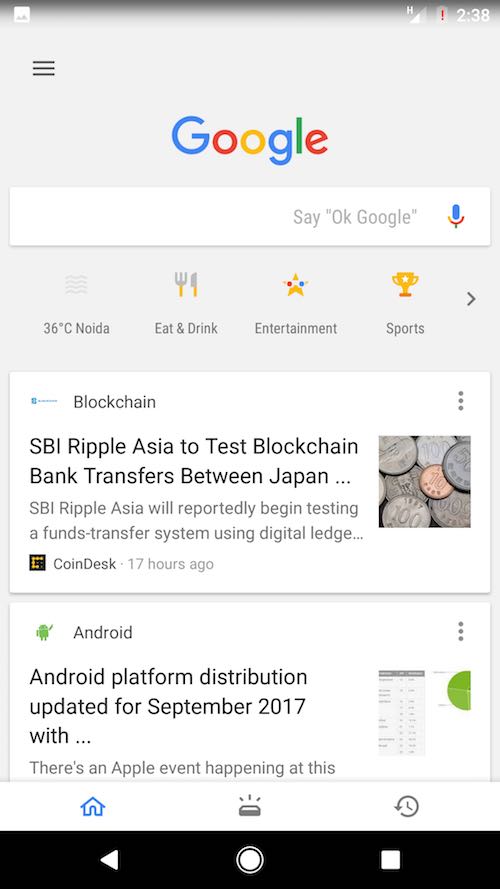 Unlike stories in Google Now, Feed also captures your interaction level with a particular topic. If you've added traveling as your interest and you end up searching about beaches more, you'll get stories related to beaches more often; the stories related to hills won't get much push.
Can Google Feed replace your Facebook needs?
This is a tricky question for most of us. But, if you're using Facebook often for getting regular news updates, Google Feed can take care of things. According to the latest data, more and more users get their daily chunk of news from Facebook. Google Feed is pretty helpful for users whose daily consumption of news outweighs memes and pictures shared by friends. It provides a cleaner experience and saves you from the unending wrath of Facebook's video push.
How to use Google Feed and customize it?
To use Google Feed, you need to have Google App installed on your Android and iOS devices; make sure that the app is up-to-date. To add a new topic, you have to first search it in the app. For example, on my iOS device, I searched for Robert De Niro in Google app. You can spot the Follow button.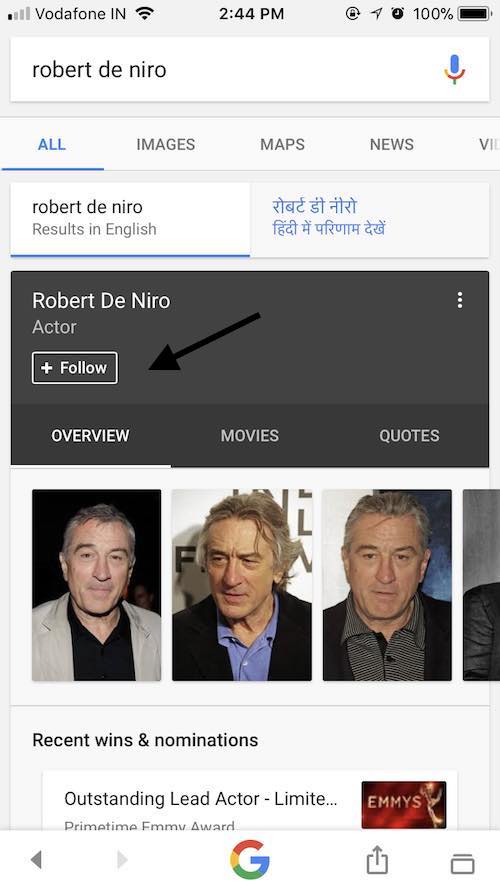 As you tap the Follow button, you'll see a little popup at the bottom telling that you'll get related updates in your Feed.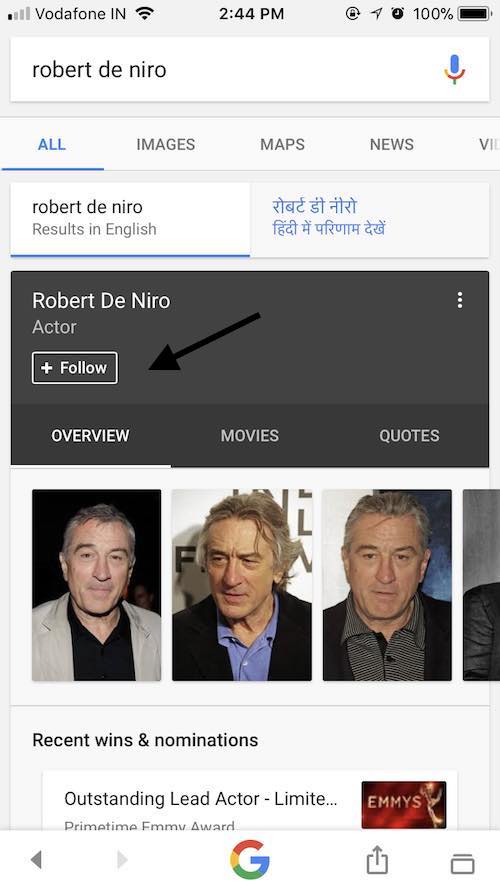 In case of Android, the Follow button and popup looks like this: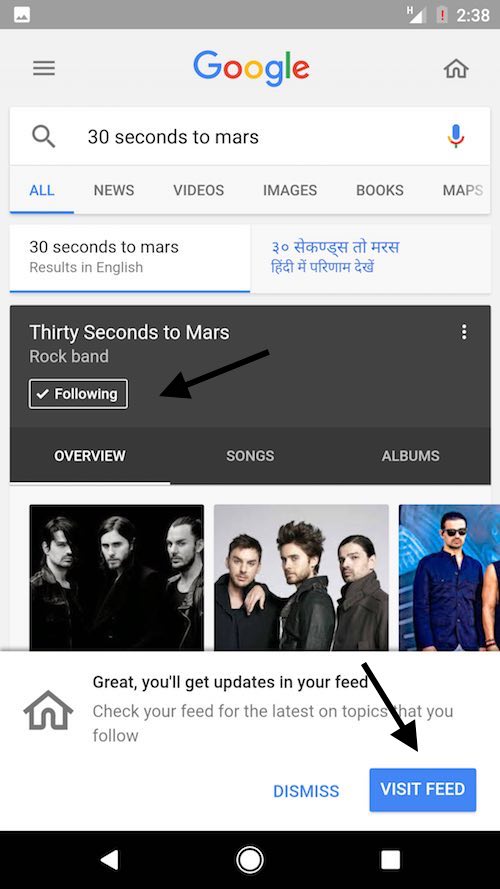 Now, after adding different topics, let's check things out and learn how to use Google Feed. Below the search box in Google App, you can see the stories listed in your feed. Now comes the customization part. To see different customization option, click on the three-dots at the top right corner of a card. It'll show different options as shown below.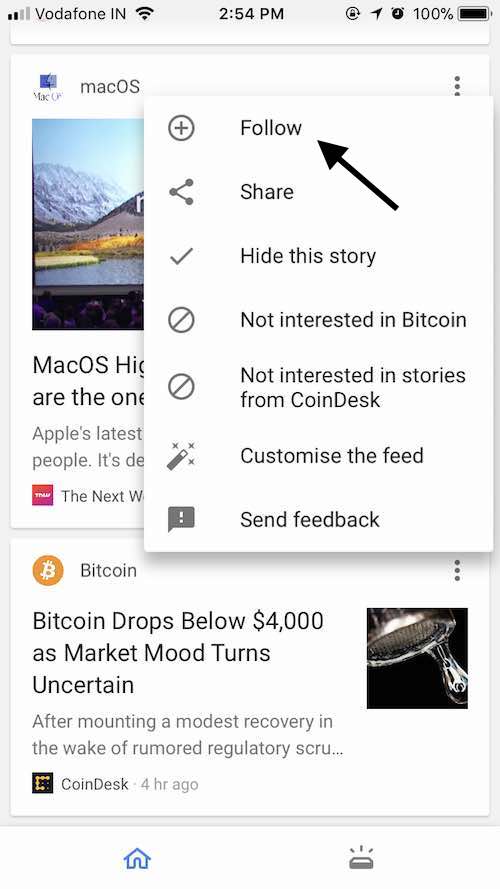 If you haven't followed a topic, you can do so by tapping on the Follow button. If you're already following that topic, you can unfollow as well from the same card. You can also tell Google that you're not interested in a particular topic/source and it shouldn't show you related stories. If you don't wish to unfollow a topic and you just don't wish to see a particular story, you can tap the Hide this story option.
Google Feed also takes care of sharing as well. From the same popup, you can tap the Share icon and it'll show different available options using which you can let others know about a news item.
To get a better control over Google Feed, you have to click "Customize the feed" option from the popup. In Android, this option is labeled as Customize stories. From there, you can see different categories for topics. You can also add topics from here as well.
At the end of the Feed, there's an option to read More stories. It shows more stories based on your interest.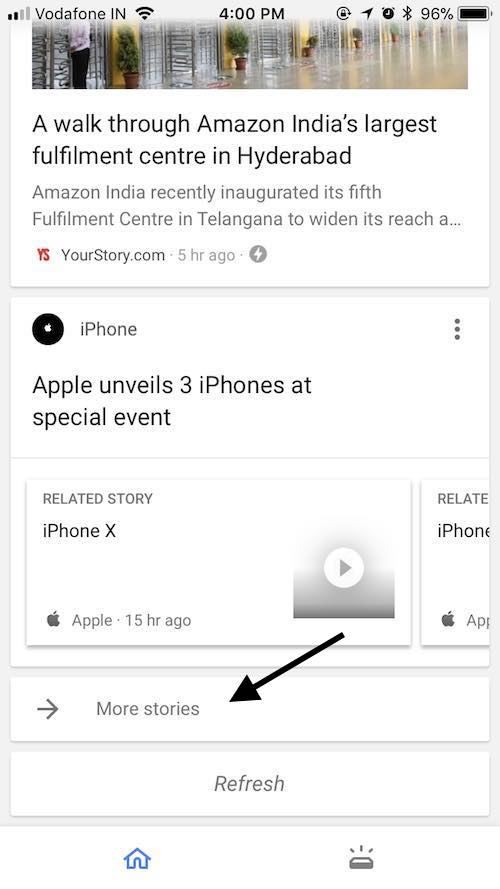 Just in case you are liking Google Feed and you wish to go the normal Google App with just search functionality, you can turn it off. In iOS, tap the profile icon at the top of the Google and go to feed option and turn it off. In Android, you need to navigate to Settings > Your Feed > Feed.
You can add your topics of interest to Google Feed and give it a try. Don't forget to share your feedback with us regarding this article on how to use Google Feed.