If you've also updated your iPhone to the latest iOS 14.3, chances are that you've lost all or some third-party widgets. Now if your widgets are gone from the home screen, you won't find them in the widgets menu either. We lost widgets in the iPhone 12 Mini, iPhone 11, and the iPhone SE (first-gen). Our iPhone X did not encounter the issue.
iOS Widgets Deleted
Last night, I updated my iPhone 12 Mini with iOS 14.3. When the update was finished, I noticed my Spotify and IMDb widgets were gone. I had a smart stack that showed Spotify and the weather. The weather widget was there, but Spotify was gone and couldn't be found in the widgets menu either. Same with IMDb, YouTube Music, and WhatsApp.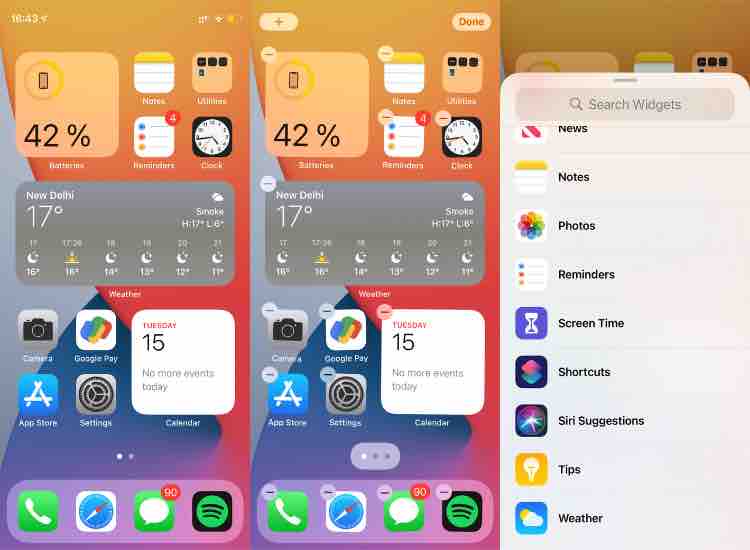 Also Read: How To Use iPhone Widgets: Best iOS 14 Widgets You Can Get
After due resets and asking around, I figured that 5 iPhone users in my knowledge were also facing this issue. The good news is that it's fixable. Here's how to restore deleted widgets on iPhone.
How To Restore Deleted Widgets On iPhone?
To restore a widget, you'll have to delete and reinstall the app whose widget you were using. Make sure you take a backup in case it's WhatsApp or any other application that might have precious data. Here, I'm using Spotify to show the method.
Uninstall App

To uninstall an app, long-press the app icon > Delete App > Delete. If you're uninstalling an app from the home screen, long-press on the app icon > Remove App > Delete App > Delete.


Reinstall From App Store

Now open the App Store, search and reinstall the app you deleted.


Check And Restore Widget

Go to your home screen and enter Jiggle Mode (long-press on blank space) > Tap on the '+' icon and you'll see the app you reinstalled in the menu. Tap on it and choose the widget you want to restore.