The internet is rife with VPNs and therefore it becomes important to choose one wisely. If you are in the market for a VPN service provider, chances are you might get befuddled by the sheer number of options available out there. While you can choose from the best VPNs that are rated highly amongst frequent users, there are other lesser-known options as well that could help you hide your digital footprint.
One such VPN is Hola VPN, which has received notorious reviews for its free version, and rightly so. If you are considering Hola VPN, we have all covered all the points that you must consider before investing your money in it. We used the VPN thoroughly, conducted speed tests, read through privacy policies, and also tried unblocking geo-restricted websites.
Here is our comprehensive review of Hola VPN.
Let's start with the basics.
Hola VPN: How Does It Work?
Before we jump into details, you must know that Hola VPN offers two different versions – a free one and a paid one (Hola Premium). Hola VPN is an Israel-based VPN service that offers its free services based on peer-to-peer technology (which is not a VPN per se) and a paid version which is VPN in the truest sense.
Unlike other best free VPNs that limit the bandwidth or number of servers, the Hola VPN free works on peer-to-peer technology and can be considered a proxy service at max. It means you share your bandwidth with others while using the Hola VPN free version. There are chances that other free users are using your IP address to browse the internet "anonymously".
Hola advertises its browser extensions as "Hola Free VPN Proxy Unblocker – Best VPN" that uses split tunneling technology to unblock geo-restricted websites such as Netflix, Amazon Prime, HBO, and more.
Hola VPN Premium, on the other hand, is a proper VPN service albeit their website does not mention the encryption protocols used by the VPN service. There are around 1,000 VPN servers around the world (1,500 for Hola Ultra Advanced VPN users).
Hola VPN Speed & Performance
As is the case with all the VPNs, speed throttling is an unavoidable issue. Surprisingly, Hola VPN premium impressed me in this regard. In the speed tests I conducted over a couple of US and Europe based servers, the speed throttling was almost negligible and the ping rate was between the range of 40 and 100.
Therefore, I have no complaint regarding speed from Hola VPN Premium. Also, the user interface of the Hola VPN macOS app is friendly and you can connect to the VPN with just one click.
Hola VPN: Unlock Netflix, Amazon, Prime & More
If your primary aim behind buying a VPN (Psst! here's a nifty VPN buying guide) is to unblock Netflix, Amazon Prime catalogs of different countries and access websites that are blocked in your region, Hola VPN's browser extensions are what you should go for.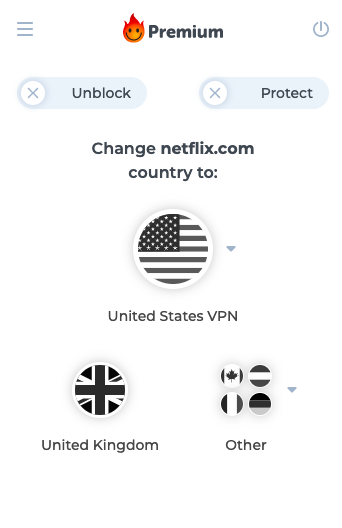 Notably, Hola VPN browser extensions operate on standard VPN protocols and not peer-to-peer technology.
I successfully unblocked the US catalog of Netflix and Amazon Prime Video US. For free users, it is free to stream Netflix and other video streaming sites for 1 hour. However, you should understand that Hola VPN's free version is more of a proxy owing to its peer-to-peer architecture therefore unblocking blocked websites is naturally the task it is good at.
Torrenting: A Strict No Go
However, if you're buying Hola VPN for Torrenting, you're simply wasting your money as Hola's official website clearly mentions that they do not support torrenting. It says, "The use of Bittorrent on our network is not allowed, and we are blocking Bittorrent traffic".
Security & Logging Policy
This is where things start getting murkier. Hola VPN free can be called a cybersecurity's antagonist. Besides routing your internet traffic through other peers instead of safe servers, Hola VPN also logs plenty of details from you, thus defeating the entire purpose of using a VPN.
If you're using the free version of Hola VPN, it's keeping a log of the following information from you:
Log data may include the following information – browser type, web pages you visit, time spent on those pages, access times, and dates.
Your personal information including your name, email address, and IP address. If you opt to sign up using a third-party account for instance your Google account, Hola will also keep a log of the information stored by Google.
If you're signing up with a social media account, Hola is accessing your basic information including full name, home address, email address, birth date, profile picture, friends list, personal description, as well as any other information you made publicly available on such account.
Hola says the reason why it logs the personal information of users is that it can report any malicious activity to authorities. The website says, "These measures are probably what make Hola the least attractive VPN for people with malicious or illegal intent to use. They much prefer the various other VPNs that promise not to keep logs".
Hola Premium, however, has a strict no-log policy. If you are a premium customer, Hola will not store logs of your activity, including no logging of browsing history, traffic destination, data content, or DNS queries.
Interestingly, I had to manually turn on the "No logs" option in my Premium account as it was disabled by default.

To sum up, Hola VPN is intrusive and lacks a proper security mechanism to keep the privacy of its users intact. In fact, the free version mooches the IP address and bandwidth of users without informing them properly. Therefore, if you're buying a VPN for cybersecurity, my best advice would be to steer clear of Hola VPN free. The paid version has all the features, you'd want in a good VPN therefore, your first choice should be Hola VPN Premium.
Hola VPN Pricing
Hola VPN offers a free service that works on peer-to-peer technology; it's a proxy service and not a VPN. if you're opting for the more-secure premium version, here are the prices of Hola VPN:
$2.99/mo for 3-year plan
$7.69/mo for the yearly plan
$14.99/mo for the monthly plan
Importantly, Hola does not support Bitcoin or other cryptocurrencies as a payment method.
Hola VPN Conclusion
Everything about Hola except its privacy policies and data logging mechanism is great and I understand how silly it sounds especially when we are talking about a VPN service. If you want a website unblocker, Hola VPN is a great option to go.
For privacy enthusiasts, it could be a nightmare owing to the fact that you're sharing your bandwidth and IP address with another free user who might be a hacker.
Hola Premium does sound reliable and could be a strong contender for one of the best VPNs out there once Hola fixes the impending issues.