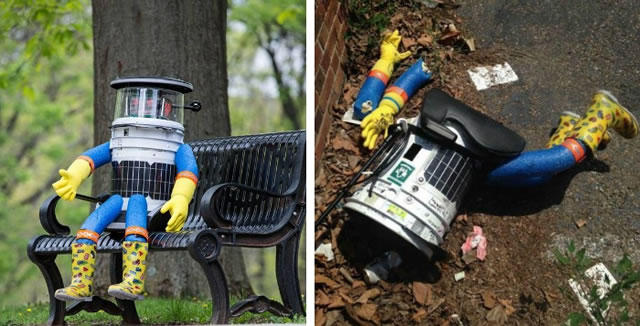 Short Bytes: hitchBOT, the hitchhiking robot was attacked and wrecked in Philadelphia and now some hackers and designers of the city have come forward to help and rebuild the fallen bot.
R
emember hitchBOT? The hitchhiking robot that travelled through Canada, Netherlands and Germany only to be
vandalised in Philadelphia
, USA. Why do bad things happen to good people? Well, in this case, a robot.
The feel happy robot with a smiley face would ask for the lift from the locals wherever it went and was then driven around the historical sites in the cities. hitchBOT made many friends and the children were its biggest fans. A series of tweets filled with sadness and lashing out on the city followed, as soon as the report of hitchBOT being killed made into the news. It seems as the US proved too much to handle for the little robot.
But, here's a good news. Some hackers and engineers of Philadelphia are determined to give hitchBOT a new life. They have reached out to the Canadian research team for the permission to repair or replace the required parts for hitchBOT.
The Hacktory is the group of makers and designers in the city that have offered to reconstruct the bot, and maybe create a hitchBOT 2.0 to continue the unfinished journey. Others institutes like Expressive and Creative Interaction Technologies at Drexel University in Philadelphia too came forward and expressed their desire on Twitter to help the hitchBOT team.
.@hitchBOT I know a bunch of roboticists in Philly. Please let us know if there's anything we can do to assist. @GRASPlab @excitecenter

— youngmoo (@youngmoo) August 3, 2015
hitchBOT is currently in the safe custody of its fan Kyle Silva who has brought it back from Philadelphia to Rhode Island and plans to send it back to Canada as he told Ars.
The hitchBOT Canadian team is yet to reply to the proposals of the hackers and designers in Philly. If they agree then we might see the US version hitchBOT 2.0. And, no one dare touch the US property!
For more updates and interesting stories, subscribe to fossBytes newsletter. [newsletter_signup_form id=1]