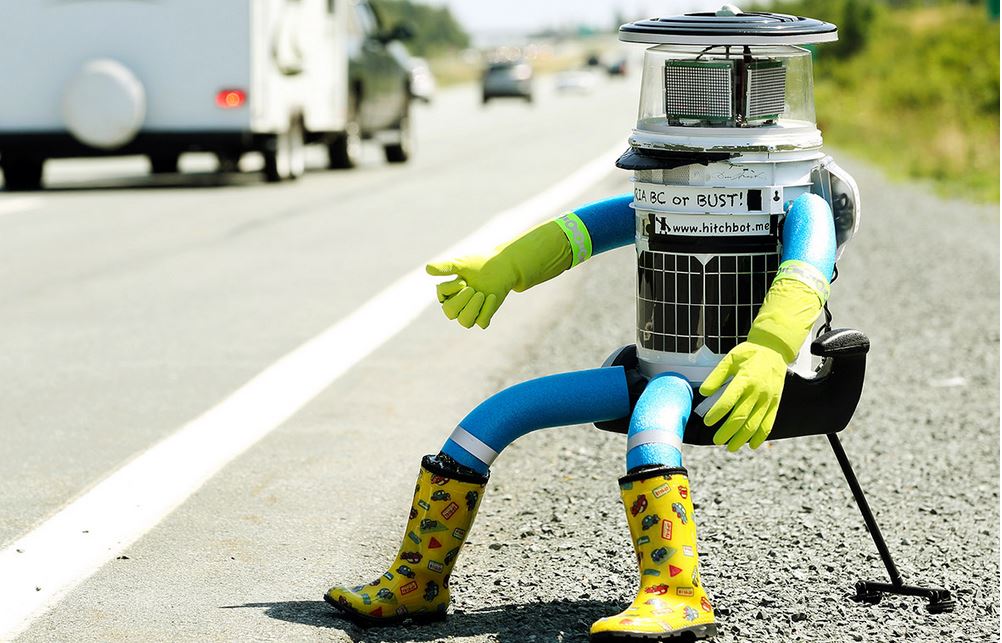 Short Bytes: Created by the Canadian researchers as a social experiment, the hitchhiking robot named hitchBOT had met its demise in Philadelphia, where it was vandalised and dismantled.
A
fter what happened to the harmless happy hitchhiking robot 
hitchBOT
, there is no arguing that this world is a bad place to live in. Even friendly robots are not safe here. The hitchhiking robot hitchBOT was sent on the world tour where he was picked up and driven around by the local residents. The hitchhiking robot hitchBOT was taken to historical sites by the locals and it would then take the photos and upload them on Instagram. The smart robot won the hearts of people all over the world and especially the ones that it met during the travel.
This adventurous hitchhiking robot had travelled through the Netherlands, Germany, and Canada only to meet its tragic demise in the United States. The hitchhiking robot had an amazing stint through cities like Halifax, Victoria, British Columbia along with many others in Canada. From Canada, hitchBot boarded a plane to Amsterdam and toured the country for next three weeks. In Germany, hitchBOT visited Berlin, Cologne, Hamburg and Munich and stayed there for 10 days.
Update: Philadelphia Hackers Want To Rebuild The Fallen Robot hitchBOT 2.0
The fans took to Twitter to express their sadness and anguish over the hitchhiking robot hitchBOT's death. And, this one is certainly interesting.
The bad news for whomever destroyed #hitchBOT – is that it had an older brother… pic.twitter.com/GfYkkynXwn

— Matthew Bingley (@mattybing) August 2, 2015
Sad to see #hitchBOT, the hitchhiking robot that made it across Canada and parts of Europe, getting destroyed in US. https://t.co/Y4ShSfD1xV — Ulas Bardak (@ulasbar) August 2, 2015
Everything was going great till the hitchhiking robot hitchBOT landed in the USA. Its goal was to reach San Fransisco from Massachusetts. However, its adventure was cut short in Philadelphia when someone rammed the robot beyond repair. hitchBOT posted the final message on its website
Oh dear, my body was damaged, but I live on back home and with all my friends. I guess sometimes bad things happen to good robots! My trip must come to an end for now, but my love for humans will never fade. Thank you to all my friends.
Also Read: Artificial Intelligence Extreme: Robot Shows Self-Awareness 
Some fans also gave suggestions for the hitchhiking robot hitchBOT's incarnation, but with some grey shades. People suggested that the hitchBOT 2.0 should come with some weaponry so next time it would be able to defend itself, in case it planned a US trip again.
Clearly the only solution for @hitchBOT 2.0 is full offensive capabilities

— Matt Novak (@paleofuture) August 1, 2015
hitchBOT was a talking travel companion and a happy robot with a smiley face that would often tell the facts about the places to the people it travelled with. The hitchhiking robot hitchBOT was GPS enabled and took random photos every 20 minutes for documentation.
This is sad to see that even friendly robots are not safe here.
For more updates and interesting stories, subscribe to fossBytes newsletter. [newsletter_signup_form id=1]