Using same passwords across many sites leaves you vulnerable to hacking. If one of your accounts is compromised, then a hacker can gain access to all your accounts. Password managers can help you keep track of your passwords so that you can access all of them from a single place. Also, they come with password generators that can help you generate insanely strong and uncrackable passwords.
Most of us are familiar with Google's Smart Lock for Passwords. It gives us an option to sync our passwords when we are signed in on Google Chrome or while logging in to Android apps. Although helpful, it does not provide any more features other than storing and syncing passwords. Thankfully, there are a bunch of Android password manager apps that packs some powerful features. We have compiled a list of such apps that are free and feature rich.
Note: This list isn't in order of preference. You are advised to choose one that suits your needs.
8 Best Android Password Manager Apps 2018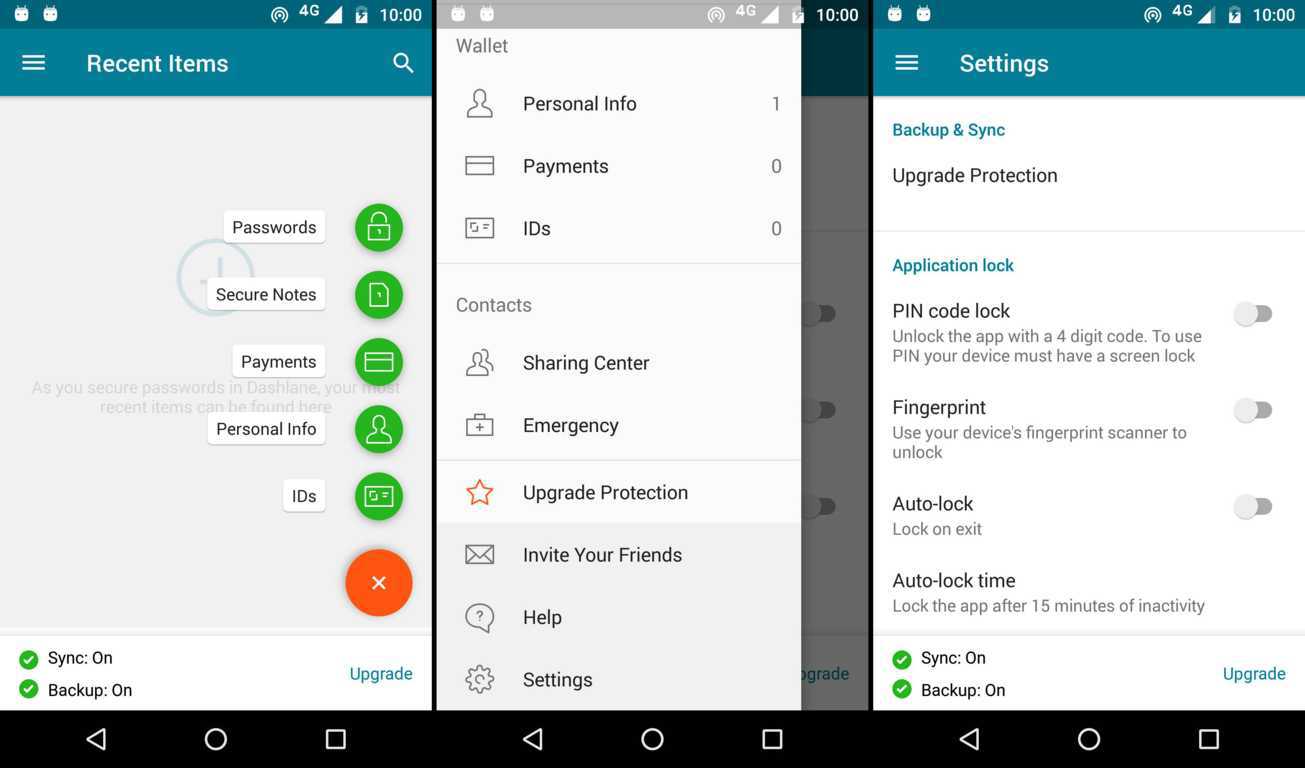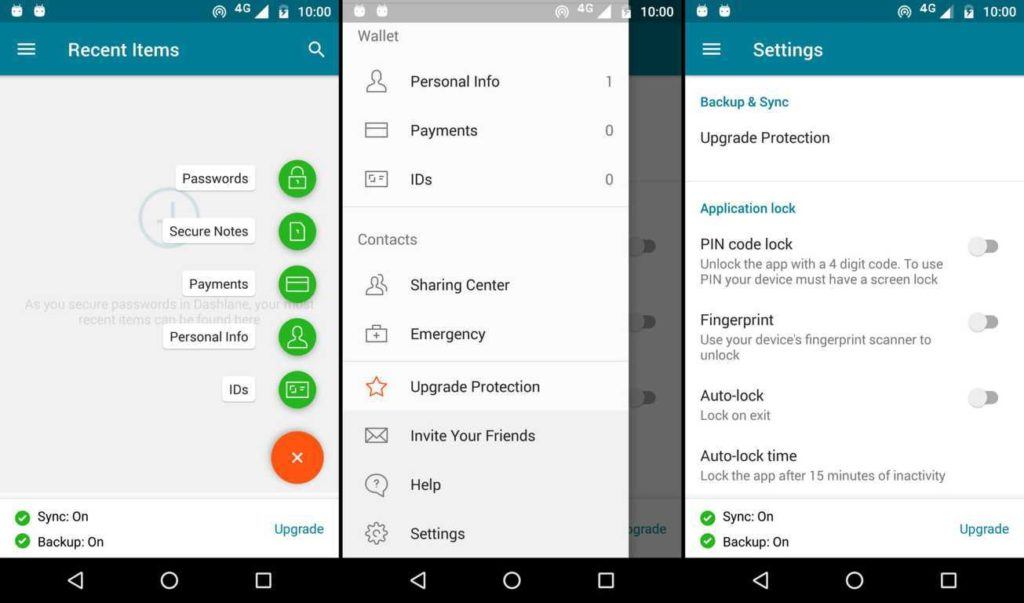 Dashlane is a powerful password manager tool which is available for Mac, PC, iOS, and Android. Dashlane protects your passwords by storing them using AES-256 encryption. You can save and secure your passwords in a password vault using a single master password. It includes automatic password generation, fingerprint login, a security dashboard, and security breach alerts. Moreover, it has a full-featured digital wallet where you can store credit cards, bank accounts, IDs and other personal information. It can also automatically fill information for users while using apps or browsers to log in.
The app is free to download with no ads. It has a premium version with extra features like the ability to back up your data and sync it across unlimited devices.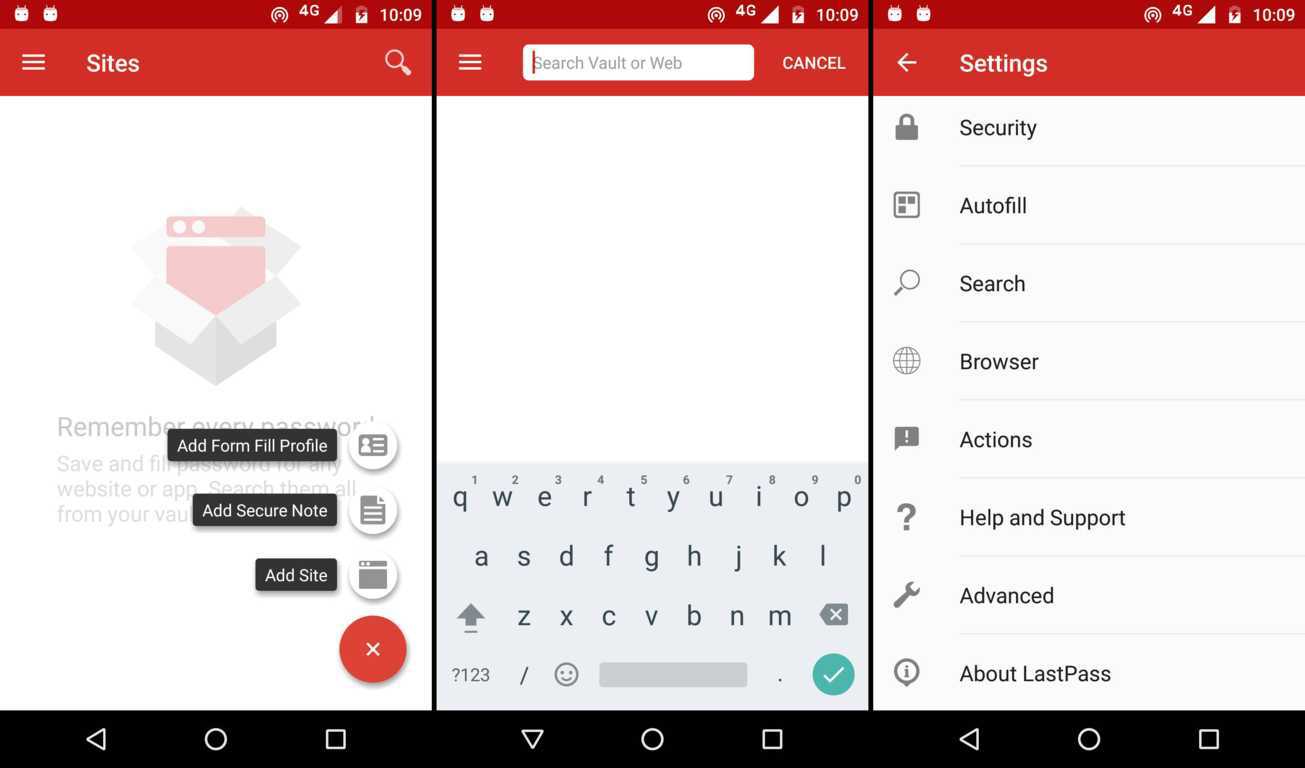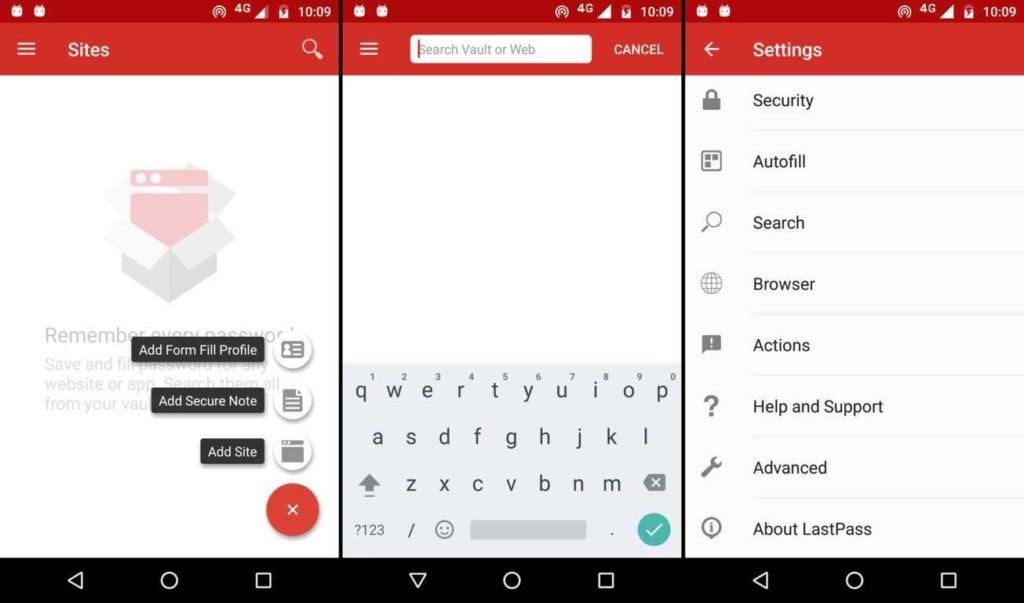 LastPass is a popular name in the field of password management. Its premium version is comparatively less expensive than other similar apps. You can protect your passwords and secure notes in a secure vault by a single master password. It has an autofill feature that automatically fills online forms and app logins for you. The free version also allows you to sync your passwords and data across all your devices.
Moreover, it supports password generation, site sharing and site logging, and two-factor authentication. You can secure your contents with fingerprint password as well. It is cross-platform and available for Android, iOS, Windows, etc. Overall, the app is excellent and one of the best Android password manager apps. It is free with no ads.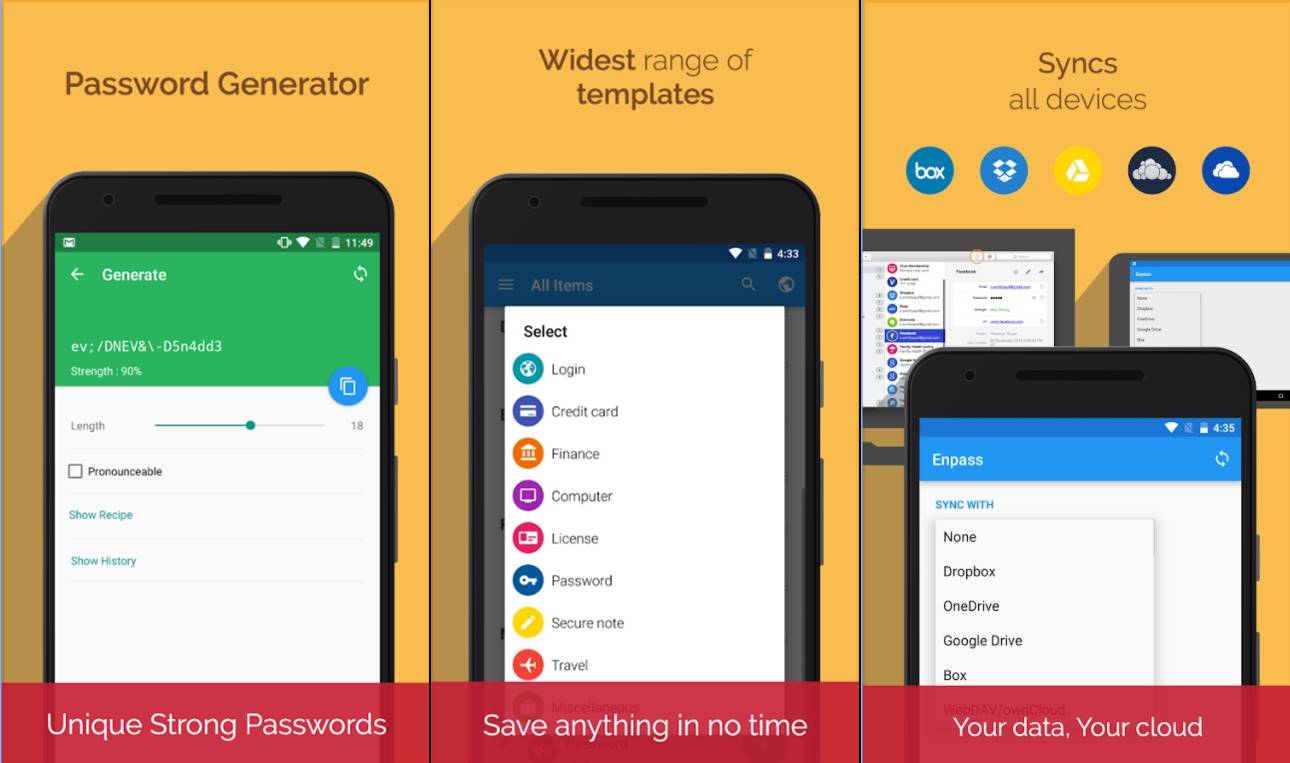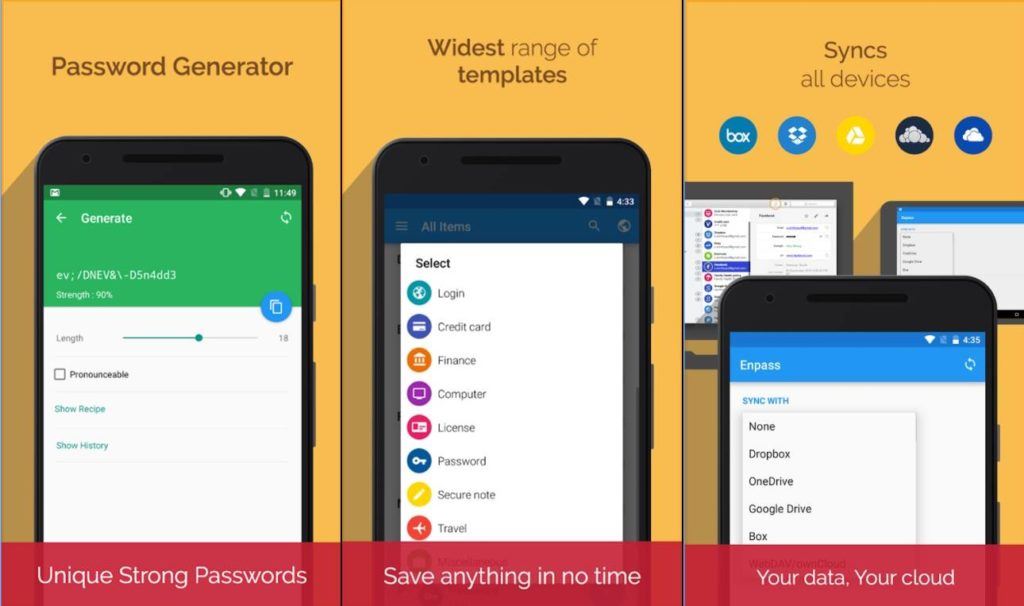 With Enpass you can get most of its features in the free version itself without upgrading to the premium version. It requires no extra sign-in to access the app. All you need is to create one master password and secure all your data in one database. Also, it allows you to save your password data on a separate cloud service. It supports Google Drive, OneDrive, Dropbox, etc. It has an inbuilt password generator and browser. You can also store data on your credit card, license, finances, notes, and other information. It includes fingerprint support, autofill forms, and auto lock security. It is one of the best Android password managers that is available for free with no ads.
The app is cross-platform and available for Windows, Mac, Android, iOS, Blackberry, etc. However, one downside of the app is that the free version allows you to store only 20 passwords. You can upgrade to the pro-version for additional features.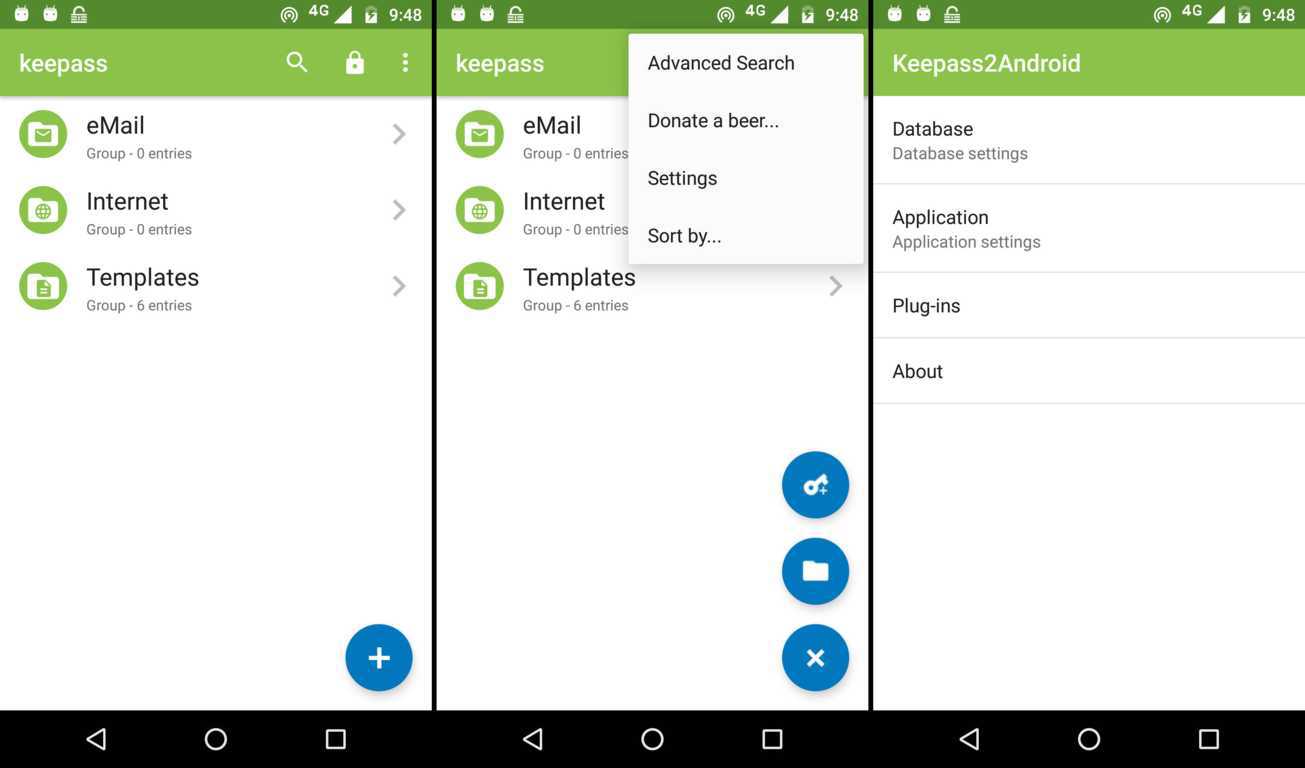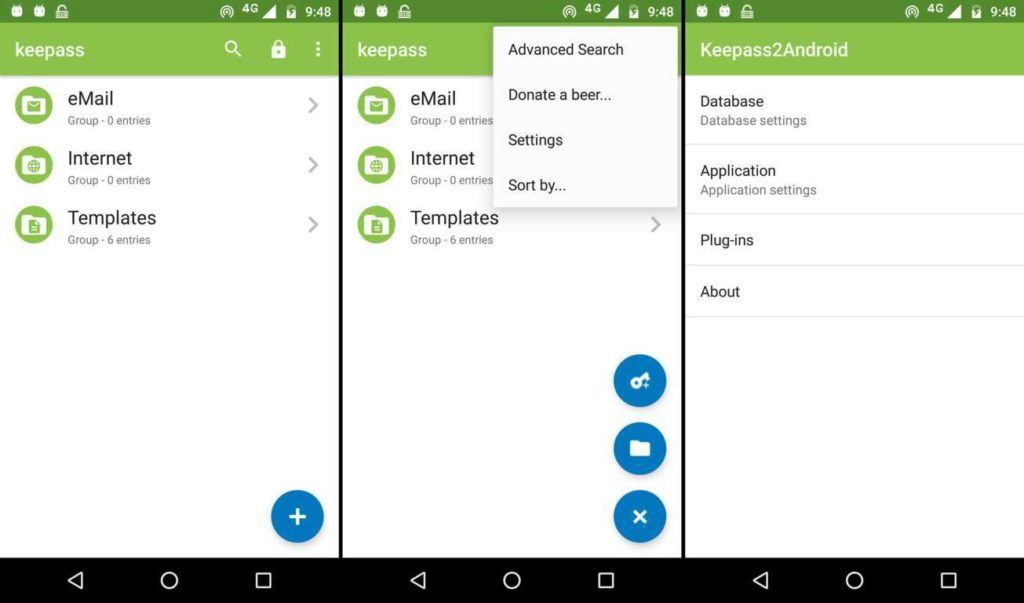 Keepass2Android is another impressive Android password manager app which is free with no ads or in-app purchases. It is an open source password manager. The app is not highly-featured, but it comes with all the basic features. You can create your database with a single master password and can store information about your credit card, notes, email, etc.
Also, it supports 2-way syncing with files stored in the cloud or over the web, such as DropBox, Google Drive, SkyDrive, FTP, etc. It also integrates a soft-keyboard that you can enable for entering user credentials. Overall, the app is simple but quite reliable.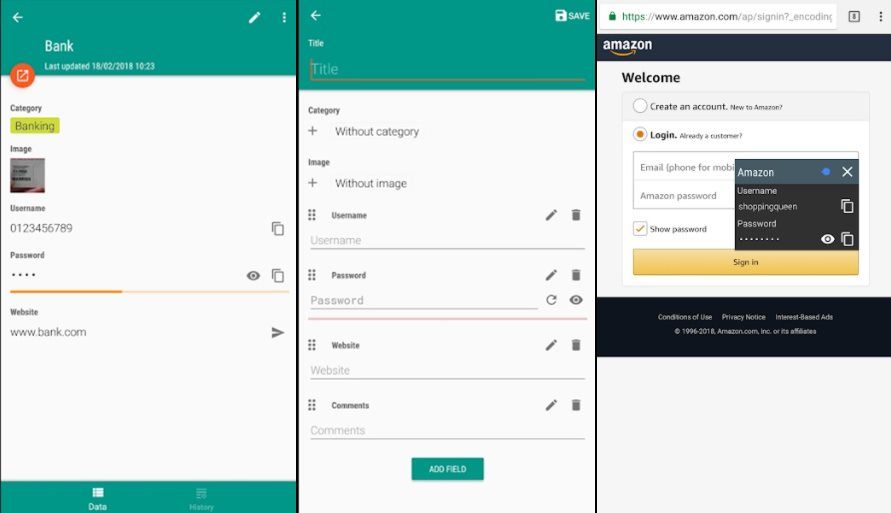 Password Safe and Manager comes with widget support so that you can generate passwords right from your home screen. The app can be accessed with a single master password. The app doesn't require internet permissions so you can be sure that your passwords are 100% safe. Passwords can be stored based on different categories. Moreover, you can import and export passwords in CSV format. There is an inbuilt search function to search for passwords stored for various websites.
The PRO version unlocks many useful features like Fingerprint login in Android 6.0 and above, attach images to entries, see password history, etc. The app is free with no ads and offers in-app purchases.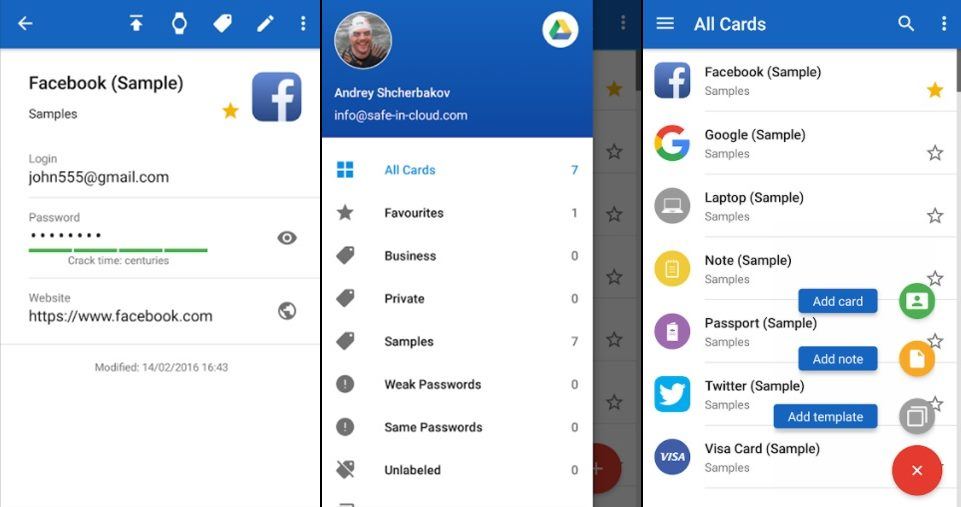 SafeInCloud is another Android password keeper that uses 256-bit AES encryption to protect your passwords. It allows you to save and sync your passwords to your favorite cloud service like Google Drive, Dropbox, OneDrive, etc. There is also a desktop app available for Windows and Mac. The app packs a powerful password generator. It helps you to generate strong and memorable passwords and also shows an estimate of the time that might be required to crack it. Also, everytime you save passwords, the app will show you its strength.
The app is user-friendly with material design. SafeInCloud has a pro version whose features are free for two weeks. You can unlock the full version with a single in-app purchase with no further charges.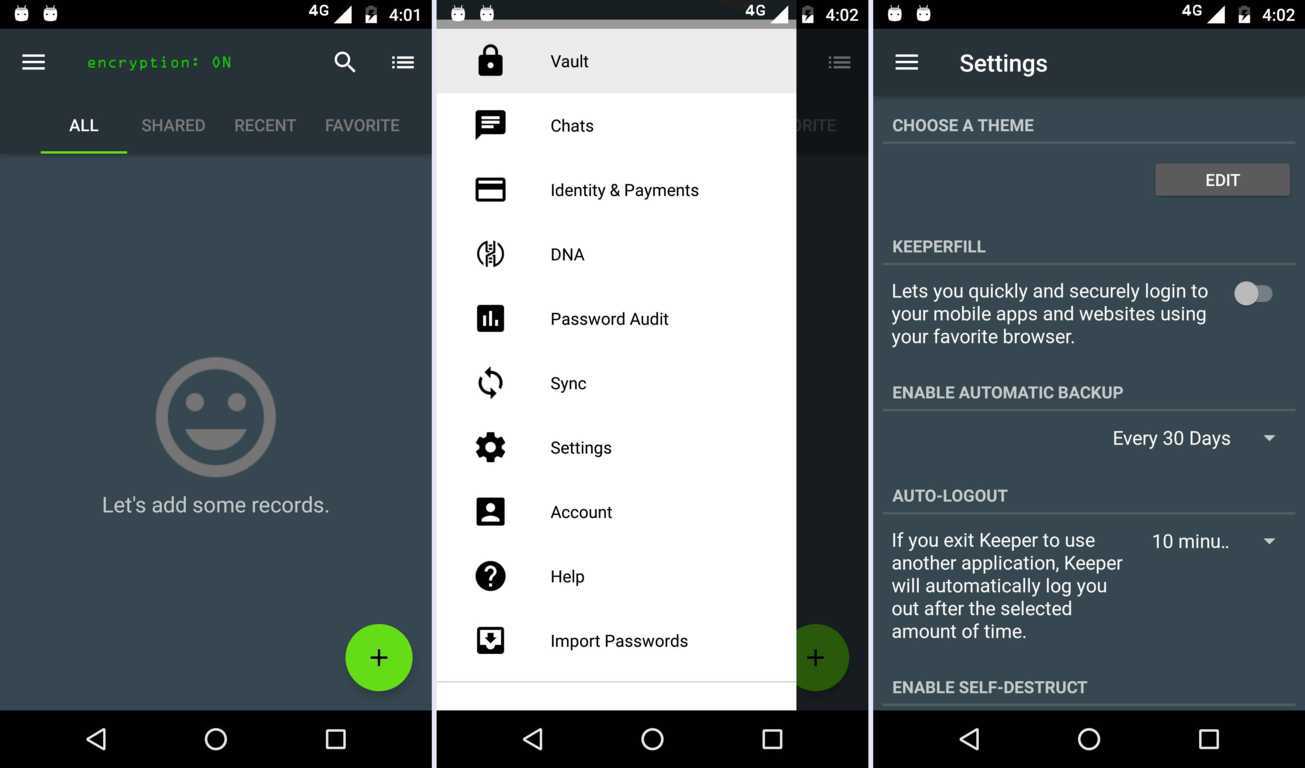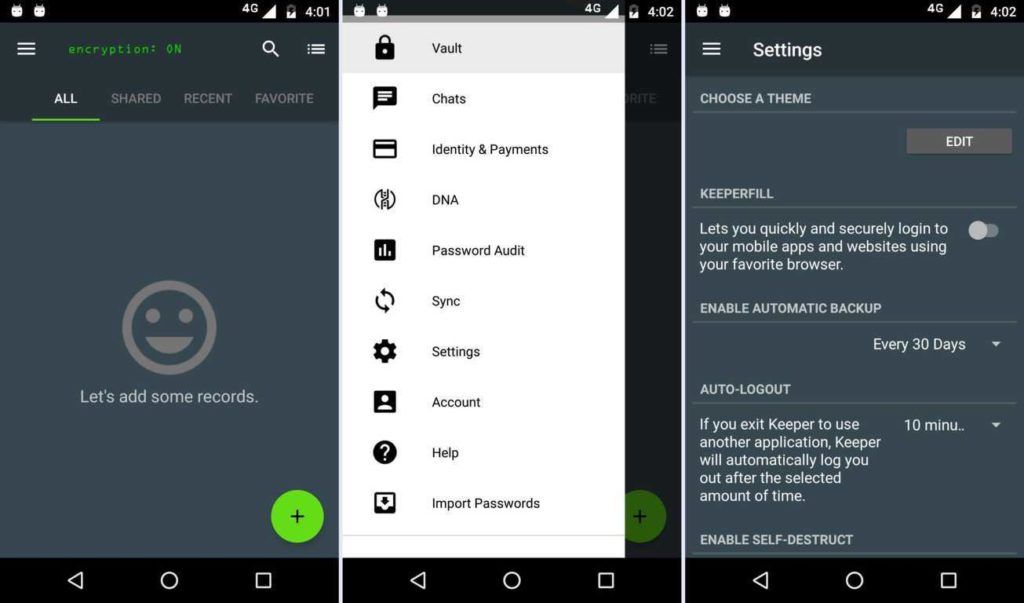 Keeper allows its users to organize and securely store passwords, files, and other information and share them with trusted contacts. It is a free and easy-to-operate Android password manager. You can secure your contents in a private vault protected by Zero-knowledge security architecture with multiple levels of encryption. It has a built-in password generator, autofill feature, and allows you to sync and backup your files to the cloud. Also, it includes a fingerprint scanner and facial recognition. Moreover, you can separately lock files and photos in your secure vault.
The app provides 30-day trial of its cloud backup and syncing systems. You can subscribe to its annual subscriptions to thoroughly enjoy the cloud services.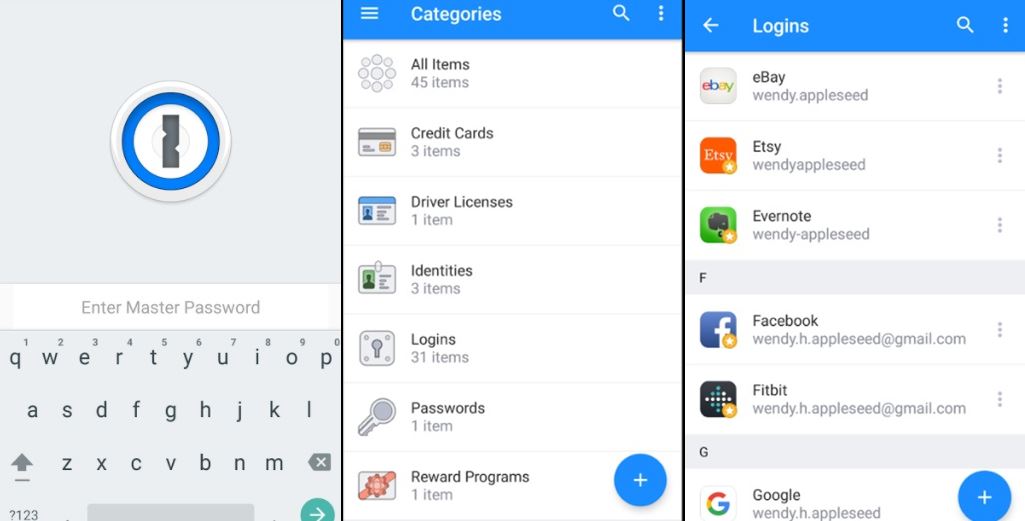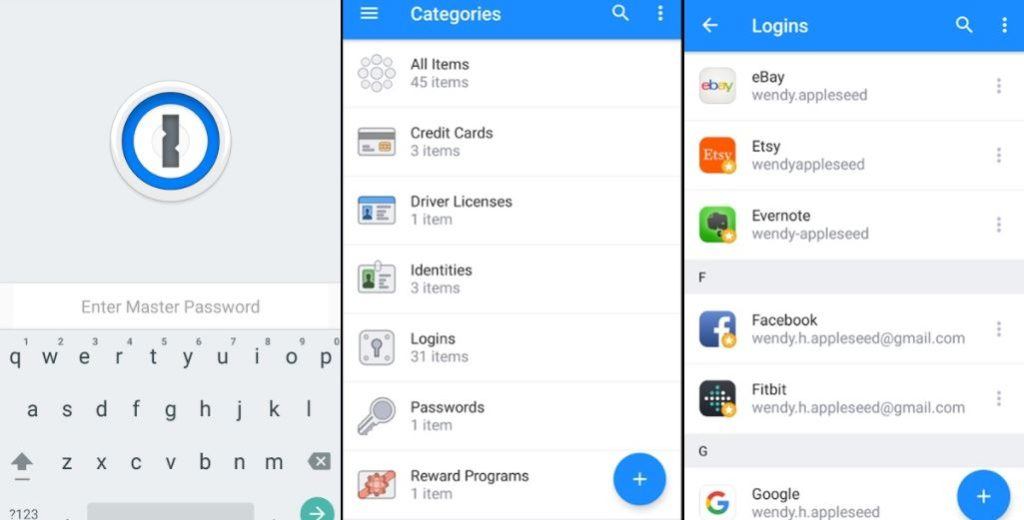 A lot of users prefer the 1Password password manager. It is a full-featured Android password keeper. The app is nicely crafted and implements all the necessary features. You can store passwords, logins, credit cards, addresses, notes, bank accounts, passport information, etc. Users can create multiple vaults to keep different contents separately. Also, it includes a password generator, fingerprint security, cross-device syncing, autofill feature, etc. The app has full support for team and family accounts. You can share your contents with trusted contacts as well. However, the app is available only for 30 days of free trial and requires subscription once the trial period is over.
Did you find this list help you find the best password manager for Android? Share your reviews in the comments.