Last week, Google unveiled a new machine learning-powered tool that can read over 100,000 books in Google Books in less than a second. It's named "Talk To Books" because of its ability to find answers to people's random queries in the books without using keyword matching techniques.
All you need to do is type your thoughts in the Talk to Books' search bar, and it will display passages from books related to your questions.
For instance, you can search "How can I stop thinking and fall asleep?" It's a question I have asked Google multiple times but never took it to the books. The AI tool shows the following results.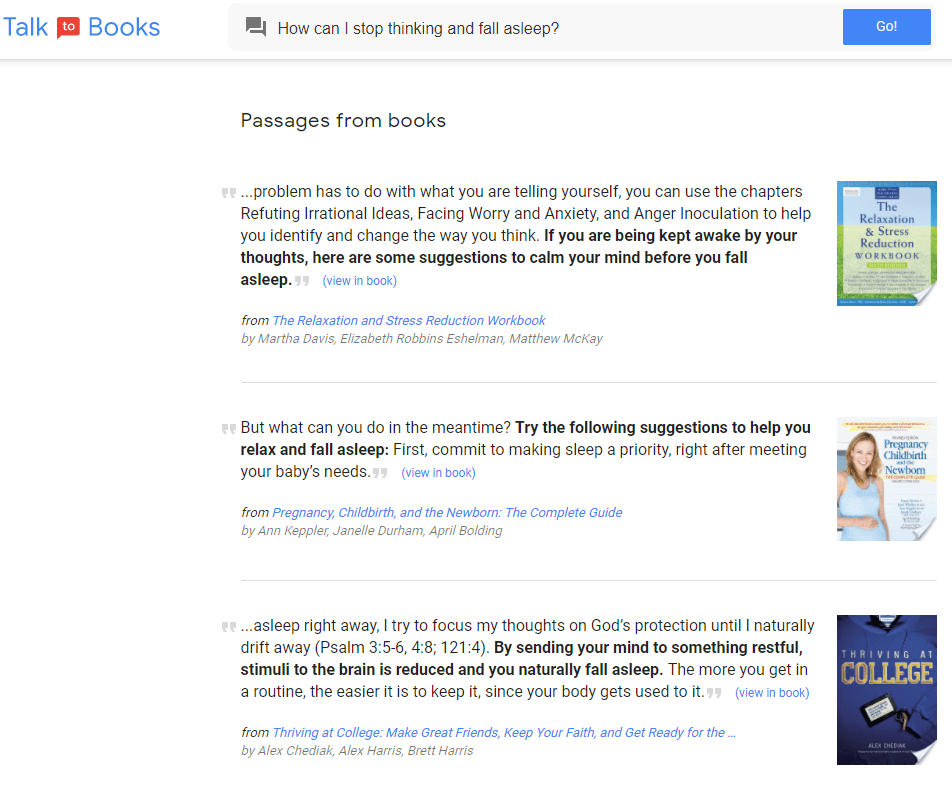 Talk to Books shouldn't be seen as an alternative to regular Google Search but an experimental AI tool designed to better understand natural language. Although it features a search box, its fundamental approach is quite different from a traditional search tool.
In a blog post, Google's director of engineering Ray Kurzweil said that Talk to Books is a new way to interact with books by digging down to the sentence level. It performs "semantic searches" which are based on the 'meaning,' instead of keywords and phrases.
Google's New "Talk To Books" Search Engine Can Save Your Time Reading 100,000 BooksThe development of the semantic search feature has sought inspiration from the research work Kurzweil and his team did while developing an enhanced version of Google's smart reply feature. However, both differ by the fact that Smart Reply focuses on paragraphs and their experimental feature at the sentence level. The AI tool only looks at how well the individual sentences match up.
Users throwing queries may discover unexpected titles and authors, according to Kurzweil. It could also be the case that well-known books don't make it to the top.
Google created a new webpage called "Semantic Experiences" to showcase the technology. It features a word game called 'Semantris' that shows how Google AI has learned to predict the semantic connections between words.