Messages (previously Android Messages) by Google has been rumored to get the spam protection feature for a long time. Now, a new report suggests that the anticipated feature is now available on the messaging platform.
According to a report by Android Police, the new spam protection feature, much like the one found in Truecaller, has reached the Messages app. 
To clear the air, the pop-up which reads 'New! Spam Protection' is not available to all the users yet. However, once the feature is live, a pop-up message will be displayed upon opening the Messages app.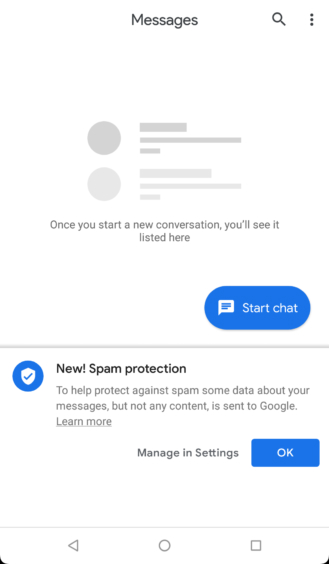 The new spam protection feature can be managed by heading to the Settings menu, clicking Advanced settings, and selecting the Spam Protection option to enable or disable it as per the users' choice.
Google still hasn't made anything official regarding the new spam protection feature.
For those who don't know, Google's Support section has listed down how the spam protection feature works for Messages.
When you turn on the spam protection feature in Messages, the content of the messages you receive and the sender's number will be shared with Google for the analysis.
For this feature, you need to trade-in your privacy and Google's past track is not particularly great when it comes to handling user data.
We will keep you updated once the feature is available for all. So, stay tuned for further updates.