Short Bytes: In an unexpected move, Google suspended accounts of around 200 users including access to everything associated with those accounts. The users tried to take advantage of a tax loophole in the US and make profits on Google Pixel Phones.
P
ixel phones are close to Google's heart. And the company has taught a good lesson to those who used their
extra brain
.
They purchased Pixel phones from Google's Project Fi and shipped them directly to a reseller based in New Hampshire – sales tax-free state in the US. They tried to exploit the tax loophole, splitting profits with the reseller as the phones were resold to new users.
Google's T&C doesn't allow any buyer to "commercially resell any device" and only purchase it for personal use. When the Pixel-maker came to know about such people, they blocked their Google account right away. The issue was first reported by Dan's Deals when several users posted on its forum that they're not able to access their accounts since the last few days.
Google actually went quite far than merely suspending the accounts. Around 200 users were denied access to almost all of Google services including photos, Gmail, documents, drive, and in fact, everything tied to their Google account.
The account suspension was not limited to a single account. A user reported that he was locked out of another Gmail account he used for password recovery and not for ordering a phone.
The unknown dealer from New Hampshire has also taken the advantage of the tax loophole for previous Google device. He managed to keep his evil deeds out of Google's sight.
Dan Eleff, the owner of Dan's Deals, thinks it's a heavy-handed act by Google, though, he doesn't defend the policy violation by people.  He said that "it's the 21st-century version of losing priceless mementos in a house fire".
"Was violating Google's phone resale policy really worthy of an effective digital death penalty?" he questioned in his blog post.
In a further update, Eleff notified that Google has reinstated the suspended user accounts. In a statement issued him, Google said that they restore access to genuine accounts after doing a thorough investigation.

Here is the message Google sent to the users whose accounts have been reactivated: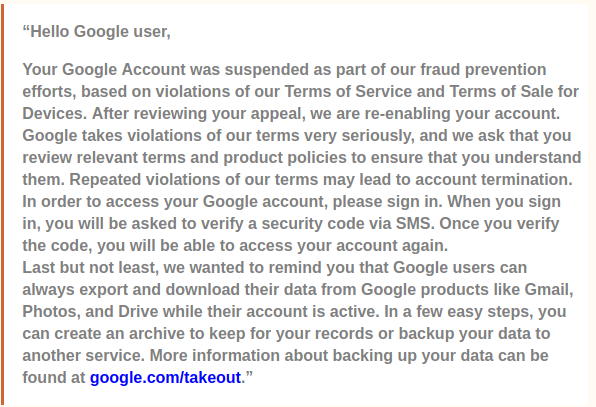 It is bad that Google took such harsh action against the T&C offenders. But people should realize that they should cut the branch on which they are sitting. Once the accounts get suspended, all the valuable data is lost. People can use Google Takeout service to do an offline backup of their Google account on a regular basis.
Read more on the original blog post.
If you have something to add, tell us in the comments below.
Also Read: Calculator App In Windows 10 Doesn't Know Maths, Does Horrible Calculations