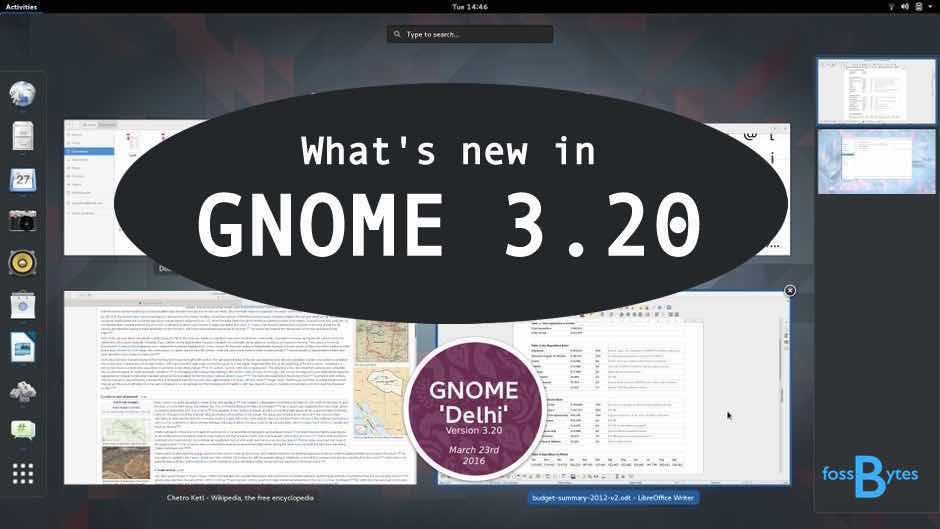 Short Bytes: GNOME 3.20 Delhi is finally released with many improvements in Web, Maps, Software, and other applications. Read more to know the best features of GNOME 3.20 Delhi and know how to get it right now.
Linux-based operating systems provide flexibility to change the user interface with the help of different desktop environments. For example, in Ubuntu, people prefer to switch over to GNOME, KDE etc. if they don't like Unity. Out of the numerous ones out there, GNOME is one of the most popular desktop environments for the Linux platforms like Fedora, Ubuntu, openSUSE, RHEL, and more.
The GNOME Project has recently announced the release of GNOME 3.20, the next major release of the desktop environment. This release is a result of six months hard work and comes with 28,933 changes made by about 870 contributors.
GNOME 3.20 has been named 'Delhi' to recognize this year's GNOME.Asia team. GNOME.Asia is basically an annual GNOME event that will be held in Delhi, India from April 21st to 24th. Here are the 10 best features in the latest GNOME release:
10 Best Features of GNOME 3.20 Delhi
Easy operating system upgrades:
While a user was already able to install software updates using the Software application, the new feature in GNOME 3.20 Delhi makes it possible to upgrade your operating system.
With this change, in GNOME 3.20, upgrading your Linux distribution has become simpler as you'll be shown a notification if an upgrade is available.
Wayland availability in GNOME 3.20:
Wayland is the next generation technology for input and display in GNU/Linux. It brings along numerous improvemenrs like eliminating graphics glitches, solving long-standing bugs, bringing mulitouch touchpad gestures, and making more secure applications.
It's still a work in progress and some features that have been completed for GNOME 3.2o are — kinetic scrolling, application startup notification, drag-and-drop, middle-click paste etc. To try out Wayland, select GNOME on Wayland from gear menu in login screen.
Enhanced web browser in 3.20:
The GNOME web browser comes with many new features. Now, downloads are shown as a popover that you can access from the header bar. This new GNOME 3.20 feature makes it possible to easily keep track of downloads. Another important feature in Web is restore session feature. Other important changes include:
The cookies dialog now supports search
New tabs carry forward the browsing history when opened from a link
Improved feedback while visiting non-HTTPS websites
Now we have support for advanced web-based graphics and audio with Web Audio and WebGL.
Photo editing made simpler:
The newer editing tools in Photos in GNOME 3.20 are simple and easy-to-use. You can undo all the changes and editing has been made non-destructive. Editing features include rotate, crop, color and picture enhancement, some artistic filters etc. You are also given an export option that allows you to generate copies for sharing, printing and other purposes.
Files application made better in GNOME 3.20:
With a particular focus on search, Files application has been improved. Search filters have been revamped and made simpler to use than the previous version.
The preference dialog has been made more compact and easier to understand. It comes with new settings for showing permanent delete and create symbolic link actions. Other smaller improvements in GNOME 3.20 File include bigger thumbnails, extra zoom level, and showing available and remaining drive space in the other places view.
Shortcut Windows feature in GNOME 3.20 Delhi:
If you like playing with shortcuts and using them to get your work done, GNOME 3.20 will make your life easier. With the help of new Shortcut Windows feature, you'll be presented the list of keyboard shortcuts and gestures for an application.
It's basically a modal sheet that tells you about all the keyboard shortcuts in a supported. So, just press Ctrl+? in a supported application and a shortcut window pops up in front of you that tells all the shortcuts with a little description. At the moment, many GNOME apps like Nautilus, Photos, Polari, Maps, and Videos  support Shortcut Windows.
Access music player easily:
This is my personal favorite GNOME 3.20 feature as the media controls are now built-in and shown in the notification area. This allows you to quickly access the media applications being used. Here, you see the song and artist names that you can pause and play.
As the new GNOME 3.20 feature uses the common MPRIS standard used by most Linux media players, it's supported by VLC, Spotify, Rhythmbox, and Clementine.
Upgraded Polari IRC Client in GNOME 3.20:
The online paste application — GNOME's Polaris — has seen numerous improvements. Apart from pasting blocks of shareable text, you get the ability to paste images directly in the chats. Here are some other important changes in GNOME 3.20:
The overall look and feel has been improved with new text animations
Polari IRC client can now handle server passwords
Use Polari's shortcut window to see more keyboard shortcuts
Now status message handling has been made smarter
Improved Maps and Calender in 3.20:
Maps in new GNOME come with the ability to add and edit OpenStreet Map data and import custom layers. These custom layers allow additional map layers to be added using mapping file formats like KML, GPX, and GeoJSON. Maps can also be used to generate images in .PNG format. The other important improvements are:
Map will store history and open with the last viewed location
Locations with 'geo:' prefix can now be opened in the app
A new ruler scale is shown on the map and directions now include information about roundabouts
Talking about Calendar improvements, scheduling events and appointments has been made easier with a Quick Add pop-over. Now there's a better support for custom calendar colors and a new look 'year' view.
Other important features in GNOME 3.20:
Keyword keys for airplane mode, Bluetooth, and Wi-Fi now work
MAC address of your computer is now randomly masked to prevent tracking
Documents now lets you list the documents by author, name, or date
After creating a virtual machine, the machine creates a snapshot that helps it to get back to the original state
There's an option to allow the battery charge percentage shown in the top bar
An improved user interface font
How to get GNOME 3.2o Delhi right now?
If we talk about the biggest features of Ubuntu 16.04, GNOME 3.2o isn't one of them. Well, this is so because GNOME's latest release has arrived after Ubuntu 16.04 has entered feature freeze phase. Well, you can always go for the kind-of-official GNOME PPAs that offer unsupported upgrade to Ubuntu 16.04 Xenial Xerus users.
The next Fedora 24 release comes with GNOME 3.20 by default. The OS is slated for stable release in early June.
You can go ahead and download a live USB image of GNOME 3.20 for OpenSUSE.
Also Read: Best Ubuntu 16.04 Features — The Most Exciting Ubuntu Release In Years