I've always been unimpressed with touchscreen-based controls in games, and it's always been a strong deterrent in me playing a variety of games on my phone. Bluetooth controllers make the experience much better, but if I'm using a controller, I may as well use my computer, too. But it turns out there is a better way with the GameSir X2.
I've played with various emulators on my phone over the years. Many of which performed extremely well. But I've never enjoyed myself as much as I could have because touchscreen controls are, in my opinion, just terrible. The complete lack of tactile feedback and indistinguishability of the 'buttons' was always a dealbreaker for me. I just couldn't do it.
Currently, I don't typically cover games or gaming topics. That's not to say I don't play games. It's just not something I'm particularly enthusiastic about. On the other hand, I am enthusiastic about the technology required for playing games. So, when I was offered to review the GameSir X2, I thought to myself, "maybe this will bridge that gap." My experience was mixed, but I was pleasantly surprised.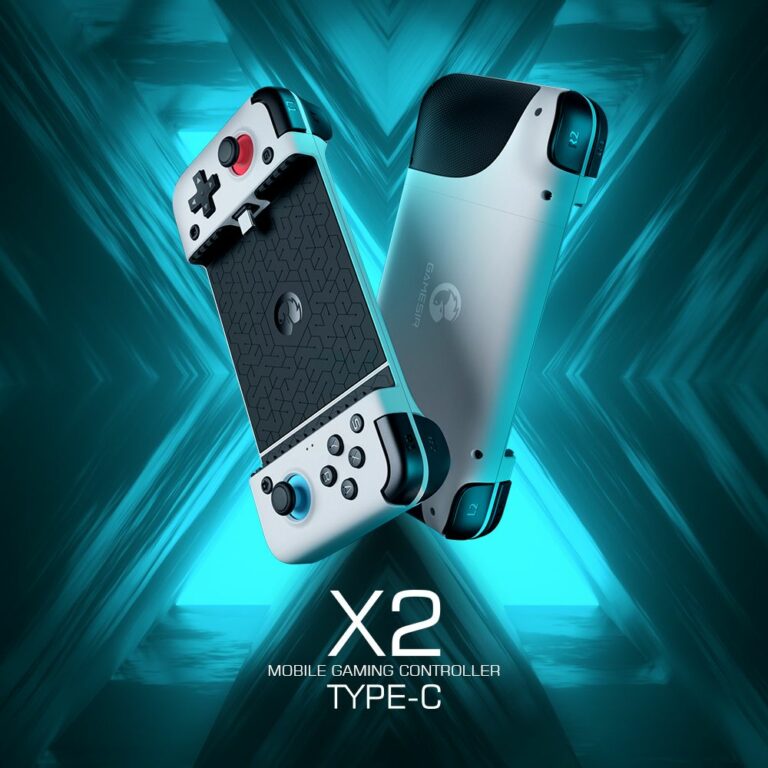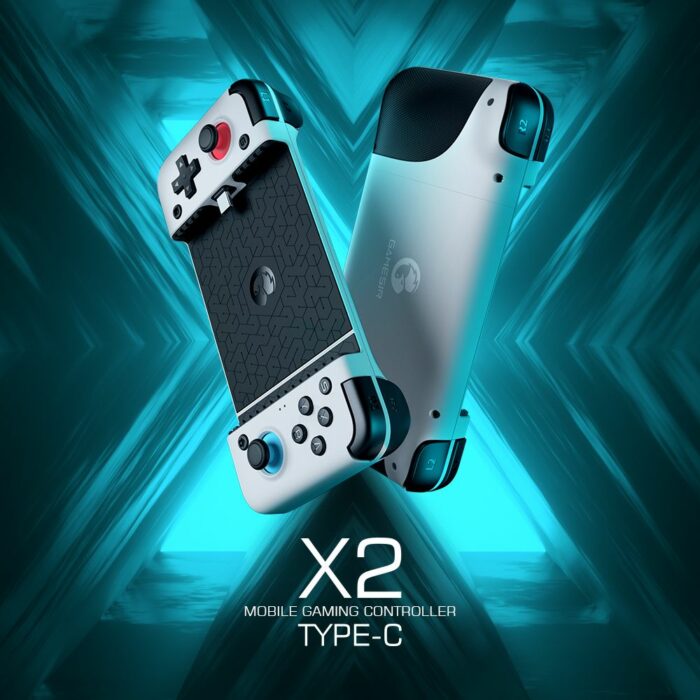 Specifications
The GameSir X2 comes in a few variants but is fundamentally the same product. I was sent a USB Type C model.
| | |
| --- | --- |
| Platform Support (Model Dependent): | iPhone, Android, Cloud |
| Connectivity (Model Dependent): | USB C, Lighting, Bluetooth |
| Maximum Phone Size: | USB C: 167mm; Lightning, Bluetooth: 173mm |
| Charging Passthrough: | USB C, Lightning (Not on Bluetooth Model) |
| Weight: | USB C/Lightning: ~360g; Bluetooth: 384g |
| Thumbsticks: | 2 |
| Gaming Buttons: | 4x triggers, D-Pad, ABXY, Start, Select |
| Function Buttons: | Screenshot, Home Button |
| Size: | 203mm x 10mm x 55mm |
| Materials: | PC and ABS |
While the Bluetooth model doesn't have passthrough charging to the host device, it does have a USB Type C port for charging the onboard 500mAh battery.
The retention mechanism for the GameSir is a spring-loaded slide with rubber jaws, in addition to the USB C and Lightning connectors on their respective models.
One of the differences in the models that I wasn't aware of until looking at their differences is the arrangement of the ABXY buttons. On the USB C model, the buttons are in the Nintendo Switch layout. Conversely, on the Lightning and Bluetooth models, the buttons are in the Xbox layout. This can certainly make some games more awkward to play, but more on that later.
In the Box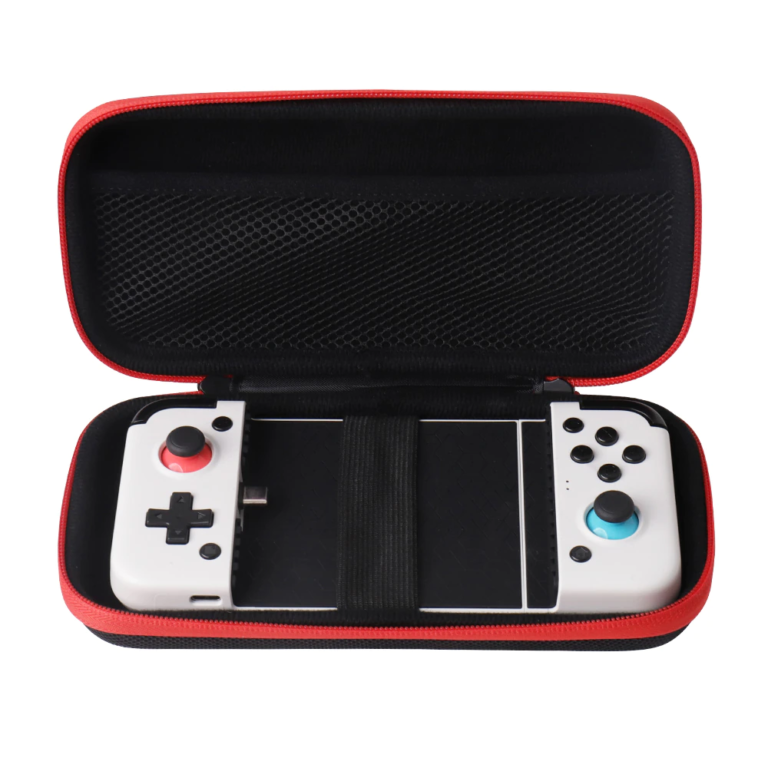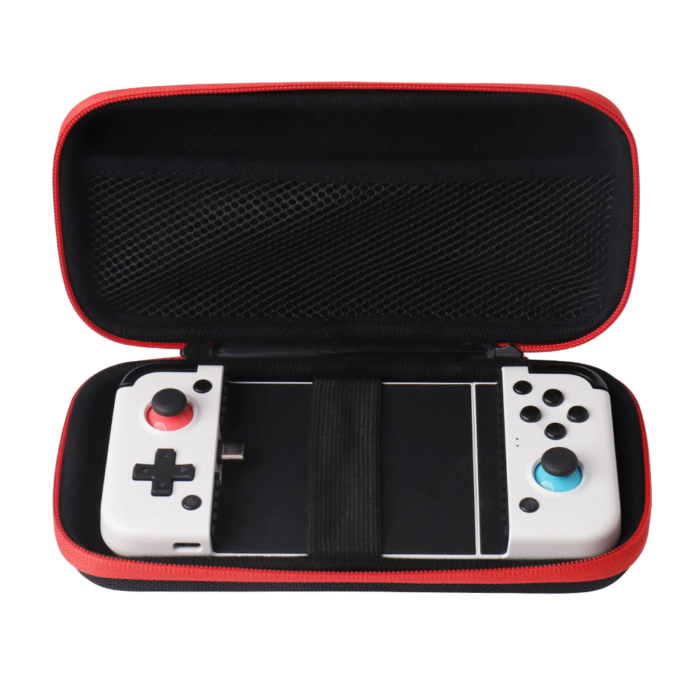 When I received the GameSir X2, I was a bit shocked to find that the box it shipped in was very thin and not protective at all. I was half-expecting to open the box and discover a damaged device. Well, as it turns out, GameSir provides a protective travel/carrying case for the X2. The case itself isn't amazing, but it is of reasonable quality for an included accessory and will be fairly protective and sturdy with a retention band for securing the device. It even has a mesh pocket/compartment.
Inside the case, aside from the device, is a smaller box. Within the box was a GameSir sticker, a manual for the device, a thank you ("for your purchase") note, and a set of four thumbstick grips.
As someone that was only expecting the device itself and some accompanying literature, I was happy to see these additions. I feel that it says GameSir isn't just trying to sell you another gadget; they really want you to use it.
First Impressions of the X2
The GameSir is on the lighter side compared to something like an Xbox controller. This immediately communicates a low quality, but as I learned later, it's possibly more of a miscommunication (at least insofar as the weight). Continuing with this impression of cheapness is the hollow shell feeling combined with the rattling of the device when shaken. This rattling comes from the sliding mechanism. There appears to be some slight racking and side-to-side movement in the rail. There is no rattling when holding the device with inward pressure on the jaw.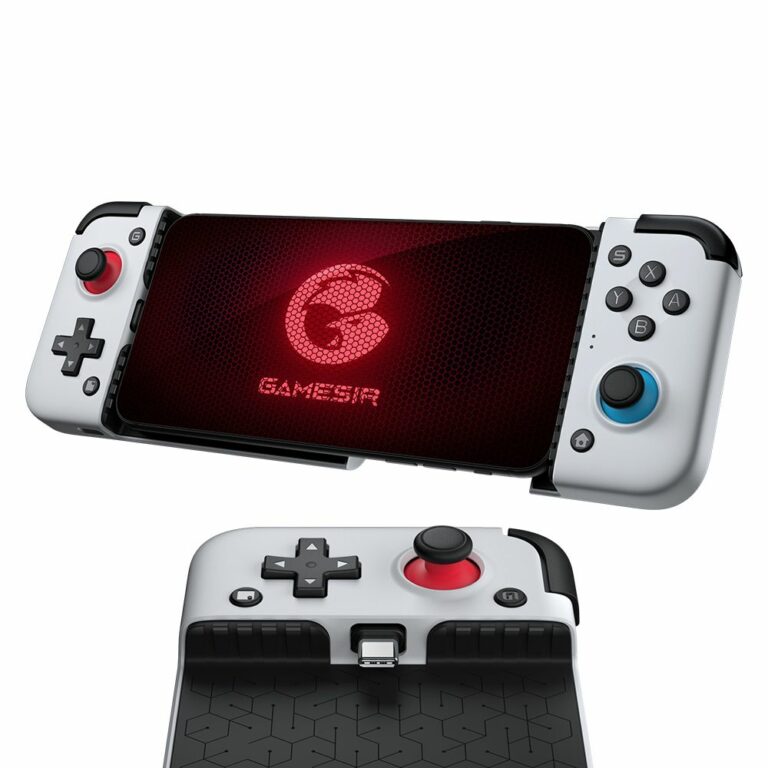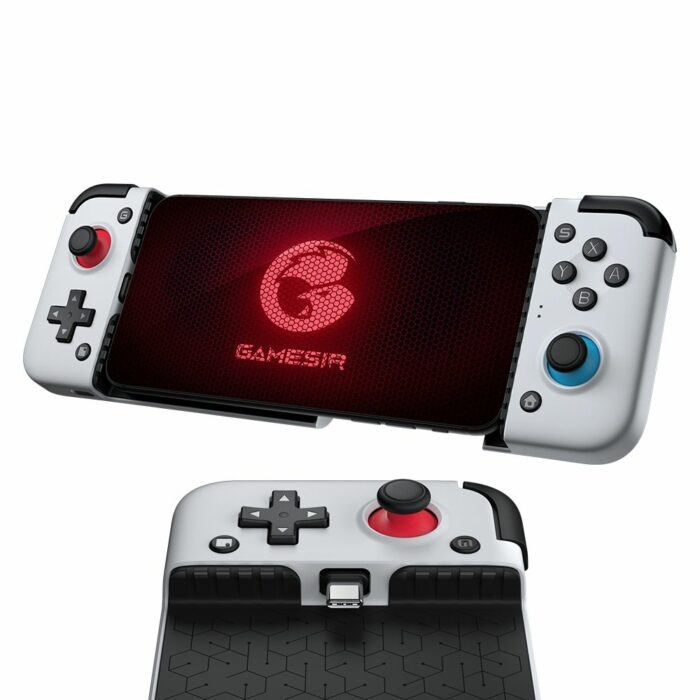 The GameSir X2 feels a lot like a Nintendo Switch. It appears to want to be a Switch from its shape to the button layout (not just the ABXY layout). This makes sense in the mobile market. The design allows for a more compact and travel-friendly device.
Using the GameSir X2
The GameSir X2 connector was surprisingly flexible. It can rotate more than 45 degrees upward to accommodate an incoming phone, preventing and leveraging the phone's USB or Lighting port. Setting up the X2 can be a little awkward because the spring-loaded jaw that secures the phone is pretty strong.
This, combined with the inward taper on the rubber-laced jaws, keeps the device surprisingly secure without obstructing the display at all. One would hope spring strength is an indicator of longevity, and if it is, I would say this is an excellently designed retention mechanism. If I could change one thing about the jaw (aside from that racking), it would be to add a feature that allows locking the jaw open while inserting the device.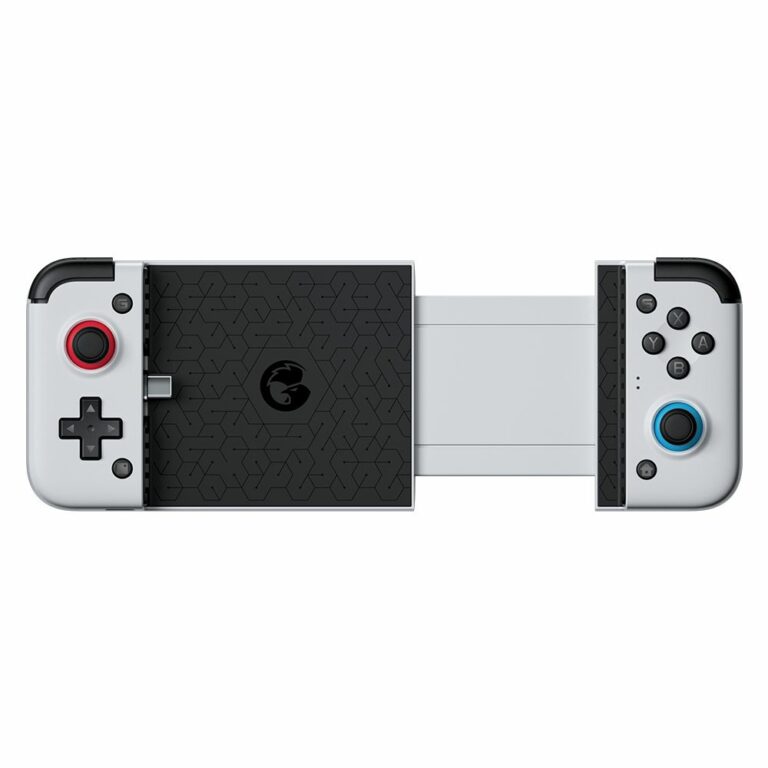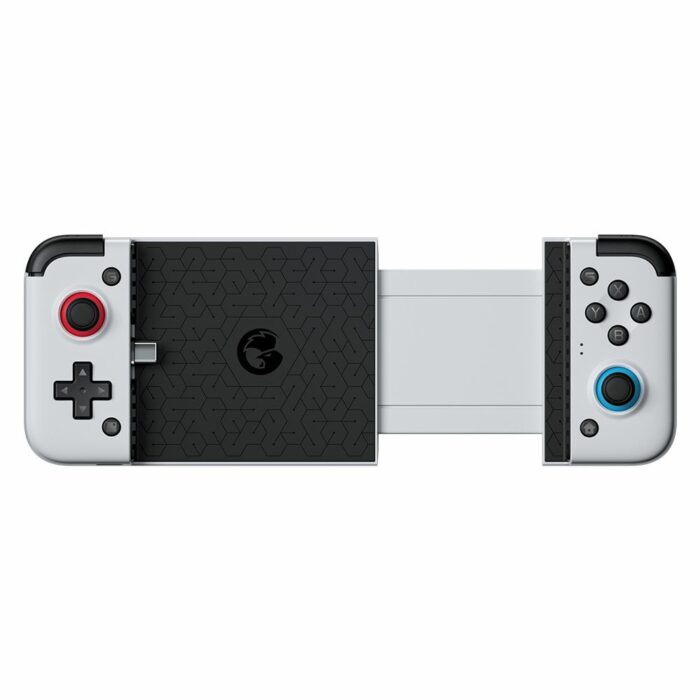 Once I had installed my phone (a Google Pixel 4a 5G), I realized that it wasn't connecting. Despite the USB C connector on the inside of the jaw looking to be a little on the long side, my phone's case was interfering. For reference, my phone's case is only about 2mm thick.
The USB C connector is about 10mm from my crude measurement. I have chargers whose connectors are about 6mm to 7mm (without interference from the case, mind you). So, there should be an additional 2mm to 3mm, which should meet or exceed the thickness of the case. But that case isn't the only thing at play. The tapering of the jaw adds an additional ~1mm of interference. So, off with the case it was.
Once I had my phone in the X2, and the indicator light was on, I was ready to start using it. Face unlock would have been nice on my phone, given that the fingerprint sensor is obstructed by the X2. Using the phone as a phone while it's in the X2 is awkward in my opinion, but that's not the fault of the X2; it just makes the phone feel huge and difficult to hold in the typical phone orientation.
I also noticed, almost immediately, that with my phone in the GameSir X2, it became apparent that it felt sturdier. A typical controller has rumble motors and possibly a battery that adds weight. With the phone, along with its vibration motor and battery, it was quite a bit heavier than my Xbox controller. So, it makes sense why it was kept on the lighter side.
As it turns out, there are a number of games in the Google Play Store that support controllers. Some controller support seems to be better than others, and I don't think it is in any way the fault of the GameSir, which appears to use the HID Gamepad input specification.
Gameplay
I tried Brawlhalla and Rocket League: Sideswipe. I hadn't played Brawhalla in a long time, and I wasn't aware there was an Android port for it. So, I had some fun playing it (and lamenting the Switch-like button layout). The control worked. I was playing a game on my phone using not-the-touchscreen. I enjoyed it. Similarly, with Rocket League, it was fun to play an action game on my phone.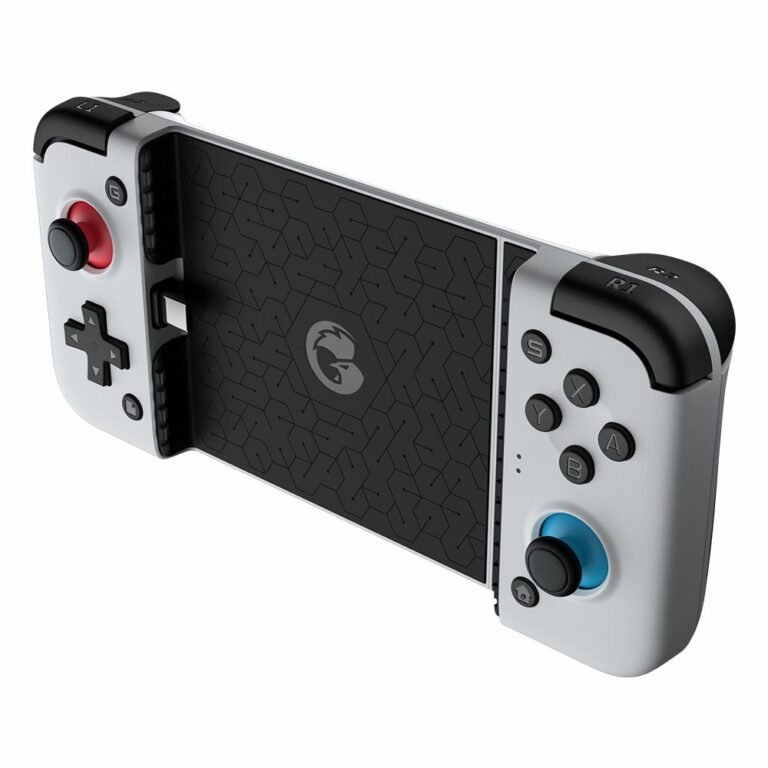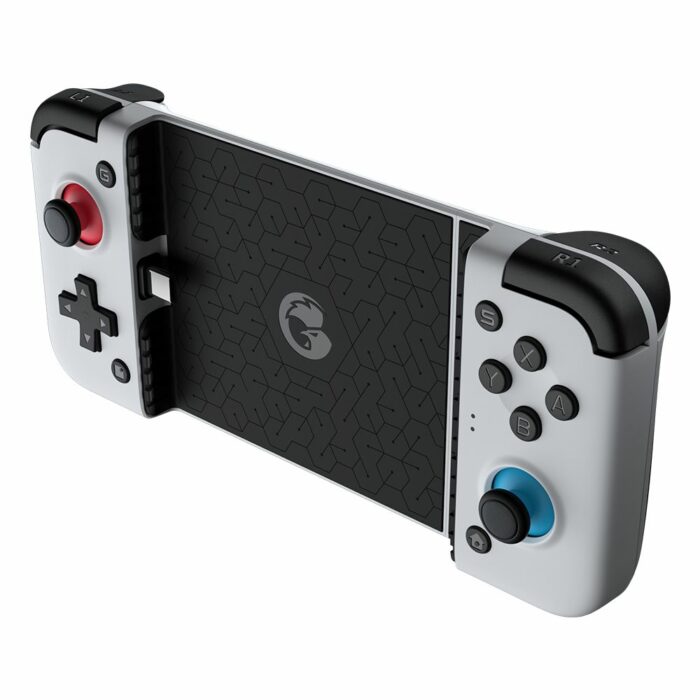 I tried some emulators, and that worked well, too. Both Dolphin and M64Plus worked very well with the X2. I took some tinkering to set it up, which is to be expected, but it wasn't long before I played some nostalgic games. I never doubted it would work, but it was still a very novel experience.
The screenshot button works as expected. I found that the Home button is placed and designed well enough that it should be nearly impossible to hit accidentally. They're not recessed, but they're very low profile.
Taking things a step further, I tried it out with Steam Link. And yes, it worked just about flawlessly. There was very little setup required. Steam Link let me change the Switch-like layout to my preferred Xbox layout. If not for the trouble of having both your desktop and mobile device wireless while using Steam Link, it would have been a perfect experience.
X2 Handling
In spite of my enjoyment, there are a number of shortcomings with the GameSir X2. First and foremost is the shape (again). The X2 is relatively small. This is largely due to the lack of body or volume that would normally occupy your palm on an Xbox or PlayStation controller. There's just not a lot to hold on to. This makes for an awkward experience that takes getting used to. I have hands that are on the smaller side, and I found the X2 awkwardly small, so those with average-sized hands and up will have even more difficulty.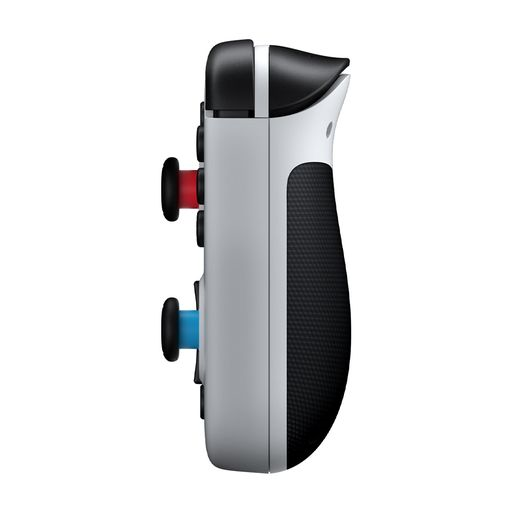 This experience made some games less playable. I would imagine that fast-paced games that require frequent readjustment of the hands around the controller would be difficult to play with the X2 given its size and shape. Because of this, I would recommend this controller for games like RPGs, maybe racing games, and other genres that are a little more relaxed.
Something surprising about the X2 is the tactile click to the triggers. It took a minute to place it, but it's the same as a computer mouse. This means that you do not have the variable depth of a normal controller trigger, not that that should be a big deal for a mobile controller like this. The other buttons have some tactile feedback, but there is barely any throw to the buttons, which leaves the actuation feeling more like a click (but not quite like a mouse click) rather than a button press. This isn't terrible, but I think a full throw like a traditional controller would be a much more premium-feeling experience.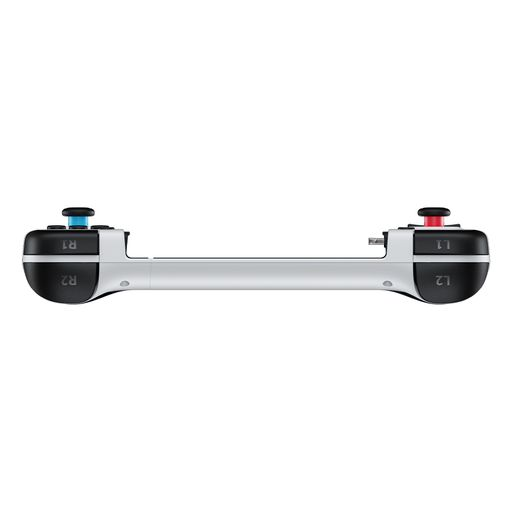 The thumbsticks appear to have a nice tension on them. They feel a little more taught than my Xbox controller, keeping in mind that it's a few years old now, and the X2 has shorter thumbsticks. There was a little bit of play on the thumbsticks, moving as much as a millimeter in some directions, but this wasn't noticed in gameplay.
The power passthrough, which is an excellent feature, worked as expected. I do question the placement of the USB port on the X2, though. It's placed almost directly below the left thumbstick. It's not the worst placement, but it can add to the awkwardness of holding the device a bit. I think it would have been better placed in the center of the device at the bottom or the top, possibly even both.
Biggest Complaints about the GameSir X2
My complaints aren't particularly big. I have three that could undoubtedly be dealbreakers for some users.
Firstly, my headphone jack, and most likely anyone else's, is obstructed by the GameSir X2. Exacerbating this issue is the fact that the USB C charging port on the X2 didn't pick up on my headphones; it appears to be strictly for charging. This means that Bluetooth headphones are required to be used with the X2. This is a very important consideration to keep in mind.
The comfort of the controller is a big one for me. It deserves to be brought up again. I believe that it could be much better. I also believe that there is a simple way to accomplish a better experience without bringing out an entirely new product. There are black rubber grips on the back of each side of the device (pictured below).
The black grips are fastened with small Torx screws, and presumably a retention clip of some sort. I believe that these alone can be swapped out, even by the user, to create a fuller body. These rear grips, unlike the provided thumbstick grips, can be used to customize the experience, adding a great deal of value for relatively little cost.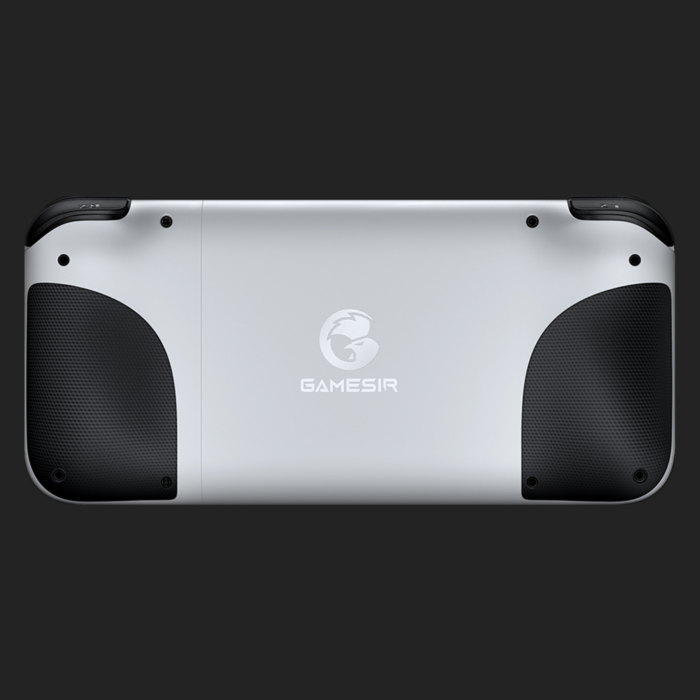 My last complaint is about the button layout. I don't understand the logic behind the Bluetooth and iPhone models getting the Xbox-like layout and the USB C model getting the Nintendo Switch-like layout. I do understand that carrying a model for each layout for each connection interface isn't feasible. As a compromise, I think a recessed toggle switch to select a layout would suffice. However, a companion app for remapping buttons and configuring profiles would also be useful, especially considering the varying levels of controller support among smartphone games.
Conclusion
I was very surprised by the functionality of the GameSir X2. It's not perfect. There are a few things I would change about it, but the X2's shortcomings are not necessarily dealbreakers. It's a great deal of fun that I would never have gotten out of my phone otherwise, and I sincerely believe there's a ton of untapped potential in this accessory form factor. I will continue to enjoy the GameSir X2. (Especially if I can get Steam Link running better.)