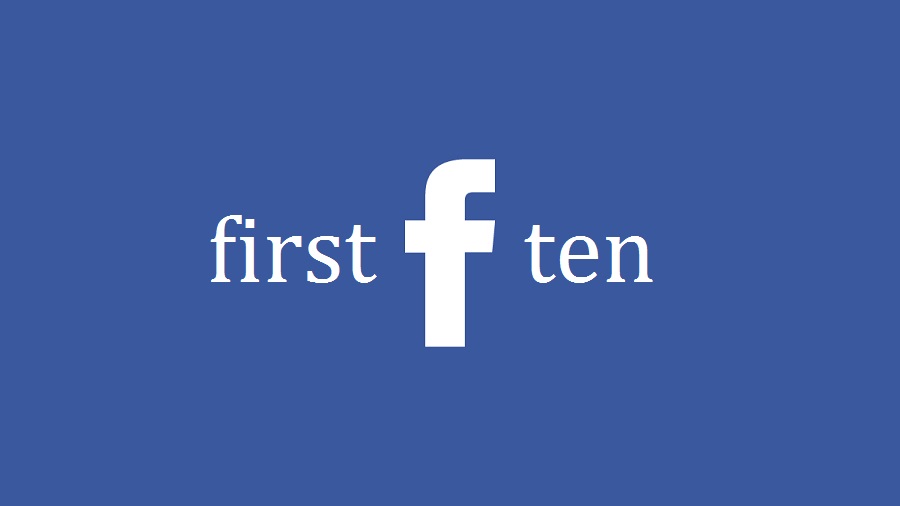 Short Bytes: Who were the first ten users on Facebook? These are Harvard graduates who showed their interest to try the blue network during its initial days. Read further to know about them.
F
acebook, the blue colored network, has around 1.6 billion monthly active users. That's a deserving figure for a social platform that has been endeavoring to remain on the throne for the last 12 years. Facebook's initial days were featured in the movie The Social Network which was an adaptation of the book "The Accidental Billionaires." However, the actual story was a
bit different
.
An interesting question about the social networking giant is — who were the first ten users on Facebook? It's easy to decipher, the creator Mark was the first one to create an account on facebook but the curiosity escalates ten-fold as one moves down the list to see who's the second, third, and so on. The original ID number given to these profiles are also mentioned. They are not in sequence as some IDs don't exist or were later assigned to other users, mainly Facebook employees.
Here are the first 10 users on Facebook:
Mark Zuckerberg (ID – 4):

Image: BetaBoston

The CEO was obviously the first person to have an account on Facebook. Technically, he was fourth as he may have wasted the first three profile IDs. Mark has become a father to Max after he tied knots with her long-time love interest Priscilla Chan. Stories like having an 'I'm CEO Bitch!' business card and insulting his girlfriend on a public platform reflect the rebellious attitude he nurtured as a college guy. Over the years, Zuckerberg has turned into a mature person. The older version of Mark wants to connect technology deprived people to the digital world with projects like Internet.org and internet-beaming drones.

Chris Hughes (ID – 5):

Image: Adweek

One of the names in the Facebook co-founders list was the second person to have a Facebook profile. The Harvard graduate served as Facebook's spokesperson until the year 2007 when he left to volunteer for Obama's Presidential election campaign. Hughes founded Jumo before joining as the Executive Chairman and Editor-in-Chief for The New Republic magazine. Hughes bought the majority of the stake in the magazine which he sold to Win McCormack in Feb 2016. The pillars of the century-old magazine weren't capable enough to bear the weight of the digital skyscraper Hughes wanted to build.

Dustin Moskovitz (ID – 6):

Image: Telegraph

Another Facebook co-founder, the Florida-born American, was Zuckerberg's roommate during their Havard years. After spending 'few days' learning PHP, Moskovitz was all set to kill the bugs. He was the CTO during the initial years and then the VP of engineering. Dustin, along with Justin Rosenstein, left Facebook in 2008 and created Asana, a work tracking platform based on the software-as-a-service model. Apart from being an angel investor to many startups, Moskovitz and his wife Cari is the youngest couple to sign The Giving Pledge.

Arie Hasit (ID – 7):

Image: BuzzFeed

He was one of the earliest to have a Facebook profile even though he wasn't associated with the creation of the social network. At Harvard, he was an arts bachelor studying Israel History and wrote for the Harvard Political Review. He currently resides in Jerusalem where he serves as a student rabbi (a teacher) for a non-profit called NOAM Olami. It involves young people aged from 8 to 18 years who are taught Jewish values, Masorti Judaism, leadership skills, etc.

Andrew McCollum (ID – 26):

Image: Mashable

Another person from the founding team, McCollum has been away from the limelight all these years. He dropped out and worked at Facebook when it was a startup. He went back to Harvard in 2007 and completed his bachelor's in computer science. McCollum co-founded Jobspice and traveled around the world to pursue his hobby of being an angel investor along with continuing his Masters of Education at Harvard. He was an entrepreneur in residence at Flybridge Capital Partners and currently works as the CEO at Philo which provides internet TV in U.S. universities.

Colin Kelly (ID – 27):

Image: Linkedin

Being a physics research assistant at Harvard, he studied techniques for analyzing molecular structure. He obtained a JD degree from Columbia University School of Law and gained popularity in the Windsor v. the United States civil rights case in which the State was challenged for discriminatory treatment against homosexual couples when claiming the federal estate tax exemption. Kelly currently lives in New York and works as a Tax Associate at Paul, Weiss, Rifkind, Wharton & Garrison LLP.

Mark Kaganovich (ID – 28):

Image: Linkedin

Kaganovich was a biochemistry graduate at Harvard where he met Zuckerberg during math classes and dorm hangouts. "I remember him urging me to put up a profile picture, because I was slow to do so," he told Rob Fishman of BuzzFeed. Mark (Kaganovich) was a research assistant at Weizmann Institute and built a scientist social network called Labmeeting after he graduated from Harvard. In 2009, he went Stanford for a Ph.D. in Genetics. Since the year 2013, Kaganovich has been working as the CEO (and co-founder) of SolveBio based in New York, a company involved in health research and assists pharma companies with its analyzed data.

Andrei Boros (ID – 29):

Image: Facebook

The economics graduate from Harvard has been into the financial services business. He specializes in hedge funds and has worked as a trader at JP Morgan Chase, Vicis Capital. He currently serving as an Options Trader at CapeView Capital in London.

Manuel Antonio Aguilar (ID – 30):

Image: Innovator Sunder

Aguilar's belief is to produce social and environmental benefits by providing basic facilities to the economically deprived section, the Base of Pyramid (BoP). The Harvard graduate based in Guatemala has been a co-founder to a bunch of startups like Quetsol and La Independencia which are inclined towards his focus of helping the poor socio-economic section of the society in Guatemala. Aguilar is the President of CASSA (Construcción AutoSuficiente, S.A), a construction company offering personalized affordable construction solutions.

Zach Bercu (ID – 31):

Image: Facebook

Bercu, a radiology pro, has been working as an Assistant Professor at Emory University School of Medicine after he completed his fellowship at Icahn School of Medicine. He graduated magna cum laude in psychology from Harvard and then went on to obtain an M.D. Medicine degree from Emory University. Bercu likes to watch movies, spend time with his family and is a technology enthusiast. He has worked on an implementation of Leap Motion related to radiology.
So, these were the names of the first ten Facebook profile holders. You can check more of them, up to twenty, in the list compiled by Alyson Shontell for Business Insider. Now, that, your curiosity has subsided, check out the new basket ball game in Facebook's Messenger app.
You'll find this interesting: From The History of Facebook To How Big Is Facebook Today