Portability has always been considered a desirable quality. There's a reason why portable items, such as smartphones and laptops, are key to our work and lifestyle today. To achieve portability, we've either tried to shrink something (traditional smartphones) or make it foldable (foldable smartphones).
This design trend isn't limited to electronics because engineers have also built entire houses with portability in mind. There are certain manufacturers that build these houses taking the foldable approach. Such foldable houses can compress into a container-like form and be transported to different locations.
A promising and futuristic field, foldable houses are developing steadily and are hence gathering significant attention. Here's a video that shows some of the most fascinating foldable houses in the world.
5 foldable houses that are peak innovation
1. TenFold Engineering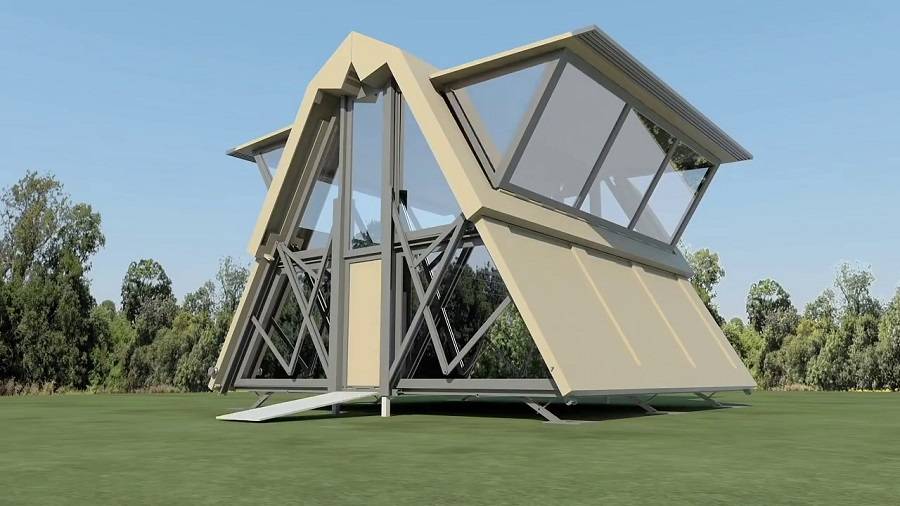 For the first time ever, you can now tow your house to another location, just like how you tow your car. That's because Tenfold Engineering's foldable house can transform into a truck container for easy transportation. It takes just the click of a button to start the unfolding process, which takes under 10 minutes to finish. In no time, the container fully unfolds into an avant-garde modular house which covers roughly three times more area.
The house is built from steel and Aluminium Composite Material (ACM) and covers as much as 64 sq. m or 689 sq. ft. The U.K.-based firm has put a price tag of around $350-400 per sq. ft and allows clients to customize the foldable house according to their needs. Moreover, these structures come with a warranty of 10 years, while the company claims they would last for multiple generations.
2. Boxabl Casita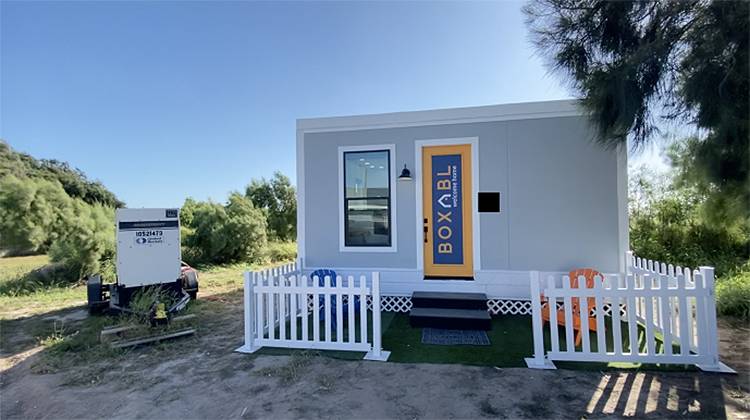 Unlike Tenfold, which simply provides a shelter, Boxabl Casita goes a step further and provides a shelter filled with everything you could ever need. It offers fully-furnished modular houses that are equipped with home appliances, lighting, and other household amenities. Its appeal to those who are always on the move is so strong that the richest man in the world, Elon Musk, also owns one of these houses.
Since Boxabl Casita houses are more than just shelter, the modular house takes an hour to fully unpack. Once it's undone, you'll get a house with a 375 sq. ft-living area, a bathroom equipped with a sink and shower/tub, and a kitchen having a fridge, oven, dishwasher, and microwave. Additionally, it uses an ultra-low utility technology to cut down on electricity bills. To get a Boxabl Casita, you'd need to shell out $49,500.
3. Brette Haus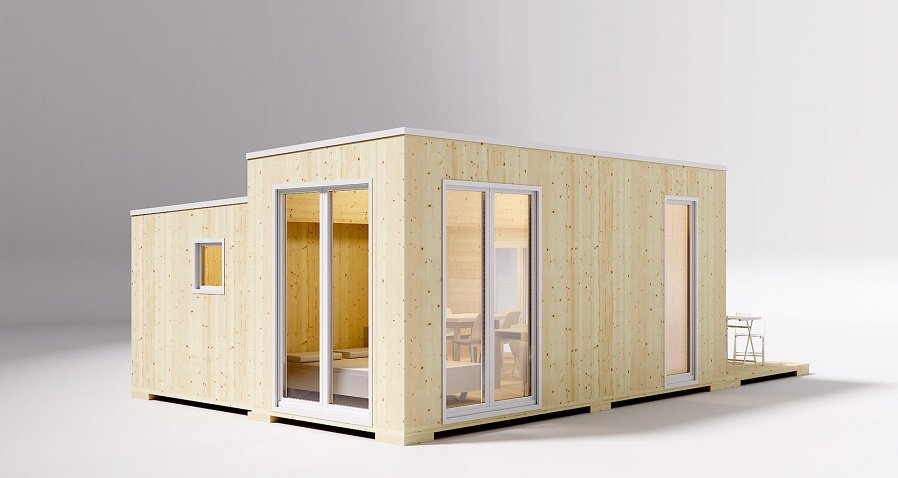 Brette Haus offers a range of portable shelters, from cabins to cafes to kiosks. According to its website, these houses have a durable and fire-resistant build coupled with a chic design. Impressively, the Latvian company also follows an environment-friendly approach to its manufacturing process.
It uses cross-laminated timber or CLT for its structures and hence features natural ventilation and temperature balance. Thanks to its unique hinges, it has an effective folding process that allows the entire thing to fold into a smaller cube. Depending on the variant, Brette Haus shelters can take anywhere from 15 minutes to a few hours. The price of these houses ranges from €29,150 to €61,000 (~$29,705-$62,162).
4. Blu Homes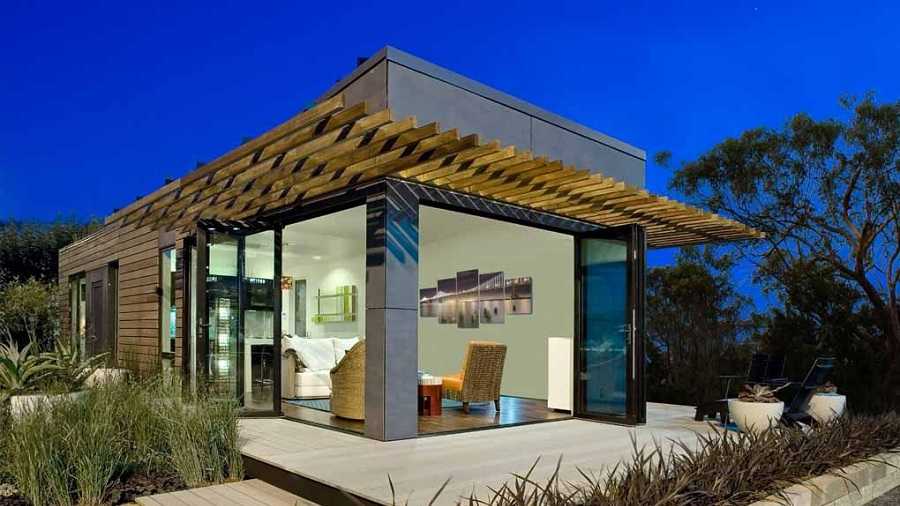 Blu Homes is the manufacturer of choice for those who want a lavish portable shelter. It provides some of the most premium multi-room houses that feature high-end architecture. These houses come with a special framework that can bring down energy costs by up to 50%.
There are distinct variants, such as the 605 sq. ft Cabana 600and the 2140 sq. ft Breezehouse 2100. Prices for Blu Homes foldable houses start at $250,000 and go as high as $625,000. Moreover, the firm also develops eco-friendly housing structures under the name "The Evolution."
5. Caspar Schols's Garden House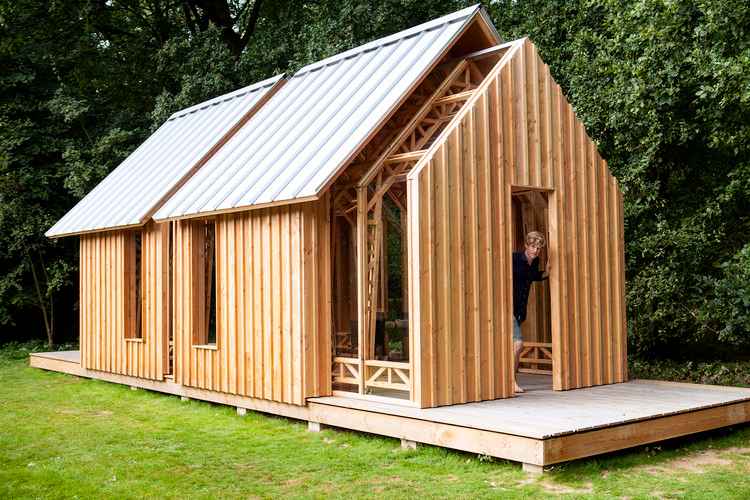 A rustic portable house designed by Dutch architect Caspar Schols, the Garden House is a wooden attraction that spans 45 sq. m or 484 sq. ft. It sports an outer shell of Douglas wood and an inner glass shell. While it is 6m long and 4m wide in its original form, the structure can extend to being up to 12m long. That's because the glass shell can be rolled out, thanks to the runners built into the house.
Unlike other entries on this list, this Garden House isn't a commercial product but a personal project. Schols, who has little formal experience as an architect, came up with this ingenious house to fulfill his mother's request. However, a commercial product eventually did emerge from the Garden House's base design, and it is called ANNA.
Would you like to live in a home you can take anywhere? Tell us in the comments below. Besides futuristic housing, we have also covered some futuristic vehicles you might want to check out.