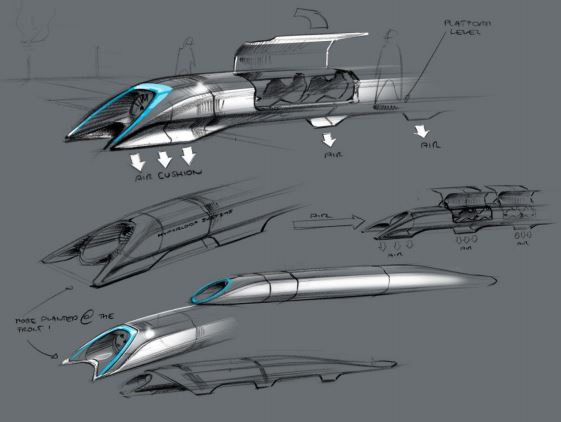 Back in 2013, Elon Musk published a white paper on the Hyperloop – a high-speed ground transport concept. And after months of speculation and, now it is confirmed that Elon Musk's venture SpaceX is building a Hyperloop that can transport people and goods at a speed of 760 miles per hour.
I
n the past it was leaked that Elon Musk is building the very first Hyperloop track of length 1-3 mile in Hawthorne, California and this technology will be tested soon in coming time. Now according to Motherboard, it has obtained some document that confirm some solid building plans for the first time along with the involvement of SpaceX.
Elon Musk has said in the past that even though he was working on an alternate mode of transportation but he was too busy with Tesla Motors, SolarCity and SpaxeX to work on this alternate mode of transportation.
"SpaceX will be constructing a sub-scale test track (inner diameter between 4 and 5 feet; length approximately 1 mile) adjacent to its Hawthorne, California headquarters)," an official SpaceX document called "SpaceX Hyperloop Pod Competition." It added, "In order to accelerate the development of a functional prototype and to encourage student innovation, SpaceX is moving forward with a competition to design and build a half-scale Hyperloop pod."
"In addition to hosting the competition, SpaceX will likely build a pod for demonstration purposes only," the paper said.
Musk has made his designs, paper and plans open-source so than anybody could work on that. Last month it was announced that two companies named Hyperloop Transportation Technologies and Hyperloop Technologies have started working on Hyperloops and they were planning to make a 5-mile long test track in California.
Till now neither SpaceX nor Elon Musk had any relationship with these companies and the test track being built by SpaceX is the first confirmation of their involvement.
SpaceX said: "We are excited that a handful of private companies have chosen to pursue this effort. While we are not developing a commercial Hyperloop ourselves, we are interested in helping to accelerate development of a functional Hyperloop prototype."
In a contest being run by SpaceX, the university students' team design passenger pods and present them in front of SpaceX in January 2016. The best designs will be built at half scale and tested at SpaceX Hyperloop test track.
Recommended: Elon Musk's SpaceX Launches World's First Electric Satellites