Language Learning apps have seemingly become popular on Android devices. Nowadays, people prefer apps which include creative visual techniques, rather than reading monotonous pages of thick language books.
One such language learning app is called Drops. Recently published as one of the "Google's Best App of 2018", the Android app covers over 31 different languages and teach them in a fun and creative way.
Drops Android App Review
Many studies have shown that new material is best learned when coupled with a relative set of visuals. And this is what we see in the Drops app. Starting with general navigation: The app's functionality is overwhelmed with stunning visuals. Apart from the gradient backgrounds, it includes fun animations and images for each word. Language words range in many topics like food, drinks, animals, travel, home, city, sports and many more.
To make you associate a particular image with a word, the Android app demos mnemonic images of objects. Let's say you are learning a new English word "Bread"; initially, you'll see a white backdrop of bread. Once you swipe it in your brain (the animation), the app will test you via many different ways. Like matching pictures to particular words or choosing between the correct figure for the respective word, etc.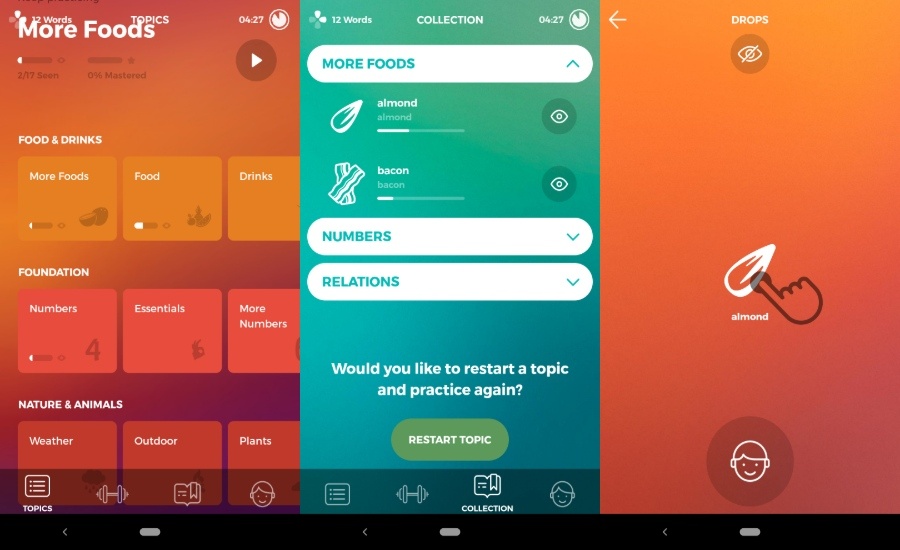 Be it any learning app, consistency is what many of us lack. To beat that, Drops arrives with an approach of "5 min session". In other words, you only have to spend five minutes on the Android learning app. Earlier I was skeptical about the whole five-minute thing, but eventually, it worked for me. The paradigm kept me tied with the learning process, and now, it's turned into a habit.
I liked the "Tough Word Dojo" exercise, where one can learn to pronounce toughest words. But you'll have to learn at least fifty words to unlock this section.
Apart from this, you can look previously learned words in the collection menu. Tapping a specific words triggers a pronunciation of that word. Here, you can also "Reset" a topic if you want to learn it once more. Unfortunately, you can't learn a specific word again unless you reset the entire topic.
Drops offers four different ranking based on the number of words learned in a specific number of days. It includes Newcomer, Novice, Tourist, and Conversationalist. It also has the option of changing the overall difficulty level from beginner to intermediate.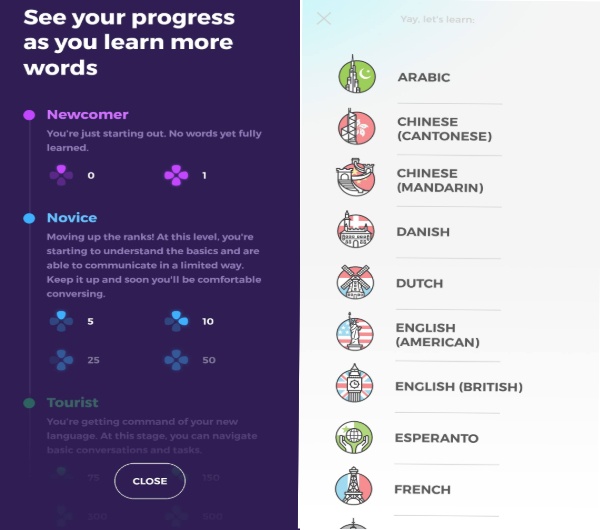 Just like Duolingo, this language app also doesn't encompass intricacies of a language. Like, you won't see the figure of speech, grammar, punctuation, sentence construction, etc. However, Drops equally compensate with Scrips — another app from the same developer that lets draw/ paint characters on the screen.
Drops premium mode gives you access to certain features like access to all the topics at once, touch word dojo feature, offline access. It also makes the app add-free which one would like to have in language learning app for an uninterrupted session.
You can subscribe Drops for $9.99 monthly, $69.99 yearly, or $159.99 for the lifetime access. You can use the same premium account for the Script app as well.
All in all, Drops is quite useful in making one learn a new language. If I were to compare Duolingo with Drops, both have their own perks and demerits. For instance, Duolingo has far more variety of words but lack the kind of interactivity present in Drops. Also, Duolingo includes tedious spelling writing tasks unlike in the Drops app
Drops Language App One year Subscription Giveaway [Closed]
Participate in our lucky draw content and get a chance to win Drops Language app lifetime access worth $159 for free.
Guidelines of the contest:
The contest will end on 16th December
3 lucky Winners will be awarded the lifetime premium access to Drops and Scripts app.
The winner will be announced on 25th December
Content Closed — Thank you for participating.