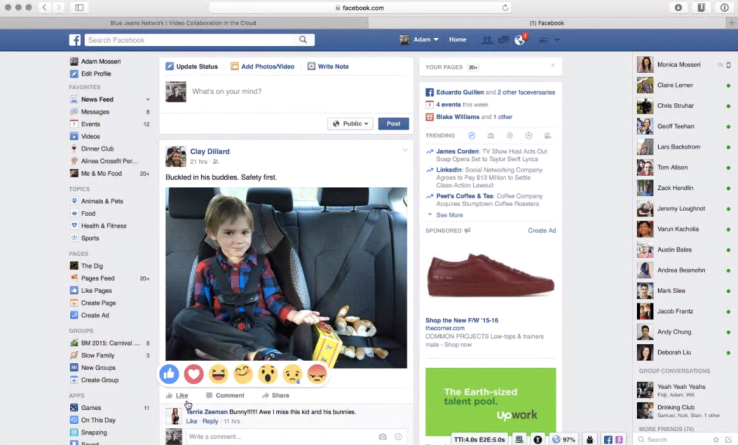 Short Bytes: Facebook has finally revealed how its upcoming dislike/empathy button will look like. The social networking giant is going to add 6 new empathetic emoji alongside the "like" button and is testing the feature before official rollout.
B
ack at Facebook's Town Hall public Q&A session, CEO Mark Zuckerberg confirmed that the social network is working on
some way to introduce the dislike button
on Facebook. Later, it was confirmed that Facebook is working on some kind of
"Empathy" button
as a Dislike button would be too negative.
Today, Facebook offered a glimpse at how the like button on Facebook is about to change. The social networking website is preparing the launch of "Reactions" – a feature that will add 6 empathetic emoji to the lonely '"like" button.
According to our sources, Facebook will be testing the feature in Spain and Ireland as soon as the next couple of days.

The six emoji that will be added alongside the like button are: Love, Haha, Yay, Wow, Sad and Angry. Which one's your favorite? Tell us on our Facebook page ;)
Back at the public Q&A session, Zuckerberg said, "What [people] really want is the ability to express empathy. Not every moment is a good moment. We have an idea that we're going to be ready to test soon, and depending on how that does, we'll roll it out more broadly."
With the new Reactions feature, Facebook is now eyeing the fact that people have a variety of emotions that they wish to express on Facebook. This set of emoji will be coming very soon to your Facebook account.
How do you feel after reading about the upcoming moments on Facebook? Like, love, haha, yay, wow, sad, or angry? Tell us in the comments below.
Also read: Top 5 Facebook Scams That You Should Be Aware Of