3D printing is going to rule the world of future manufacturing and I hope that till the end of this decade, we will be using 3D printed articles in our day to day life. Till now 3D printers with only printing capabilities were available in the market but with the launch of an affordable 3D printer with scanning function, the scenario of printing may change pretty soon.
Read our special coverage on 3D Printing.
World's leading 3D printing designer and manufacturer, XYZprinting has recently launched world's first all-in-one personal 3D scanner-printer – da Vinci 1.0 Aio. The company is based in China and they recently launched this revolutionary product at a press conference in Shanghai.
The da Vinci 1.0 Aio is a cuboidal box which encloses a 3D printing system along with a laser 3D scanner. Below a platform, a turntable spins along with the object to be scanned and the lasers measure the contours. The resulting object is then directly printed. It efficiently acts like a 3D photocopy machine.
Features in da Vinci 1.0 AiO:
Equipped with 3D scanning capability making it world's first 3D scanner-printer. By scanning the object placed on the printer's dedicated platform, the scanned data will be transmitted to the computer.
Scanning is done from two diagonally-opposite angles and for this purpose, 2 sensors are installed – one at the top left-hand corner and the other at the bottom right-hand corner. A good and accurate scan is completed in less than 5 minutes.
The da Vinci 1.0 AiO 3D scanner-printer is equipped with XYZscan program which allows adjustments of scanned data and object's smoothness. The scanning data can also be saved in 'stl' format and can be edited by 'stl'-compatible software.
The da Vinci 1.0 AiO uses ABS and PLA resins as printing filaments. The ABS and PLA resin doesn't require any special operation.
For printing, PLA resin wire materials will be available by placing the order in primary colors – white, black, blue and red.
Also Read: 3D Printing News – 3D Print Your Unborn Fetus and Sculptures of Newborn Baby
Techcrunch writes that the printer is adequate in all sense. "The prints are surprisingly smooth and detailed. A 3D print test I ran (below) passed with flying colors and a Mario star tree topper I printed looked like it could come out of the Nintendo Store. There was no clean-up – the printer prints onto a heated glass surface that is pre-calibrated to ensure excellent prints. The scanner was good but required planning. Scanning shiny objects is not recommended and even some detail is lost on matte objects. I scanned a few objects using the machine including a matte plaster gargoyle and a porcelain elephant. "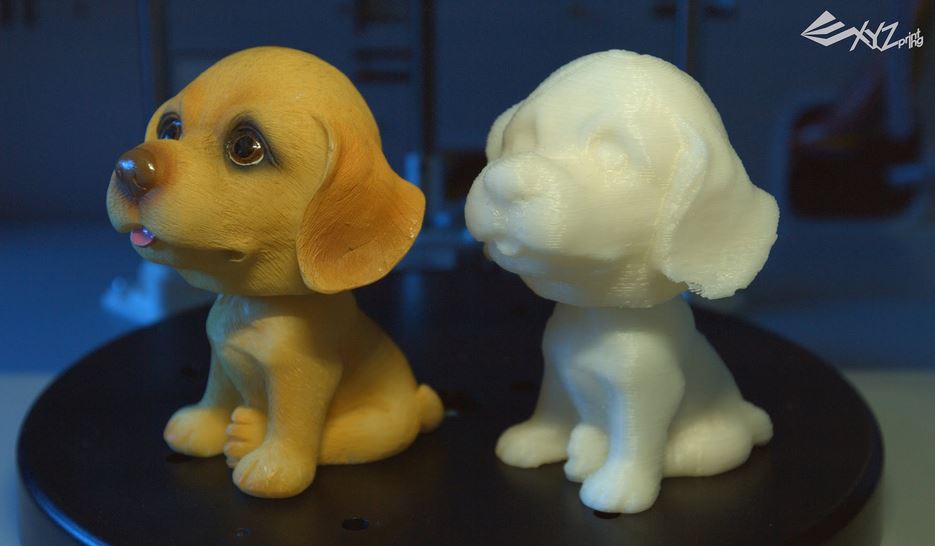 The da Vinci 1.0 Aio is the world first 3D printer and scanner produced at a mass level and at an affordable price of $799 which is just the price of a good color laser printer. A 600gm refill cartridge of the printing filament costs $30.
Taking about the technology and this all-in-one 3D printer, Simon Shen, chairman of XYZprinting said, "XYZprinting is always dedicating to the development and manufacturing of 3D printers that set industry standards. We leverage our exquisite techniques to ensure outstanding 3D printing experience and result. More than anything, our products with extraordinary cost performance make them affordable to ordinary consumers. In this way we enable 3D printing technology and applications to influence and penetrate into people's life, alter their lifestyle and ultimately make them enjoy the pleasure brought about by technology."
---
 Share this revolutionary  technology and tell us your views in comments.
---