Valve and Hidden Path Entertainment's Counter-Strike: Global Offensive grew popular almost instantly. The game was released in 2012, but the First-person shooter game is popular even to this date; so much so that the game has left behind GTA 5 and PUBG on Steam.
For those who have been living under a rock, in Counter-Strike: Global Offensive, players compete in two opposing teams, namely Terrorists and Counter-terrorists. Players have to perform different tasks, like defusing bombs and protecting the hostages while fighting the opposing team. So, the gameplay of CS:GO is nothing but grappling and engaging.
In the last 30 days, Counter-Strike: Global Offensive grabbed more than 1 million peak players and about 580,000 current players on Steam.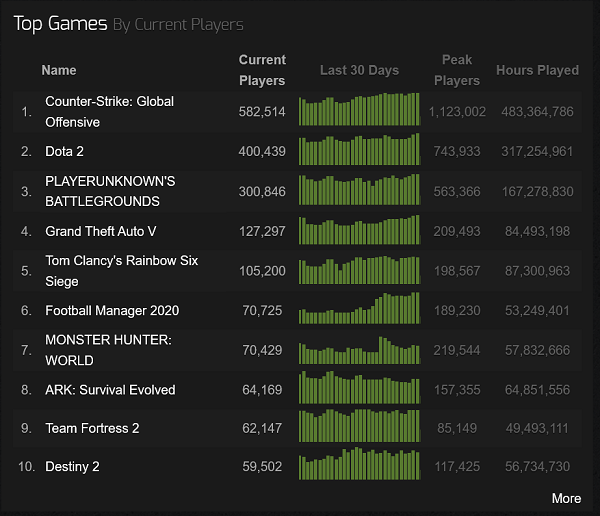 These numbers make Counter Strike: Global Offensive the most played game in the last 30 days, with Dota 2 on the second spot.
When you compare these numbers with PUBG, then you would know how far ahead CS:GO is from the most favorite battle royale game. For instance, PUBG had a current player base of about 300,000 on Steam in the last 30 days, so the difference is huge.
On one side there is PUBG, which is constantly losing players. Then there is Global Offensive that has gained more than 20% players since February 2020 and the graph for the game is only going uphill.
Also, when it comes to being dominated by Counter-Strike: Global Offensive, PUBG is not alone. With only 120,000 current players and approximately 200,000 peak players, CS:GO manage to outdo GTA 5 as well on Steam.