According to an order issued by the Ministry of Home Affairs, all the computers will now come under the monitoring of a few agencies directed by the ministry in India.
The agencies performing the task of surveillance will be:
The Intelligence Bureau

Narcotics Control Bureau

Enforcement Directorate

Central Board of Direct Taxes

Directorate of Revenue Intelligence

Central Bureau of Investigation

National Investigation Agency

Cabinet Secretariat (RAW)

Directorate of Signal Intelligence (For service areas of Jammu & Kashmir, North-East and Assam only)

Commissioner of Police, Delhi.
The agencies will be taking up the task of monitoring, intercepting and decrypting data (generated, transmitted, received) stored in the computers.
The service providers or the owner of the computers will have to follow the order and provide the agencies with the required information, else will be entitled to fine and seven years of jail.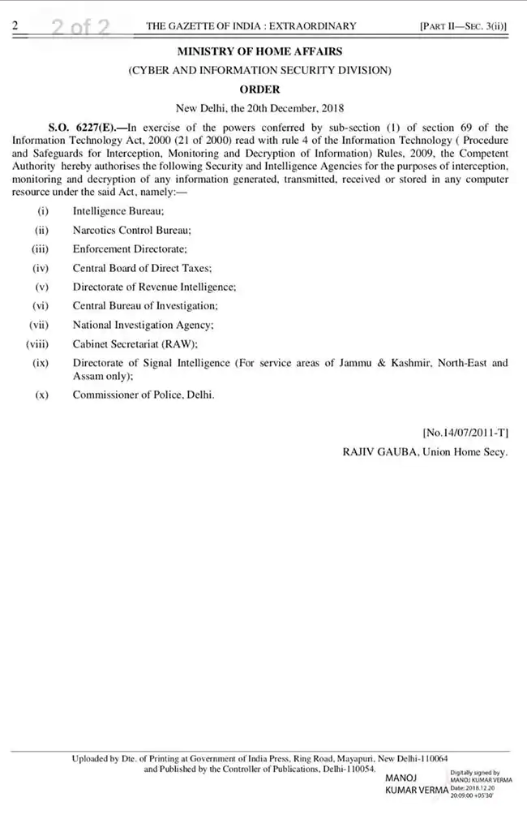 For those who don't know, the new order comes under section 69 (1) of the Information Technology Act, 2000 suggesting that the Central Government can ask any agency to monitor computer devices if the government feels the need of it for the:
"Sovereignty or integrity of India, defense of India, security of the state, friendly relations with foreign states or public order or for preventing incitement to the commission of any cognizable offense relating to above or for investigation of any offense."