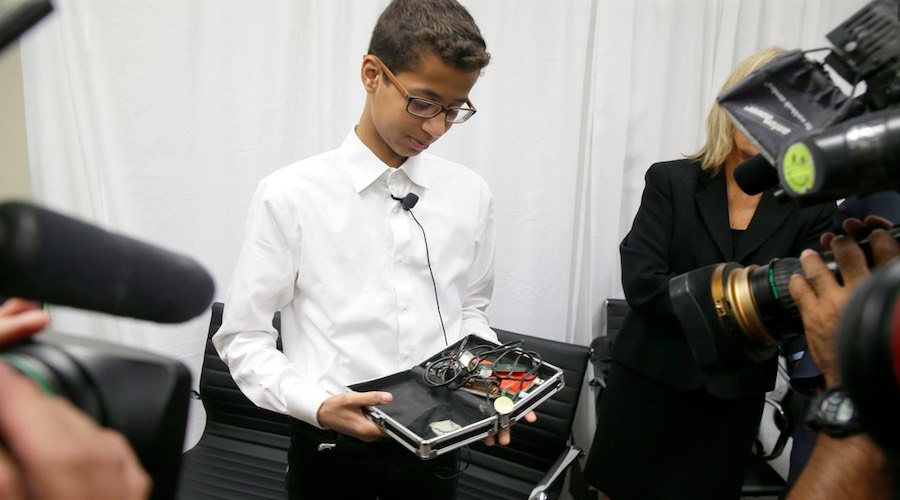 Short Bytes: 'Clock Boy' Ahmed Mohamed has sued the city of Irving Texas and his school Texas. His family recently visited Texas and gave a series of new media interviews. The lawsuit also highlights the history of discrimination against immigrants in the US.
R
emember Ahmed Mohamed, the boy who was
arrested last year
for bringing a homemade clock to his school? He has now
filed a lawsuit
against his school officials and the city of Irving Texas.
The lawsuit claims that the school officials violated his civil rights and 14th Amendment right to equal treatment under the law. His lawsuit also claims that the school district has a history of racial discrimination.
The lawsuit has named the city of Irving, Irving Independent School District, and the school's principal. It has asked a jury to determine the damages.
Mashable reports that District spokeswoman Lesley Weaver has said that district attorneys will review the suit and decide what to do next. "Irving ISD continues to deny violating the student's rights and will respond to claims in accordance with court rules," she said.
Mohamed was charged with having a hoax bomb when he brought a clock made from plastic pencil box and hardware from his parents' garage. While the charge was later dropped, he was suspended from the school for 3 days.
He received a widespread support from the likes of Mark Zuckerberg, Steve Wozniak, Larry Page, and NASA. The President Barack Obama even invited him to the White House.
Cool clock, Ahmed. Want to bring it to the White House? We should inspire more kids like you to like science. It's what makes America great.

— President Obama (@POTUS44) September 16, 2015
Following the incident, Mohamed and his family moved to Qatar. The family has visited Texas for the summer and gave a new round of interviews recently.
Have something to add? Don't forget to drop your feedback in the comments section below.
Also Read: Net Neutrality Wins! Europe's Plan To Stop Greedy Telcos From Controlling The Internet