Thanks to the ever-increasing popularity of foreign-language movies and streaming platforms like Netflix, the subtitling and dubbing companies have reported booming business performance in the past years. Furthermore, with TV shows like Money Heist and Dark going international, subtitle download websites are also becoming popular. And then there is the famous quote of "Parasite" director Bong Joon Ho: "Once you overcome the 1-inch-tall barrier of subtitles, you will be introduced to so many more amazing films."
In this article, I'll be listing down the top 7 subtitles download websites that you can use for understanding a movie or TV show in a better way. Personally, I prefer watching movies with subtitles instead of dubbed versions as it helps better understand the emotions. Do share in the comments what you prefer.
Tip:
You can also use VLC media player to directly download subtitles into the movies you're watching. This is possible with an extension/addon named VLSub.
Best Subtitles Download Sites For 2020
OpenSubtitles.org is one of the biggest and most renowned subtitle downloaders on the web. Just as the website's name suggests, the nature of the website is "open," which means that you can download all the subtitles available on the website for free. Moreover, each webpage of this subtitle site can be grabbed as a parseable XML for use in other sites or software.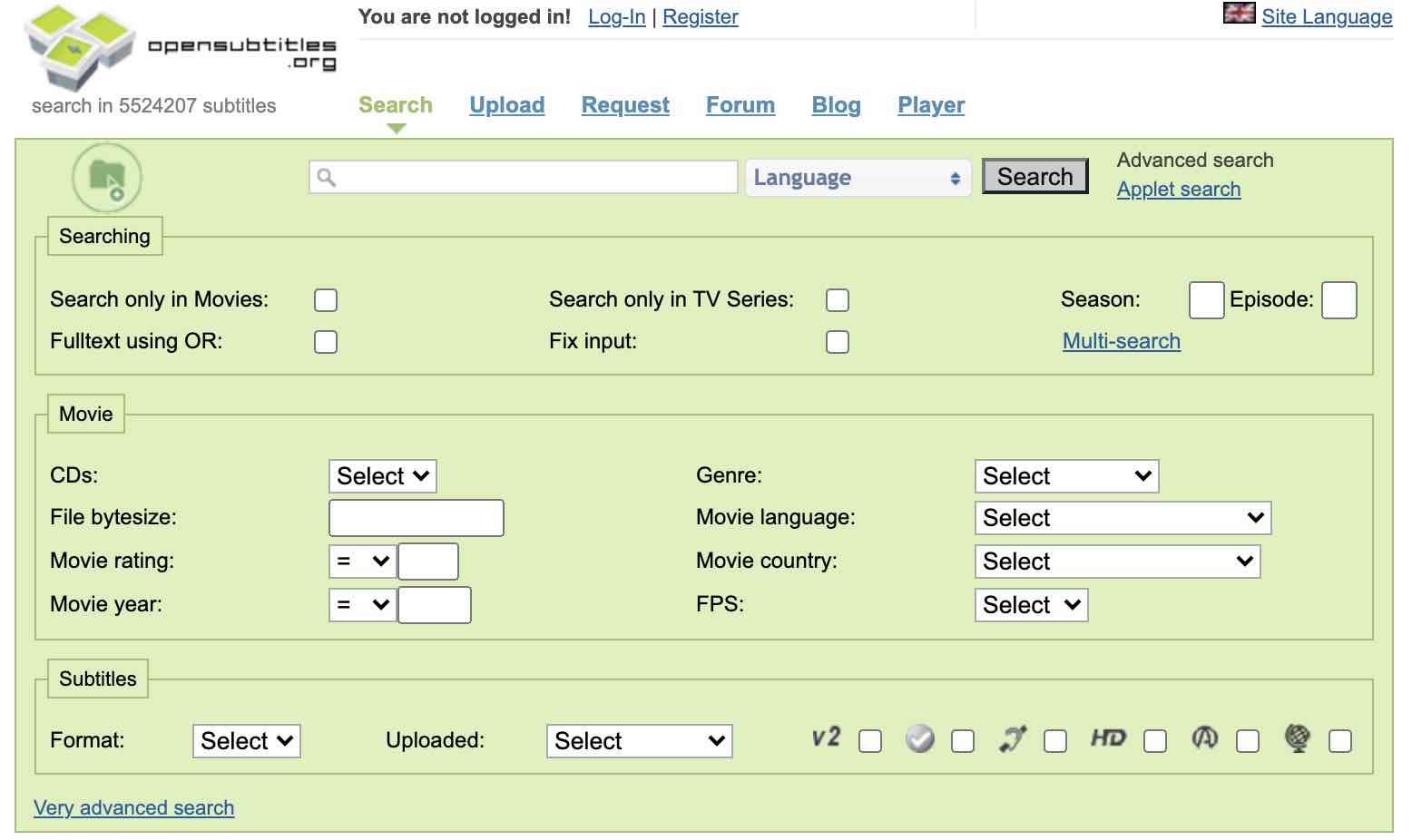 To download SRT subtitles and other formats, you don't need to register on the website; the same applies to using advanced search/filter options like genre, language, country, movie rating, release year, byte size, FPS, etc. OpenSubtitles provides the download option in multiple formats, including srt, sub, txt, ssa, sml, tmp, etc. If you choose to register, you will get access to features like searching for multiple subs at once, new subtitle upload notifications, comment posting, feature requests, etc.
Downsub is a subtitle downloader website in a true sense. Unlike other listings in this article that already host movie subtitles and tv subtitles, Downsub lets you download subtitles for videos hosted on websites like YouTube, Viu, Dailymotion, Facebook, Hostar, Vimeo, VK, RED, Google Drive, etc.
After pasting the URL of the video, just hit the Download button to get further customization options before downloading. You can choose to remove all the formatting and HTML tags to get the text in a cleaner form and get the subtitles in either SRT or TXT format. If you can bear tons of ads that take over the website after clicking the download button, you can also translate the YouTube subtitles before downloading them.
Joining the ranks of OpenSubtitles, Subscene is one of the most popular subtitle download sites that you can use. Thanks to active uploaders and visitors, the subtitle database of this website gets updated daily. The homepage of this subtitle website isn't very appealing but it gets the job done with a big search box at the top.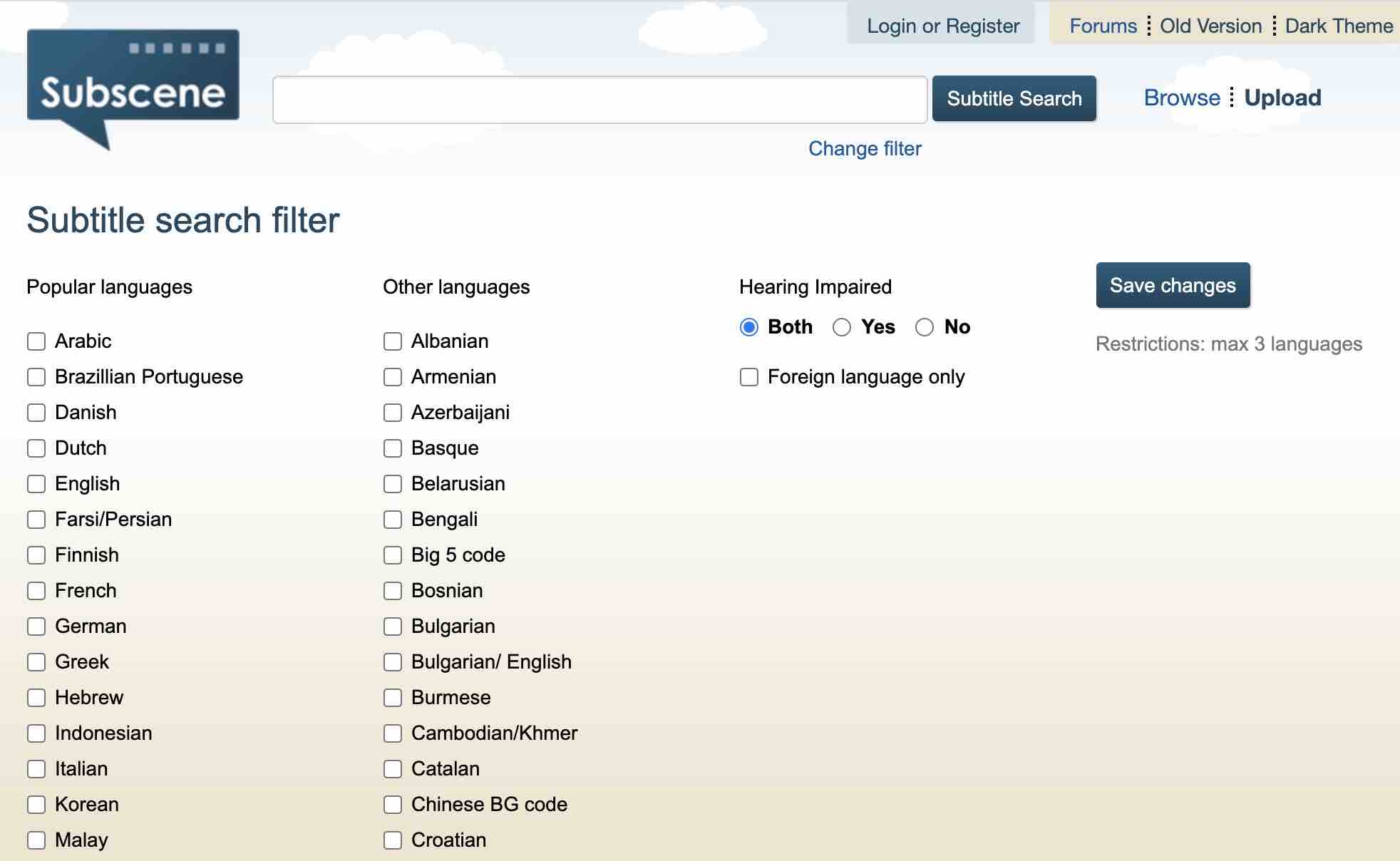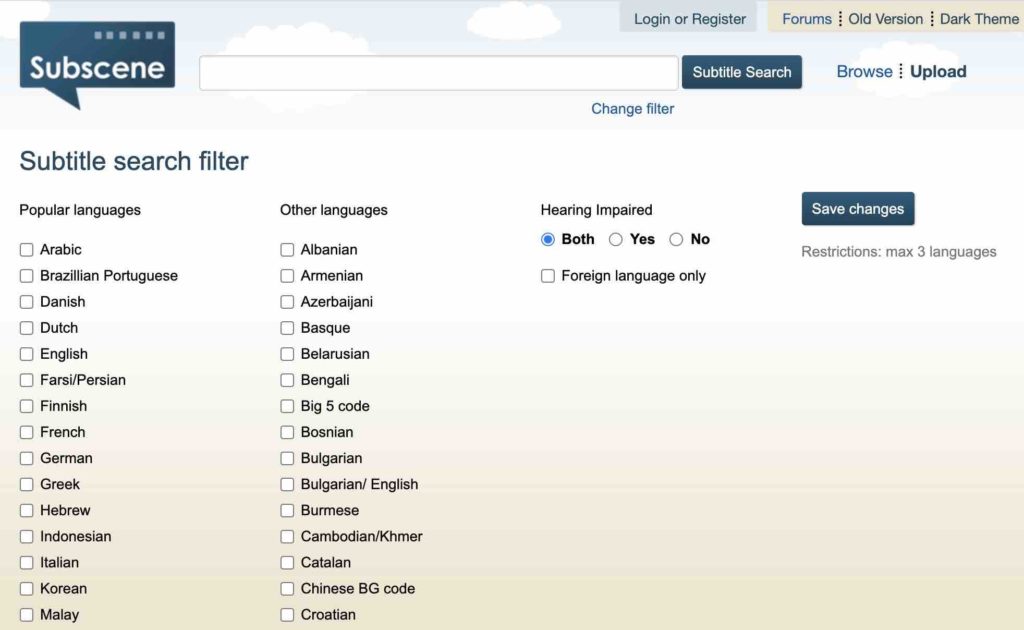 The subtitle Browse button on top-right takes you to a long list of subtitles. Along with listing new/popular subtitles, this page also mentions their upload date, number of downloads, uploader name, and type. You can also filter language and hearing impaired settings while searching. Just like OpenSubtitles, Subscene also has a lively forum where users can discuss the latest TV and movie developments after signing up.
Also, check out our step-by-step guide on how to download youtube playlist videos easily.
Just like the Yify torrent website, Yify Subtitles is a no-nonsense movie subtitle downloader. The website is free-to-use and doesn't ask you for user registration. Also, it doesn't let regular users register and upload subtitles; Yify Subs handles this aspect on its own.
When you click on a movie subtitle link, the website takes you to a page that mentions release year, movie length, IMDb rating, and Rotten Tomatoes score at the top. Upon scrolling below, all different versions of that movie subtitle are listed with information on language, full subtitle name, uploader name, and download link. There are no sorting or filter options to choose from, which could be one of the only downsides of Yify Subtitles.
While sites like Yify Subtitles and English Subtitles try to take the minimalist route, Podnapisi is all about features. This subtitle download website hosts more than 2 million files in more than 100 languages. The advanced search option lets you filter this vast database as per keywords, the year of upload, FPS, language, and other parameters.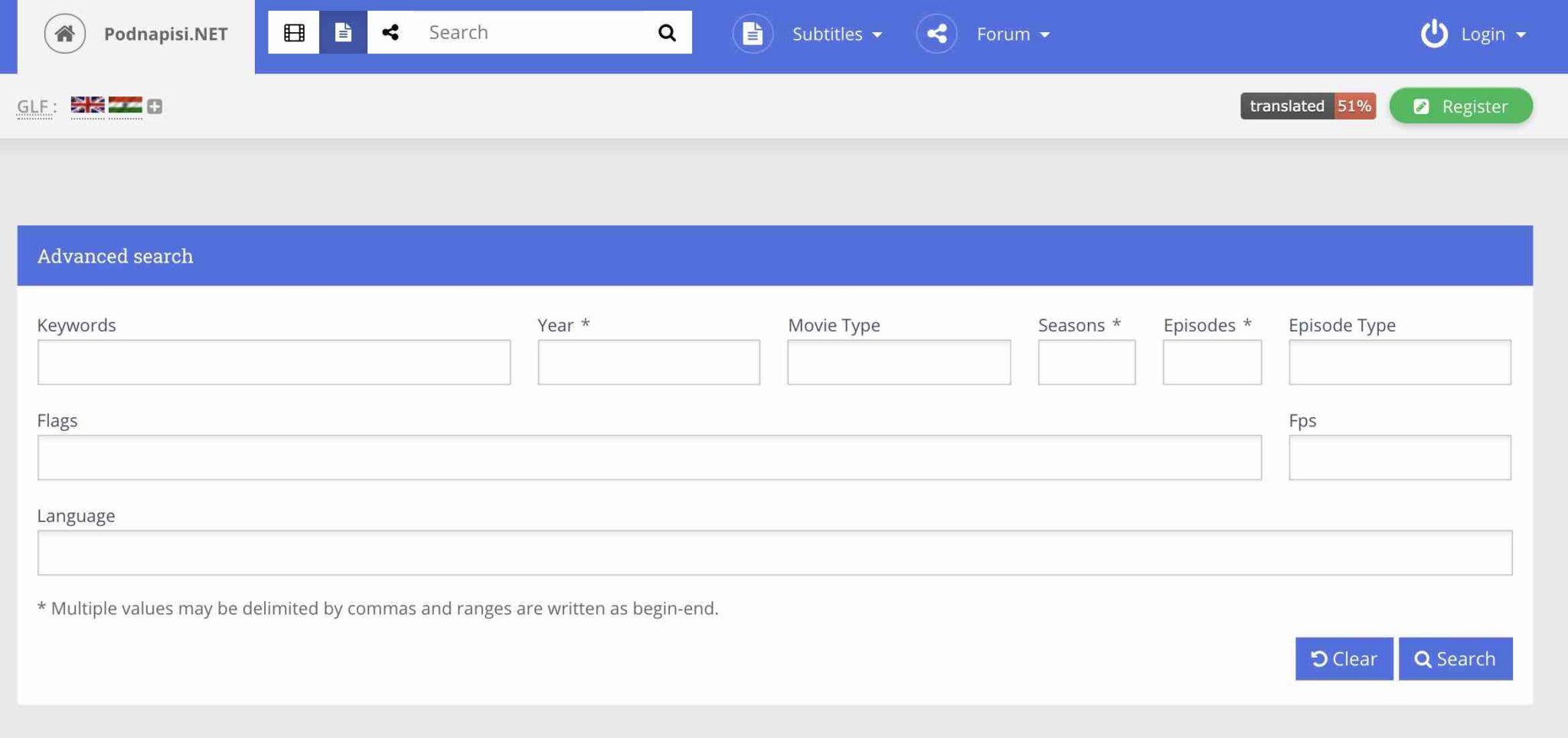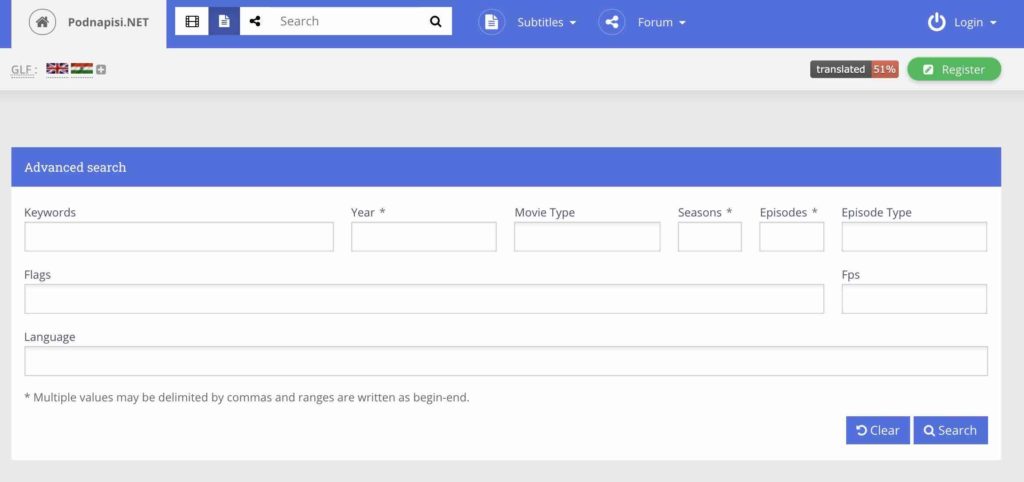 The homepage of the website lists recent movie and TV series subtitles, most popular downloads, and most commented uploads. The individual subtitle page further gives you information on subtitle language, FPS, contributor, upload date, etc. The most distinguishing feature of this subtitle website is subtitle preview, which helps you to get an idea of subtitle sync with video file so that you don't end up wasting time adjusting.
The English Subtitles website is aptly named because it only hosts movies and TV series subtitles in the English language. While it's always great to give people choices, the site is perfect for those searching for the srt movie subtitles in the English language.
There's nothing fancy about the website; just like other subtitle downloaders, English Subtitles also hosts many ads, but they don't try to hide the download buttons or trick you into clicking something else. All the buttons and options are well-labeled. The search box at the top works fine and lists all the relevant titles. Sadly, there are no filters or sorting options; you need to enter the movie/TV series name, and the English Subtitles will do the job for you.
Subtitle Seeker, the last entry on this list for 2020, works on the approach adopted by torrent search engines like Torrentz. It fetches subtitles from other websites like Subscene, etc. There's a search button at the top right that you can use to look for English subtitles for movies and TV series in SRT format.
The site is full of pop-up ads that many of you might find annoying, so keep that in mind before visiting this subtitle website. Also, the site scores poorly on the overall user-friendliness front.
Tips to use subtitles in videos efficiently
How to download subtitles from YouTube?
There are multiple websites like Downsub, which is also mentioned in our list, to download YouTube subtitles. Just copy the video link and paste it on the website.
How to add subtitle in VLC?
To add subtitles in VLC, you need to go to Subtitle > Add Subtitle File option and then choose the file from your computer. You can also search for the movie/TV series name in the VLCsub extension.
How to adjust subtitle in VLC?
In VLC, you can press the H key to delay and the G key to forward the subtitle by 50 milliseconds in one keystroke. You can press the keys repeatedly to increase/decrease the difference.
How to make custom subtitles?
You can create your custom subtitles in SRT format in any text editor. Just make sure to keep the timestamps for each text line in this format: [hours]: [minutes]: [seconds], [milliseconds]

Also Read: Free Horror Movie Websites For Legal Streaming