It's not the '80s or '90s. Music is not produced in a big studio, filled with gigantic audio machines and employees with a post. Today, music is made right in our homes, on our laptops. The term used for such professionals is called "Bedroom producers."
Many prominent music artists such as Skrillex, Marshmello, Martin Garrix, Hardwell make music on their laptop and then make millions. While they do have a rig or DAW (Digital Audio Workstation), 90% of the crunching is done on a music production software.
It goes without saying that everything has a price. Many of the best music making software come with a hefty price tag. However, if you are merely stepping into making your own music, any of the free beat making software would be enough to get rolling.
Best Free Music Production Software for 2019
https://www.youtube.com/watch?v=wUeOpPGN1qY
GarageBand from Apple is undoubtedly one of the best free music making software for beginners. It is known for its simplicity and highly intuitive user interface.
The beat making software is essentially a stripped-down version of Apple's professional DAW, Logix Pro X. And by "stripped-down," I mean the music software lacks a handful of features. With the latest versions, Apple has massively narrowed down the gap in features between Logix Pro X and GarageBand. GarageBand is often counted among the prograded music production software such as Ableton Live, Fl Studio, and more.
GarageBand offers a variety of instruments and a massive pre-recorded sound library (Apple loops). The free DAW also includes the industry's top-session virtual drummers that you can add to your own project. There are even guitar and piano lessons for beginners. It's a pity that GarageBand for Windows 10 might never arrive.
Availability — macOS
Why use GarageBand?
Perfect for beginners
Seamless continuity on iPad and iPhone
Why don't use GarageBand?
Lacks few pro-graded features
Limited to 255 tracks/song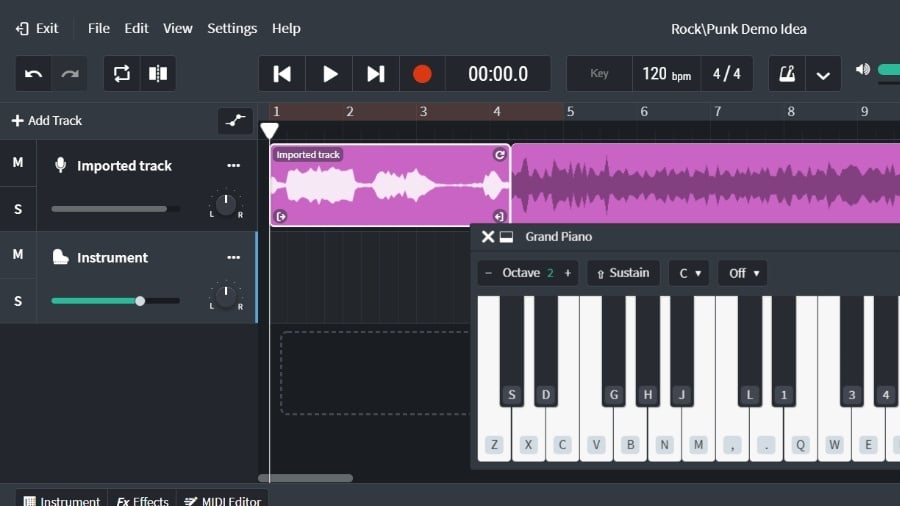 Since GarageBand is not available on Windows, the next best thing you can do is install BrandLab Cakewalk. Until last year, the free music production software went by the name "Cakewalk Sonar."
Unlike many free DAWs that restrict features for you to buy the paid version, Cakewalk is completely free beat making software. Consequently, there are no limitations on the number of tracks. This Windows software also offers VST3 support, allowing you to add hundreds of plugins.
Cakewalk's user-interface might look overwhelming at first, but the best part about this best free DAW is that you can personalize the entire user-interface. You can drag toolbars to different locations, add themes, change colors, and a lot more. This music production software also enables you to save different layouts according to your needs.
Apart from that, Cakewalk offers a whole bunch of virtual instruments to choose from. There is also an expandable library of audio processing modules ranging from convolution reverb, resonant filtering, dynamic compression, and a powerful Equalizer.
Availability — Windows
Why use CakeWalk?
VST3 and ARA support
Powerful mixing with ProChannel
Customizable user-interface
Why don't use CakeWalk?
Not very powerful audio-editing tools
Tracktion is known for releasing previous versions of their primary beat making software, Waveform, for free. With Tracktion T7, they have hit a home run for the music creators looking for a great and free music making software.
Similar to any professional best digital audio workstation, you have an unlimited amount of songs and MIDI tracks. It supports all the third-party plugins such as VST, AU, and Linux VST. It offers massive automation and even allows you to automate any parameter on any plugin due to the LFO Modifier.
Some might not prefer the single-screen layout, but, it is also a blessing for some people, given you don't need to jump from one window to another. Traktion T7 also offers impressive sound effects; however, they are not many. But, as an alternative, you can download hundreds of VST effects available for free on the Internet.
The best free music production software is lightweight as well, though, many users have faced performance bugs, mainly when adding new plugins. Now, if you ever feel Tracktion T7 limiting your potential, you have the option of upgrading to Tracktion professional music making software Waveform 10 for only $70.
Availability — Linux, Windows, and macOS
Why use Tracktion T7?
Single screen layout
BioTeck synthesizer support
Supports Linux, Windows, and macOS
Why don't use Traction T7?
Dearth of pre-loaded sounds and effects
The beat making software is not "technically" free, but the free trial can be extended until the end of time. Although considering its amazing features, we would suggest you buy the paid version priced $60.
Just like Traction T7, this free music making software has no distinction between the type of audio tracks. Reaper comes with the right amount of plugins and supports nearly all plugin standards such as VS3, AU, and ARA.
The biggest problem with the Reaper is the '90s clunky themed user-interface. With all the icon-less menus and cluttered elements, it takes a long time to get the hang of it. For beginners, it would undoubtedly be a big problem.
It is important to remember that Reaper's "extended" trail doesn't lock out any features for the premium version. In fact, Reaper has an abundance of features, and it stands head high with professional DAW's such as Alberton, FL studio, etc.
Availability — Windows, MacOS, and Linux (experimental)
Why use Reaper?
Highly customizable
Powerful music recording software
Lightweight
Why don't use Reaper?
Unintuitive user-interface (long drop-down menus)
Do not offer a sound library
No instrument plugins
Beginners! This free beat maker is perfect for you. Soundbridge has an intuitive and user-friendly interface that you will be able to master in no time. However, the reappearing pop-up trying to persuade you into donation might become a turn-off.
Excluding that little con, SoumdBridge is one of the best free music tools on the market. Just like other software mentioned above, Soundbridge offers an unlimited number of MIDI and audio tracks, third party plugin support, and pro-grade automation and modulation.
There are a few plugins that come with the music-making software, although there are no instrument plugins. However, it comes with RitMix which is a highly customizable VST drum machine. All in all, SouniBridge has all the necessary features that one would want while starting with music creation software.
Availability — Windows and macOS
Why use SoundBridge?
User-friendly interface
Lightweight
Tutorials and guides
Why don't use SoundBridge?
LMMS is an open-source music maker which means developers from all over the world are trying to build a tremendous free DAW.
The music software looks very similar to FL studio; however, the UI might feel intimidating at first because of the messy user interface. LMMS features a multiple window system — so creating music will include frequent dragging and closing windows.
Other than that, this free music making software is pretty handy. There are no restrictions on the number of tracks and fully support VST plugins, LADSPA plugins, and more. The music software offers 16 built-in synthesizers that include many emulations of retro-consoles.
There are also a bunch of demo projects for your help. LMMS holds an entire library of projects and presets on its project sharing platform. The biggest problem with LMMS is the lack of audio recording and audio editing functionality. Hence, you will need another music recording software such as Audacity.
Why use LMMS?
Open-source
Lightweight
It's good for sequenced music
Why don't use LMMS?
No audio merging and splicing (audio editing)
Might crash while loading VST plugins
Availability — Linux, Windows, and macOS
Which is the best free music production software?
The best digital audio workstation is what empowers you to make incredible soundtracks. With free beat makers standing with the big boys such as FL Studio and Logic Pro X, it's now more about how efficiently you make use of the music software.
And above all, if you are a beginner, start making music with only of the above free music production software.