There are times (more often than not) when we have the urge to keep the calls we made with us in the form of call recordings. From work-related calls to calls with our loved ones, technology has helped us big time in keeping records of our conversations, be it short or long.
As part of the same technology, smartphone makers have added the ability to record phone calls in the device itself such as with Xiaomi, OnePlus, and more. However, not all Android devices support this functionality. So, in this article, I will list the ways to record a phone call in a few simple steps.
How To Record A Phone Call On Android?
Apart from the built-in call recording abilities, the easiest way of the call recording is a hack wherein you are simply required to put the call on a loudspeaker and use another smartphone's voice recording app to record the calls. However, this obvious method of 'recording' phone calls proves to be a hassle and doesn't ensure clarity.
The best possible way is to use third-party apps to record phone calls; that's why I am here to help you by providing the best call recording apps so that keeping a copy of the phone conversations (with the use of phone recorders) becomes easy for you.
Disclaimer: You are required to follow certain laws as per your area for recording calls. Hence ensure you are not doing it illegally!
7 Best Call Recorder Apps For Android For 2019
The Cube Call Recorder ACR app is an easy-to-use app, which makes it one of the best apps to record phone calls. The app, when launched, will provide you with gist as to how the phone call recorder will work. The app will automatically record normal incoming and outgoing, WhatsApp, Skype, and Viber calls for which you just have to click the on-screen app widget during an ongoing call.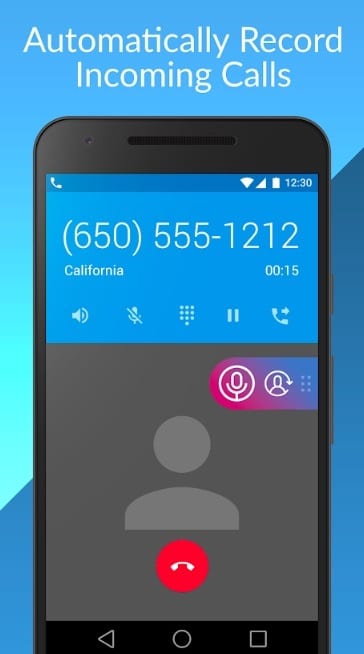 Upon giving the app some permissions and switching on the Cube Call Recorder app connector, you will be able to record the calls with ease. Sadly, VoIP calls (WhatsApp, Viber or Skype) were unavailable for me while I was using the app.
Pros: Ease of automatic recording calls
Cons: Lack of VoIP calls
The Call Recorder ACR app by NLL requires you to initially confirm that call recording is legal in your country. After allowing some permissions, the app doesn't require your phone number to access, (unlike Truecaller) which is actually a good thing. This is the reason why the Call Recorder ACR app is featured in my best call recorder app listicle.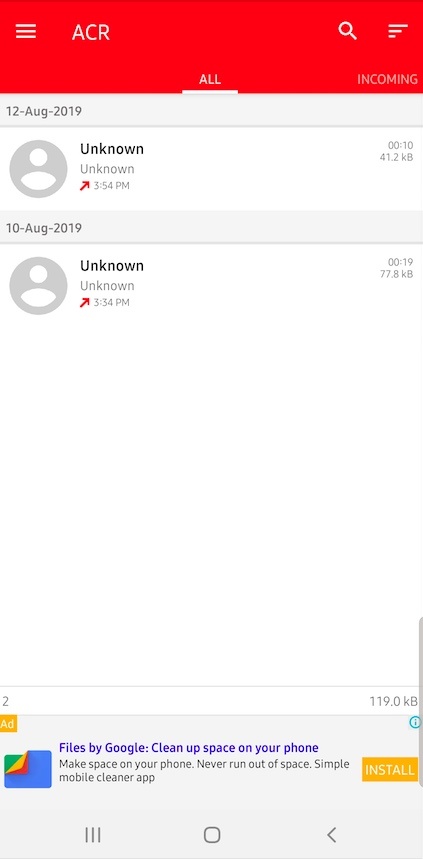 Once you have set up the app, you are just required to make calls or receive some, and the calls (incoming or outgoing) will automatically get recorded within the app. You can further listen, edit, share, edit number, or perform more tasks with the available call recordings. Additionally, you can even transcribe the calls,  add notes for further convenience, or make use of Cloud storage services for easy backing up.
Pros: Ease of usage
Cons: Comes with ads
The Automatic Call Recorder app's simplicity seems to be a reason big enough to include it in my call recording app list for Android. All you have to do is follow the usual method of giving the app audio and call access, and you will be able to record phone conversations by simply calling. The calls will be added to the app in different sections such as incoming calls, outgoing calls, all calls, or important calls.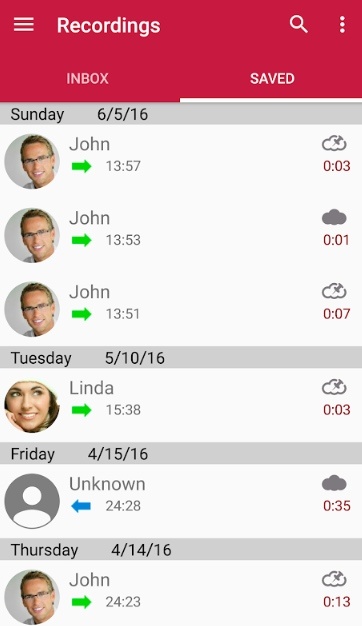 Furthermore, you can delete or share the call recordings and add a couple of settings such as exclude a couple of numbers from the call recorder app, set up a pin for the app, choose if you want the app icon to show while recording, and more.
Pros: Added settings options
Cons: Too many ads, especially in the beginning
The Call Recorder Automatic phone recording app has the automatic call recording ability, which acts as a reason for it to be shown on my Android call recorder (2019) list. The recorder, much like other call recording apps, asks for permission to access the storage, record calls, manage calls, and contacts of a smartphone. It also makes sure that call recordings are legal in your region for security purposes.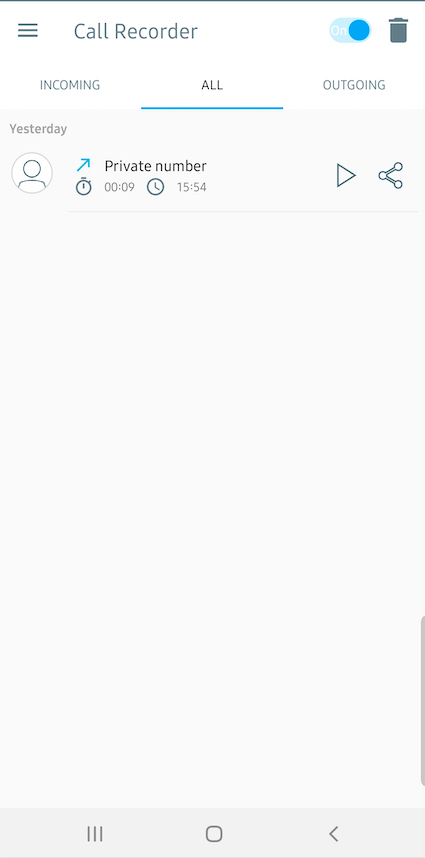 The app has a simple interface wherein there are three sections: Incoming calls, All calls, and Outgoing calls. You will get a couple more settings such as the option to upgrade to Premium and backup to the cloud, apart from deleting the call recordings.
As a reminder, the calls can only be recorded when the speaker of the device is switched on.
Pros: Backup to cloud storage
Cons: Need for a speaker for call recording
The All Call Recorder Lite 2019 is a call recorder Android app that is light in nature and comes with a simple UI. The app is divided into four sections: all calls, outgoing calls, incoming calls, and important calls.
The call recorder app comes with various settings options such as the ability to exclude numbers from which you don't wish to record calls, unlock the app with the use of a PIN, sharing options, and even the option to remove ads (which didn't work while I was using it).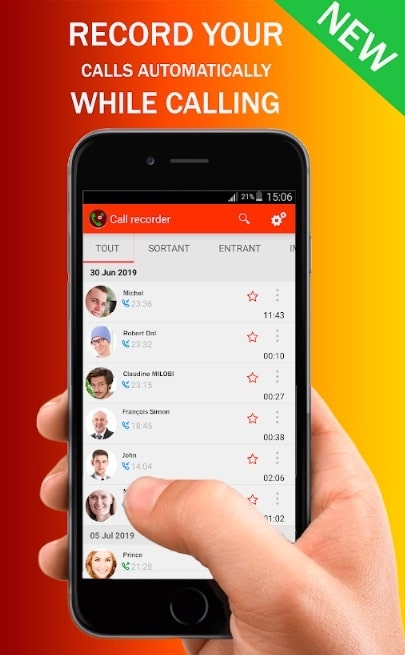 The app is easy to use and doesn't require a lot of setups to make the call recording process work. However, it does contain adverts.
Pros: PIN setup
Cons: Ads
When the Call Recorder app is launched, you will get a bunch of warnings you should know: the app has one-sided recording on some carriers, non-compatibility with other voice recording apps, power-saving mode, and a couple of permissions it takes before commencing the process.
The app, once opened, displays all the call recordings and has a hamburger menu on the left side wherein lies various other options and a search logo at the right to easily look for specific call recordings.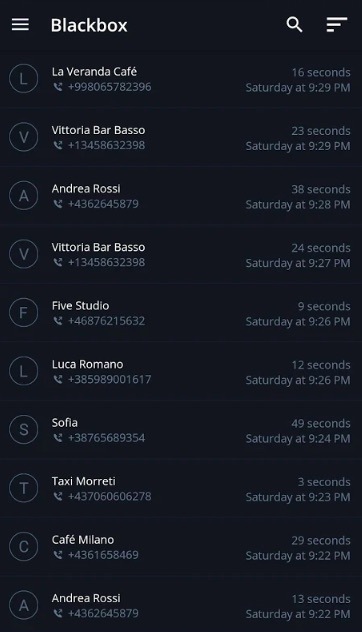 There are a number of settings under the Settings option, and Remove ads option, which, of course, requires you to pay for. Furthermore, the call recordings can be sorted as per duration, date, name, and more, making things convenient.
Pros: Ease of usage
Cons: One-sided recording
The Auto Recorder app, the seventh entry on my best call recording app list, first asks for the mandatory permissions and then is ready to use. Much like the various phone recording apps, the Auto Recorder has a page that lists down all the calls recorded, with a menu on the left that has options such as All calls, Outgoing calls, Incoming calls, Favorite calls, Settings, and more.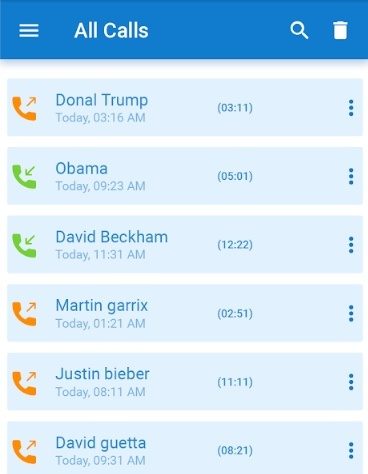 The right side has the search icon for the ability to search call recordings you need, and then there are ads being displayed at the bottom part of the app; sometimes they pop up as well. The usage is pretty easy, however, I would have wished for less or no ads at all. For a no-ad experience, you can simply upgrade to Call Recorder Pro by just shelling out some money.
Pros: App Lock option
Cons: Loads of ads
If you are a person who wants to keep hold of the calls made or received, I hope the aforementioned list helps you in some way.
As a quick reminder, the Google Play Store has a plethora of call recorder app options and I chose the ones mentioned above on the basis of ratings, personal experience, and user reviews. You can, by all means, go for the ones you like even if they aren't on my call recording app list and drop your feedback.