Short Bytes: iPad sales were slowing down and they were screaming for some innovation. So, this is what Tim Cook did. He created a supersized iPad Pro that is just about the size of your Apple MacBook.
F
rom the stage of the new Apple iPhone launch event, Apple CEO Tim Cook launched the new and upgraded version of iPad. The new iPad Pro has a 12.9-inch Retina display and it demands the use of your both hands for use. As mentioned earlier in the
feature list of iOS 9
, now apps could be stacked side-by-side in new iPad and you can improve your productivity with this iOS device.
The new iPad Pro runs on new A9X processors which are about 1.8 times faster than the A8X processors in the Air 2. Talking about the new machine, Apple's beast is capable of delivering "console-class" graphics performance. The company added that the new iPad Pro is about 80% faster than the most portable PCs.
From the launch event stage, Apple showed off the buttery smoothness of iPad Pro which comes with a monster 10-hour battery life and 8MP iSight camera. Talking about the sound of the new iPad, the device comes loaded with 4 speakers.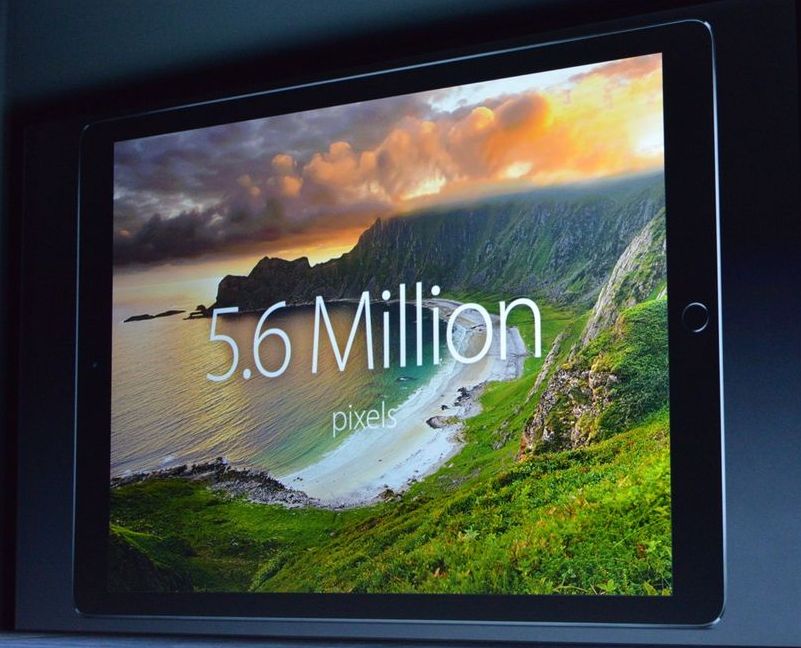 Apple iPad Pro is 6.9mm thick compared to 6.1mm for the Air 2 and it weighs 1.57 pounds. The company also launched a physical keyboard for the iPad that makes it look a lot like Microsoft Surface.
iPad Pro costs $799, $949 and $1079 for the 32GB, 128GB and 128GB models respectively and it'll be shipped this November.
Stay tuned for more from Apple's iPhone 6s launch event.
Also read: 15 Best iOS 9 Features That Will Change Your iPhone and iPad