The latest New York Times report sheds light on how easy it is to locate people using mobile phone tracking.
No matter if you're trying to locate your iPhone or Android, you're affected by this problem.
The moment you open this revelatory piece, you are greeted with hundreds of green dots noting the locations of everyone at the New York Stock Exchange, at the Pentagon and even the White House.
The key takeaways of this report will totally freak you out and change the way you use your smartphone.
Mobile Phone Tracking: The Spy In Your Pocket
The New York Times received a huge data file holding more than 50 billion location records from the smartphones of more than 12 million Americans. The data was obtained from a private location data company (one of the third parties) that tracks the precise location of users through phone apps.
It reveals how dozens of surveillance companies are using mobile phone tracking to trace the movement of users, minute by minute in their everyday lives.
"You've probably never heard of most of the companies — and yet to anyone who has access to this data, your life is an open book," writes the journalists Stuart A. Thompson and Charlie Warzel.
This data exists as dots on a map; longitudes and latitudes that seem trivial at first glance. But once associated with specific people and combined with publicly available information such as home addresses; it is easy to track every moment of people as they drive their kids to school or catch a plane for a vacation.
"They can see the places you go every moment of the day, whom you meet with or spend the night with, where you pray, whether you visit a methadone clinic, a psychiatrist's office or a massage parlor."
Even Donald Trump's data is caught up in it as a follow-up report showed how easy it was to use location data to track the movements of the President (not that he cares about cell phone security or the lack of it).
They managed to track a Secret Service agent's phone and used that to follow the president's movements.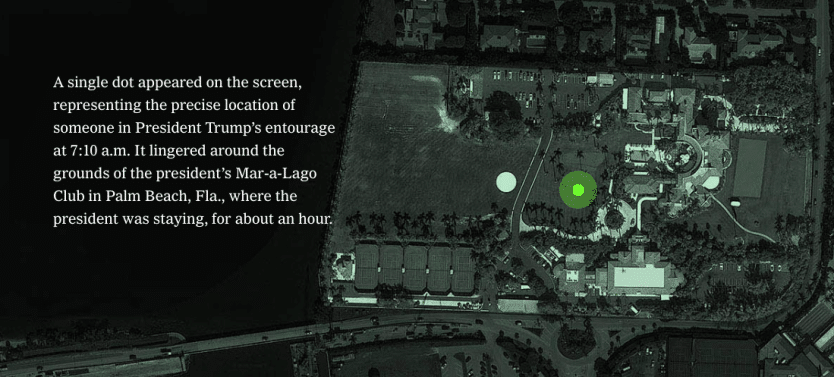 It's not really anonymous
The fact that this kind of dataset even exists is proof of how powerful capitalism is and how the law is lacking in the speed to catch up with the developments in technology.
The Times story notes that companies that collect such data justify it by saying it is 'anonymized' data, people have consented to it and that the collected data is secure. But these claims are untrue.
To prove it, the journalists got in touch with the individuals who were identified through the dataset. Moreover, they were working with an attenuated dataset. Usually, firms use other information along with location data, such as mobile advertising IDs and demographic information, to create detailed profiles for ad targeting.
Warzel and Thompson write that this data can be transferred in almost real-time "from your smartphone to the app's servers and exported to third parties in milliseconds."
"This is how, for example, you might see an ad for a new car some time after walking through a dealership."
The worst part is that this data can be resold, copied, pirated and abused and there's no way you can ever erase it.
Your privacy is as secure as the weakest link
"Our privacy is only as secure as the least secure app on our device," says the report. If the data gets resold endlessly, then it is only as secure as the least secure company that has access to it.
These facts are extremely disturbing because we are inadvertently trusting companies we don't even know of. And there's no telling who has access to such sensitive data or what they'll do with it.
For more chilling details on the same, I highly suggest that you read the New York Times report.