The Amazon Great Indian Festival Sale 2020 dates are out now. It'll start 24 hours early for Prime users, and then for everyone else. This year too, the sale is offering some great discounts on different product categories across Amazon India.
Amazon Great Indian Festival Sale 2020 Dates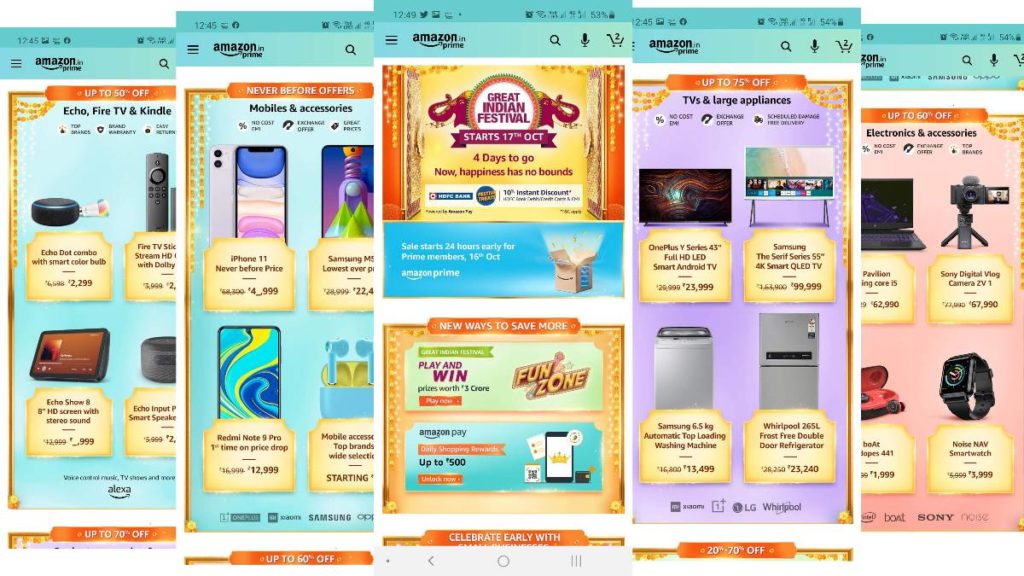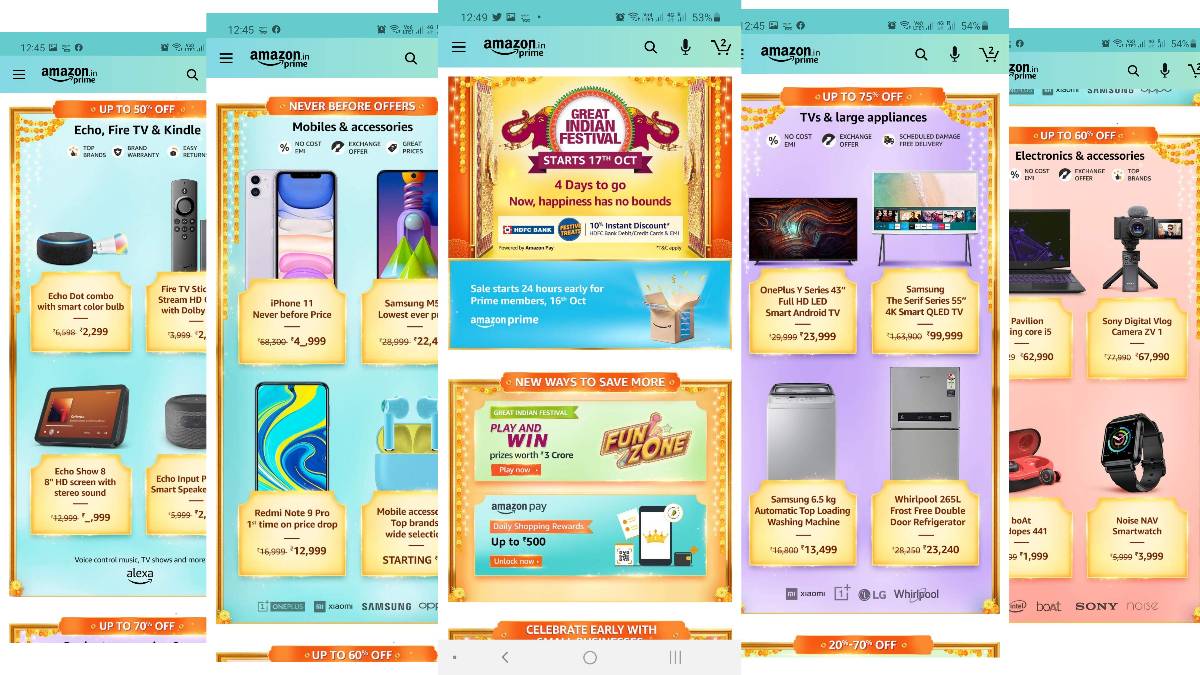 The Amazon Great Indian Festival sale 2020 dates are from October 16 for Prime members and October 17 for all other consumers. You can easily make a purchase from the Amazon Great Indian Festival sale.
How Can You Enjoy Amazon Great Indian Festival Early?
You can get early access to the sale using an Amazon Prime account. As mentioned above, the sale starts 24 hours early for Prime users.
If you choose to shop from the sale without it, the deals still remain the same, except for the delivery time. Prime users are likely to get faster deliveries. This means you have better chances of buying the gadgets which are likely to run out of stock.
So whether you have a Prime account or not, you can get a great deal on a range of gadgets and electronics on the sale. Here's a list of some of the best deals available on Amazon Great Indian Festival Sale.
Smart Speakers And Home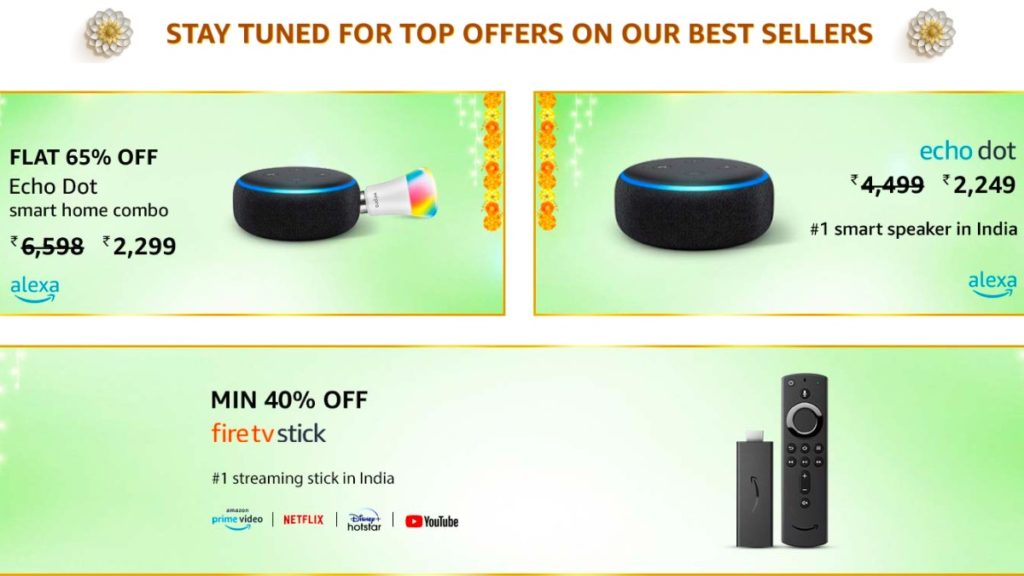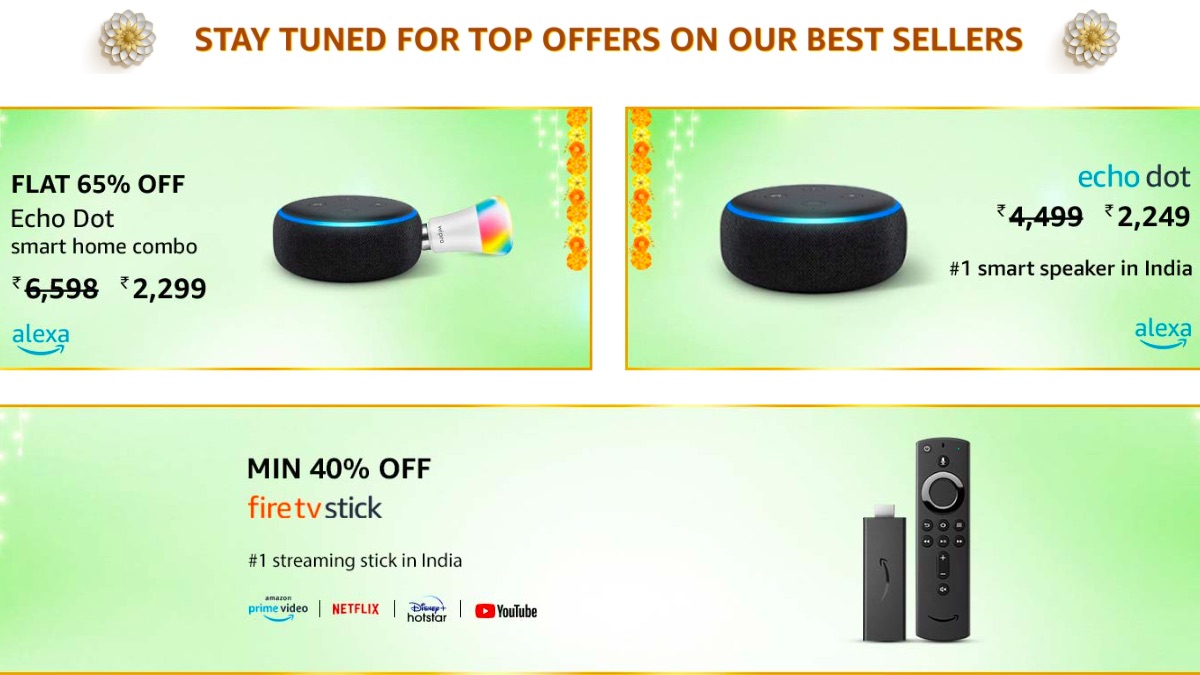 Smart speakers are arguably a better replacement for Bluetooth speakers, and Amazon makes good smart speakers. The sale is offering discounts and bundles on Echo smart speakers and other smart home accessories. Let's have a look:
Echo Dot Combos
Its a combo of the Amazon Echo Dot smart speaker and a Wipro smart color bulb. You get the third-gen Echo, which is not as sleek as the current fourth-gen version, but it works great.
The Echo Dot can pair with your other devices via Bluetooth or a 3.55mm jack. It comes with Alexa voice assistant that can stream music and operate smart home devices over WiFi. Alexa can answer your questions in English and Hindi.
The Wipro smart color bulb is a smart bulb that fits in a regular bulb holder and can be controlled via an app on your phone or the Echo Dot.
You can get this combo for a price of Rs 2,299. There are other combos available on the same page, but they're priced differently. There's also another combo of two Echo Dots + 1 9-watt smart color bulb, priced at Rs 3,999.
Lastly, you can also buy the Echo Dot with clock display. It is priced at Rs 5,499, but it'll be sold in the sale for Rs 2,749.
Amazon Echo Plus (2nd Gen)
If you have more room and are looking for a bigger smart speaker, Amazon has you covered. The Amazon Echo Plus is an Alexa-enabled smart speaker with Dolby 360-degree audio. Like the Echo Dot, you can control the Echo Plus with your voice.
Its a rich sounding WiFi speaker that connects to your phone via Bluetooth, and has a 3.5mm audio jack too.
Currently selling for Rs 14,999, you can get the Amazon Echo on the Amazon Great Indian Festival Sale at a price of Rs 7,499.
Fire TV Stick
Fire TV is Amazon's portable media streaming player/dongle. Both the 4K version and the HD Fire TV Stick are available on Amazon at a discounted price during the sale.
The Fire TV 4K, like the name suggests, is capable of streaming 4K content with Dolby Vision and Dolby Atmos. It comes with an Alexa voice remote with TV controls. Priced at Rs 5,999, the Fire TV 4K will be available in the sale for Rs 3,599.
Coming to the Fire TV Stick Lite, Amazon is selling the latest 2020 release. Otherwise available for Rs 3,999, it'll sell at a discounted price during the sale.
Best Smartphone Deals On Great Indian Sale 2020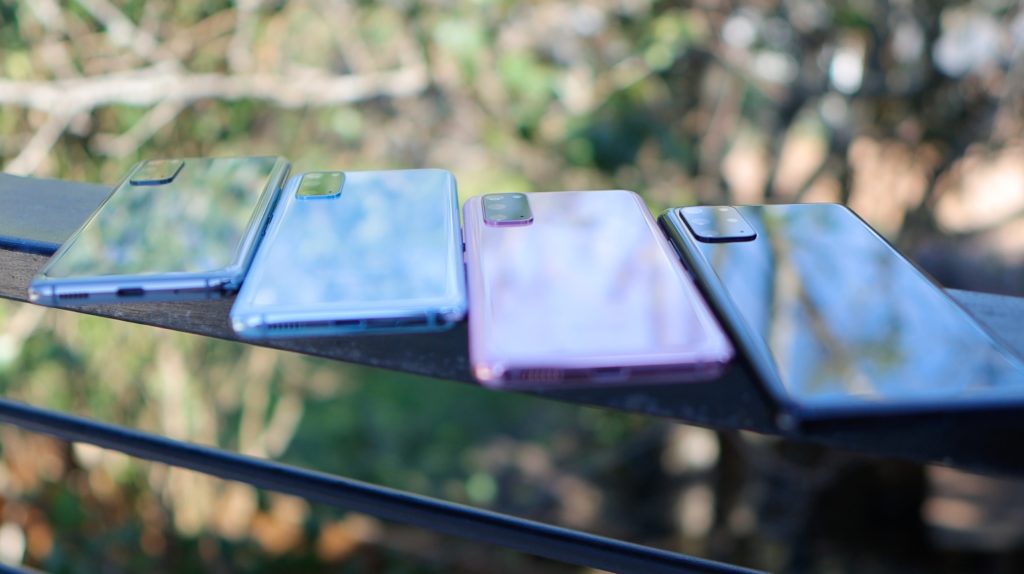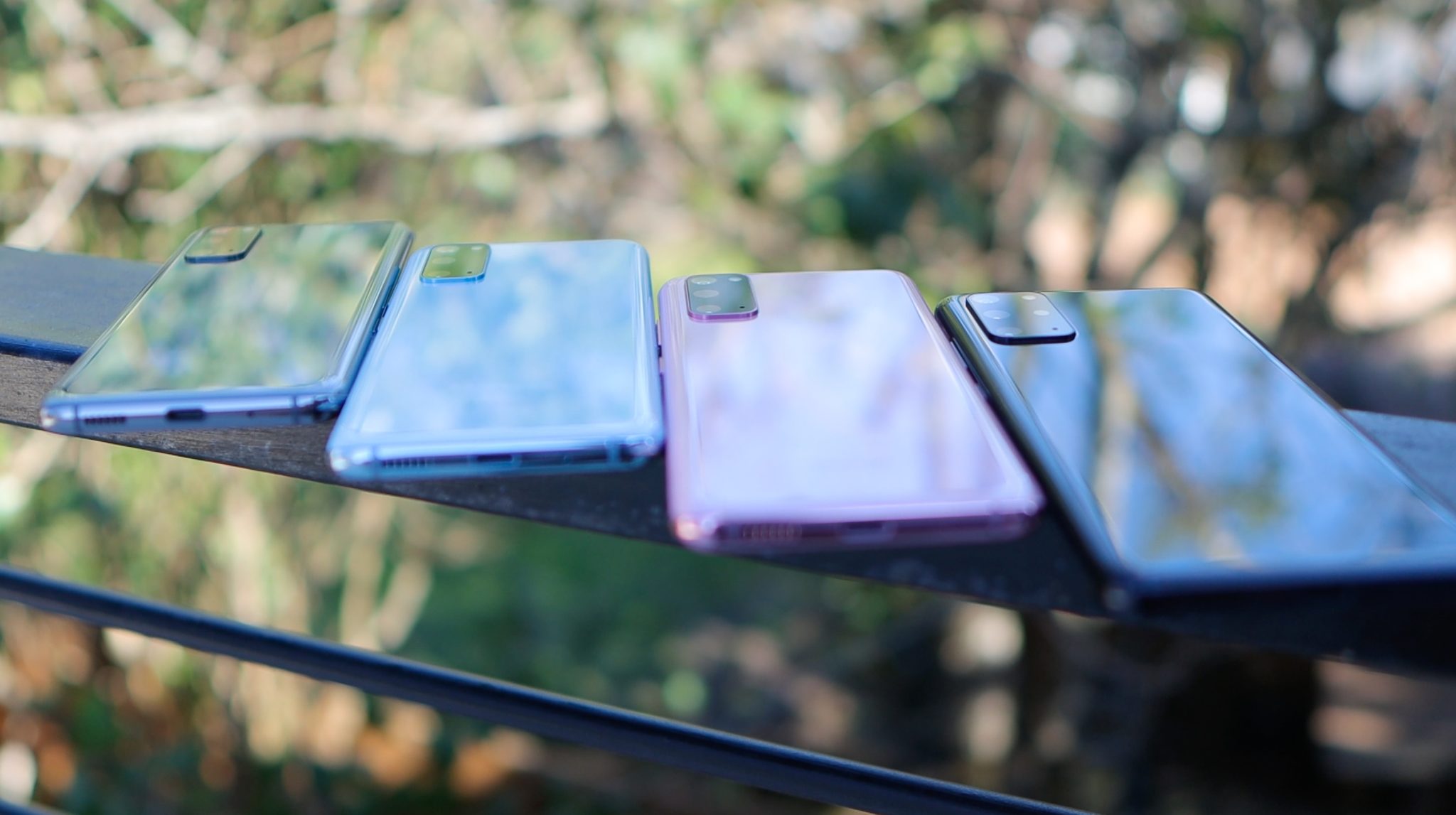 Amazon is offering good prices for some of the most value-for-money smartphones out there. The Amazon smartphone deals include iPhone and Android devices, so you have multiple options to choose from.
iPhone 11
Last year's iPhone flagship, the Apple iPhone 11, will be available during the Amazon Great Indian Festival Sale 2020.
The 64GB iPhone 11, originally priced at Rs 68,300 will be sold for under Rs 47,999 on the Amazon sale.
Samsung S-Series and Note Series
Samsung flagship devices are known to last. Also, flagship specs are advancing by the day, but that doesn't make previous year's devices a bad choice. You can easily choose a 2019 flagship and get a good deal out of it for the next couple of years.
The Amazon Great Indian Festival Sale is offering the Galaxy Note 10 Lite for Rs 43,000. Also, last year's flagship Samsung Galaxy S10 will be sold at Rs 39,999. You can also go for the bigger Galaxy S10 Plus for Rs 44,999.
OnePlus Phones
OnePlus devices will also get a price cut for the sale. The latest OnePlus 8 5G will start from a price of Rs 39,999, which is a huge discount.
The OnePlus 7T Pro will also be available at Rs 43,999, which is a good price for this phone. Amazon is also selling the OnePlus 7T for a discounted rate of Rs 37,999.
Samsung Galaxy M51
With a 64-MP quad-camera setup and 6.7-inch sAMOLED Infinity-O display, the Samsung Galaxy M51 is a value for money smartphone.
It packs a mid-range Snapdragon 730G processor and comes in 6GB and 8GB RAM configurations, with 128GB storage. The phone also has a massive 7,000 mAh battery.
Otherwise priced at Rs. 28,999, you can get the phone at Rs 22,999 on the Great Indian Festival sale.
Redmi Note 9 Pro
The Redmi Note 9 Pro is a mid-range offering from Xiaomi. The phone comes with a 6.67-inch LCD panel, with a quad-camera setup.
It runs on a Snapdragon 720G chip and comes in 4GB+64GB, 4GB+128GB, and 6GB+128GB storage variants. Otherwise priced at Rs 16,999, the phone will be sold for Rs 12,999 during the sale.
Smart TVs
Android-powered smart TVs allow you to enjoy streaming services on bigger and better screens. They also provide features like Chromecast and doubling up as monitors. Amazon smart TV deals are giving you some great options to choose from.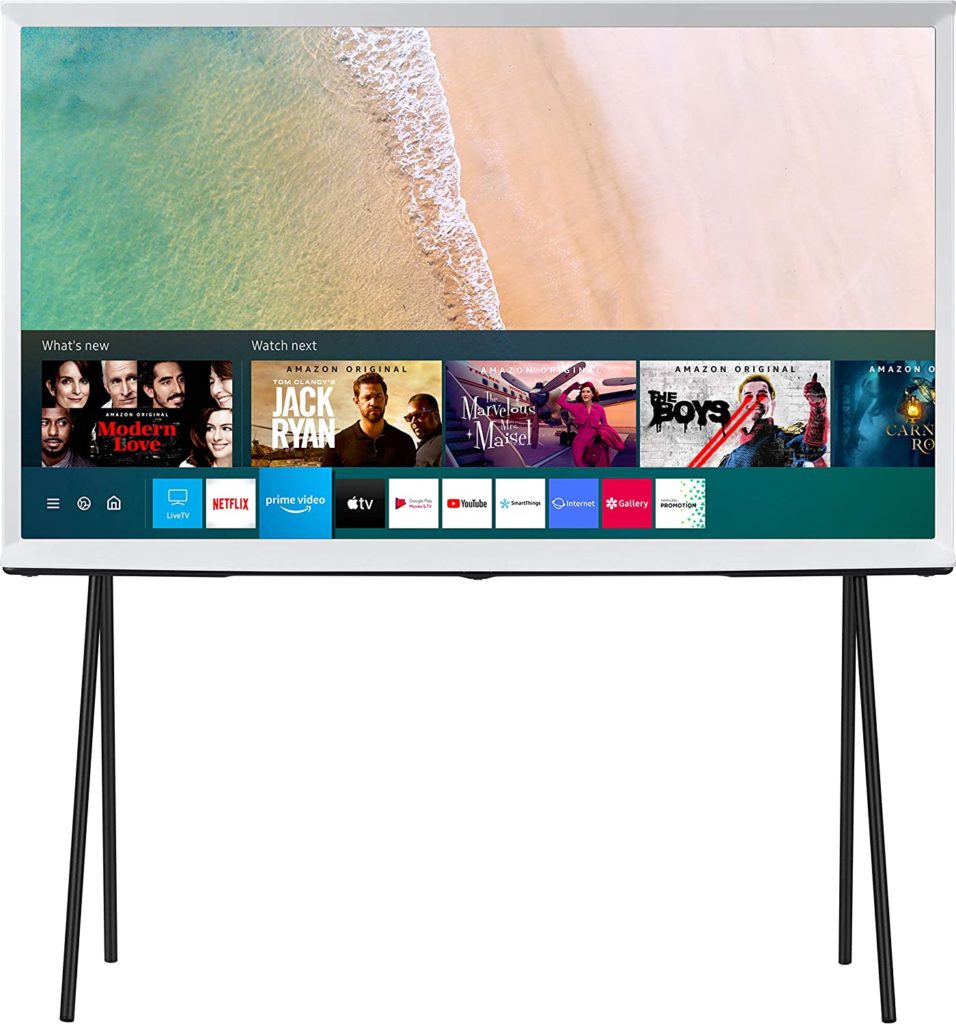 Samsung The Serif Series (43-inch) QLED TV
The Serif is an exotic-looking TV from Samsung. While others are aiming at eliminating bezels, Samsung has utilized this TV's bezels to make it look like artwork.
It has a 4K Ultra HD LED panel with 4 HDMI ports, 2 USB ports, WiFi, Bluetooth, and Alexa built-in. The Serif has a powerful 40-watt speaker system with Dolby Digital Plus.
The Serif is available on Amazon sale for Rs 64,999, down from its price tag of Rs 94,990.
Mi (50) 4K Smart TV
If you want a 4K smart TV, with a huge 50-inch display, this is as affordable as it gets. It's an Android TV with a 4K 50-inch LED panel with. It has 3 HDMI ports, 2 USB ports, WiFi, and Bluetooth for connectivity.
You can get the Mi (50) 4K smart TV for Rs 31,999 on the Amazon sale.
OnePlus Y Series (43-inch) Smart Android TV
This 43-inch Full HD LED TV comes from smartphone maker OnePlus. It has a solid build and its good value for money for a 43-inch panel. This one is also an Android TV and offers 2 HDMI ports, 2 USB ports, WiFi, and Bluetooth connectivity.
It has 20-watt Dolby audio speakers. You can get the OnePlus Y Series 108cm (43 inches) Smart TV for Rs. 23,999 on Amazon.
Additional Cashback And Offers
Amazon is also offering additional cashback and rewards to make the sale more lucrative. You can unlock rewards and cashback up to Rs 500, using the Amazon app and Amazon Pay.
There's a new addition to the sale this year. Amazon is offering a 10% cashback of up to Rs 100 on purchases of more than Rs 500 from small businesses. So you can buy from small businesses at good discounts too.
FAQs