You will find multiple video downloaders online that promise to help you download YouTube videos for free. But most of them are just a marketing gimmick or a site full of ads, which doesn't really help you.
But 4K Video Downloader is a useful tool that lets you download videos from online streaming websites such as YouTube, Vimeo, Facebook, SoundCloud, Flickr, Dailymotion, Metacafe, Twitch (for recorded streams) and other video sites in high quality.
And that's not all, this powerful video downloader lets you download videos, playlists, channels, and subtitles as well.
Note: Please use this tool only to download the videos for your private use.
Download Online Videos With 4K Video Downloader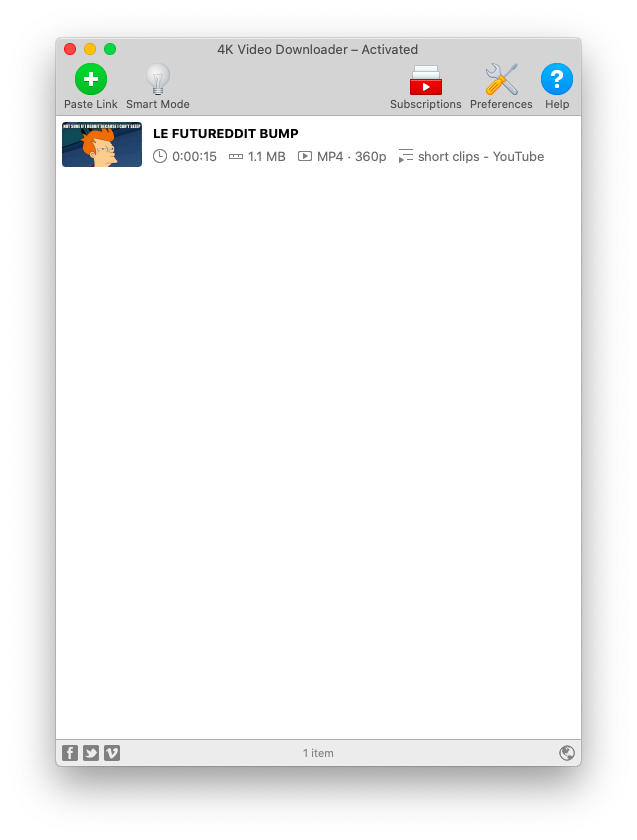 4K Video Downloader is not an online service, but a fully-featured desktop application that accomplishes what it claims. It also lets you download complete YouTube playlists as well. Here's how to do it.
Let's discuss all aspects of this application in brief:
How To Install It?
Setting up 4K Video Downloader is pretty easy. Just visit the website, and it will automatically detect the operating system you are running. Just click on the green download button and the entire application will be downloaded in a minute.
After that, double-click on the installation file and go through the standard installation procedure to set up the video downloader. The entire process takes less than a minute and the app doesn't come bundled with offers or anything suspicious.
User Interface
The user interface of 4K Video Downloader is clean and easy to use. On the top bar, you will find the five buttons: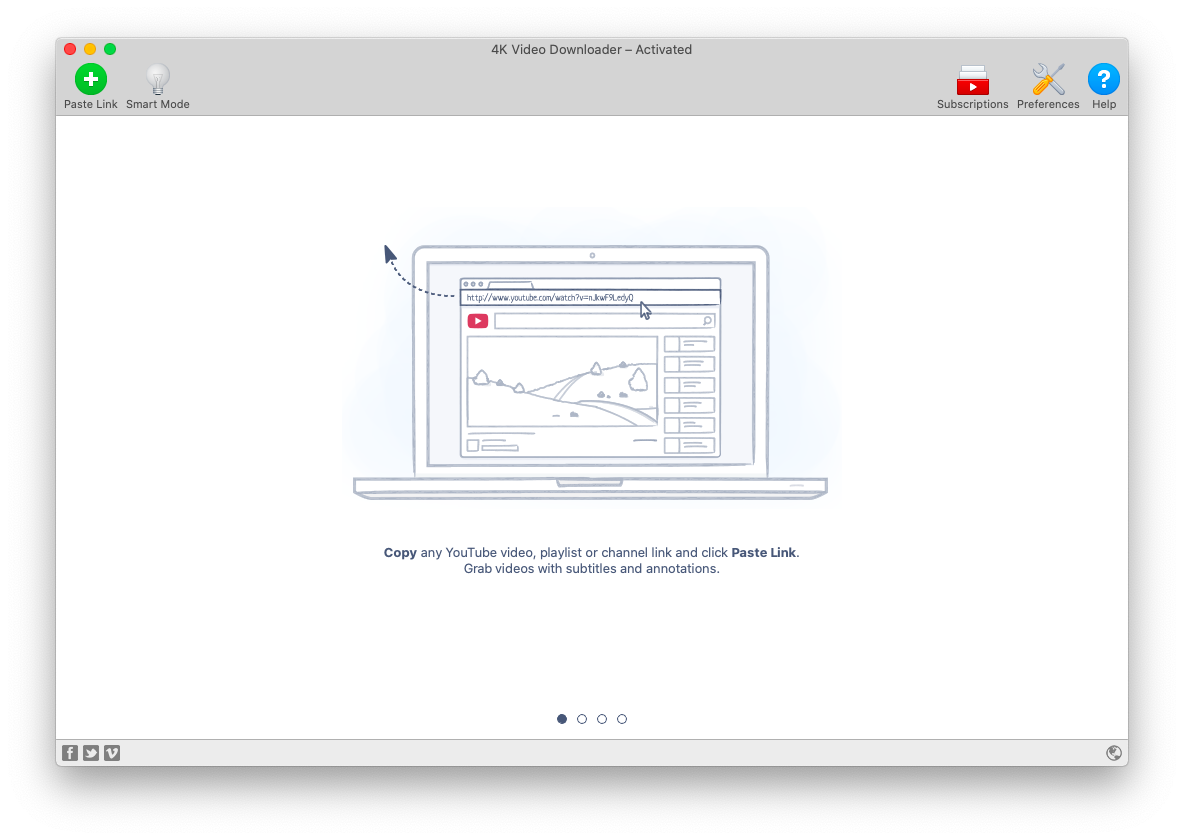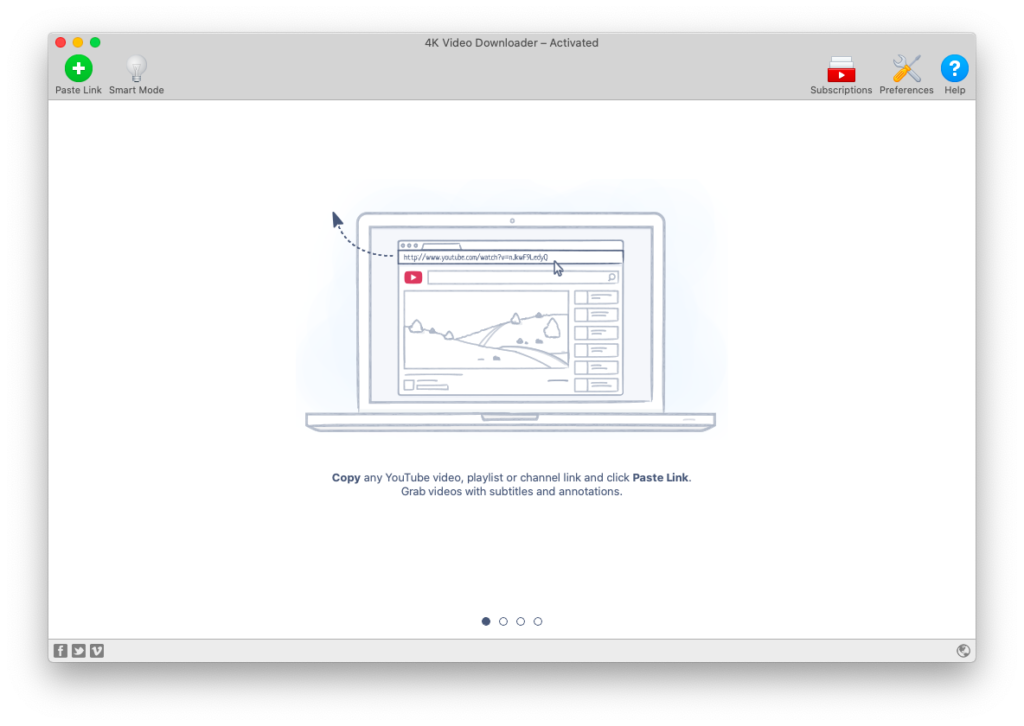 1. Paste Link: This option is the first step towards downloading a video. When you copy a Web address (URL) from one of the support websites, it will be automatically added to 4K Video Downloader. To start downloading any online video, click on 'Paste Link' and the application does the rest on its own.
2. Smart Mode: To automate the process of downloading videos, enable the 'Smart Mode'. Here you can set the preferred format and quality, choose to include subtitles, and set location for downloading the files. So you won't have to tweak settings each time you download a video.
3. Subscriptions: You can subscribe to a YouTube channel through 4K Video Downloader so that it can automatically download videos as soon as they are released on the channel. For this, you need to copy the URL of the channel, and the app will recognize it on its own.
4. Preferences: Here you can define how the application functions. It is recommended to optimize the 'Intensity' setting. If you have a proxy, then you can enable it under the 'Connection' tab.
5. Help: As the name explains, you can find resources about the application here.
How To Download Online Videos Via 4K Video Downloader?
Follow these steps to download videos from YouTube or any other platform through this app:
Open 4K Video Downloader in the background
Now select a YouTube video and copy the URL of the video
Upon opening the application, it will automatically recognize the copied URL. So, click on the 'Paste Link' button to start downloading
After some time (depending on the length and quality of the video) you will get a few options

You can either choose to download the video or just to extract its audio
Now, pick the preferred format from the left side of the screen.
Finally, choose the resolution which can go all the way up to 8K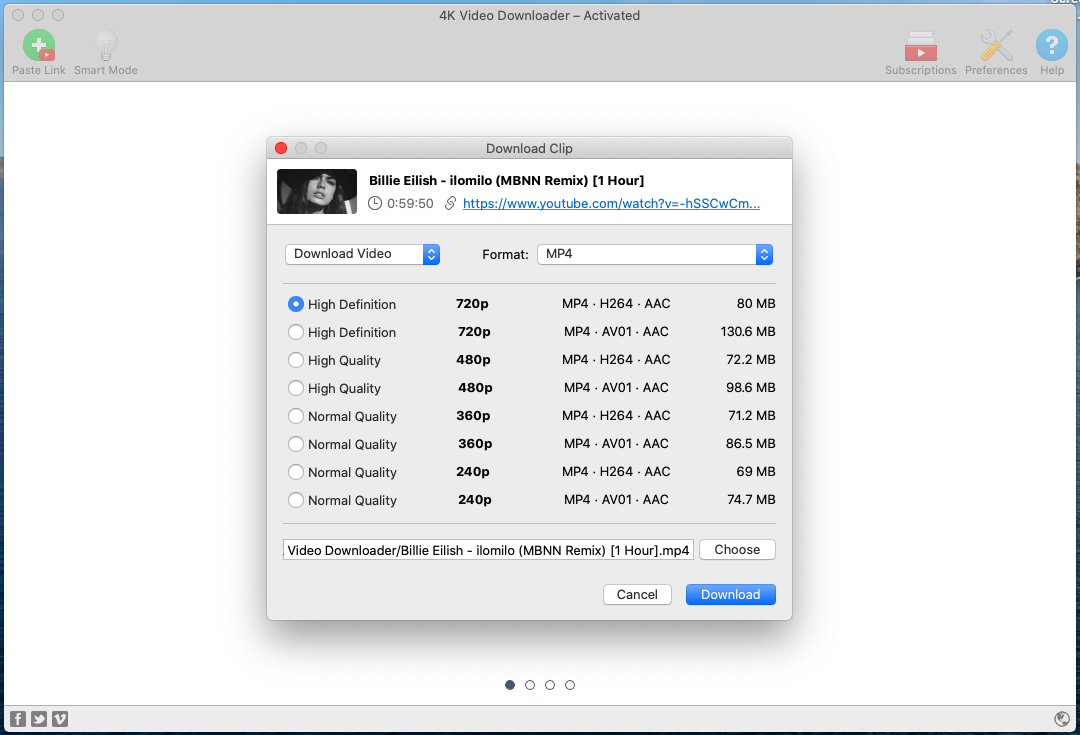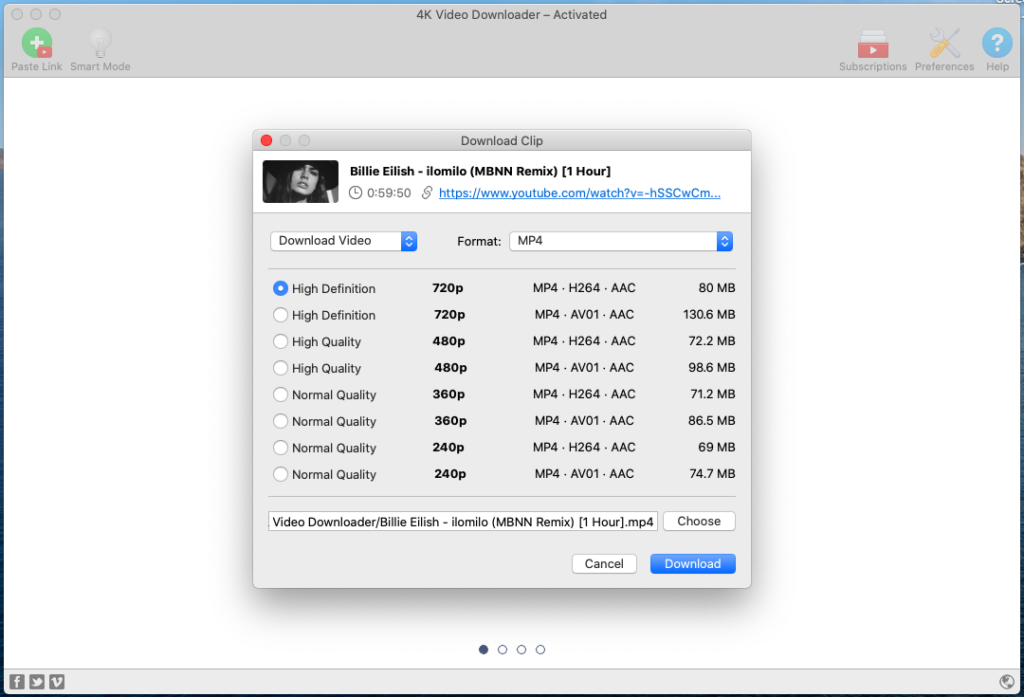 Once you have selected your settings, hit the download button.
And that's it! Your video will be downloaded in a few moments.
Pricing and Availability
4K Video Downloader is available for Windows, macOS and Ubuntu Linux and supports the following versions:
Windows: 32-bit and 64-bit versions
macOS: 10.11 and later
Ubuntu Linux: 64bit versions
However, this application is not available on mobile platforms. But it shouldn't matter much as the desktop versions work fine.
As far as the pricing is concerned, you can try 4K Video Downloader for free. For the premium versions, there are two types:
4K Video Downloader ($15): You can fully unblock all the features of 4K Video Downloader and use it without download limitations for just $15. The best part is that it's a lifetime purchase and you can use it on up to 3 PCs at a time.
4K Download Bundle ($25): Apart from the Video Downloader, you get additional products in this bundle such as Instagram photos and videos downloader, and YouTube video to MP3 converter. This one is also a lifetime purchase and can run simultaneously on up to 3 computers.
Final Impressions
Using 4K Video Downloader is very easy and it's pretty lightweight too. It can run on some pretty old versions of OS too and you don't need a powerful machine to run it. The most impressive part is its speed and quality in which it downloads the videos. Overall, 4K Video Downloader is a helpful tool and worth investing in.