Short Bytes: iSkysoft Toolbox for iOS is a utility to recover, backup, and restore iOS data from different devices. It can be used to fix iOS problems by downloading the latest firmware. This iOS utility also allows you to erase your private data permanently. If you're looking for an all-round solution for your iOS needs, this could be a solution worth considering.
J
ust like our computers, the smartphones have become extremely powerful and full of advanced features. In many cases, smartphones have even started to replace the computers. This change has given rise to many new needs and software to fulfill them.
Tasks like data recovery, system recovery, backup, complete data erasing, etc. have become very frequent. To perform these tasks, one uses different applications and computer programs. But, what if you get these functionalities (and more) in one application? It might sound too good to be true but such applications exist and today I'm going to tell you about iSkysoft Toolbox for iOS. For this review, I'll be using MacBook Air and iPhone 7.
iSkysoft Toolbox For iOS Review
Before going ahead and telling you about iSkysoft Toolbox for iOS in detail, let me tell you about the list of functions that you can perform using it —
Data recovery
System recovery
Data backup and restore
Full data eraser
Private data eraser
WhatsApp transfer, backup, restore
LINE, Viber, and Kik transfer, backup, restore
Installing iSkysoft Toolbox for iOS and first impressions
Even though the storage space on today's devices is much more compared to the past, we expect the programs to be small in size and lightweight. iSkysoft Toolbox for iOS is 59MB is size. Looking at the internet speeds these days, downloading it won't take more than a minute. My experience with download and installation on my MacBook was pretty smooth. You can download iSkysoft Toolbox for iOS by visiting this link.
After installing the application, when I opened it, I was greeted with a dead simple home screen. All the options, which are mentioned above, were there in the form of large buttons. As you hover these tabs, you'll be shown a brief description of the feature to give you a better idea of what's ahead. While the overall look is plain, the users expecting a fancier interface will be disappointed. Personally, I liked the no-nonsense design.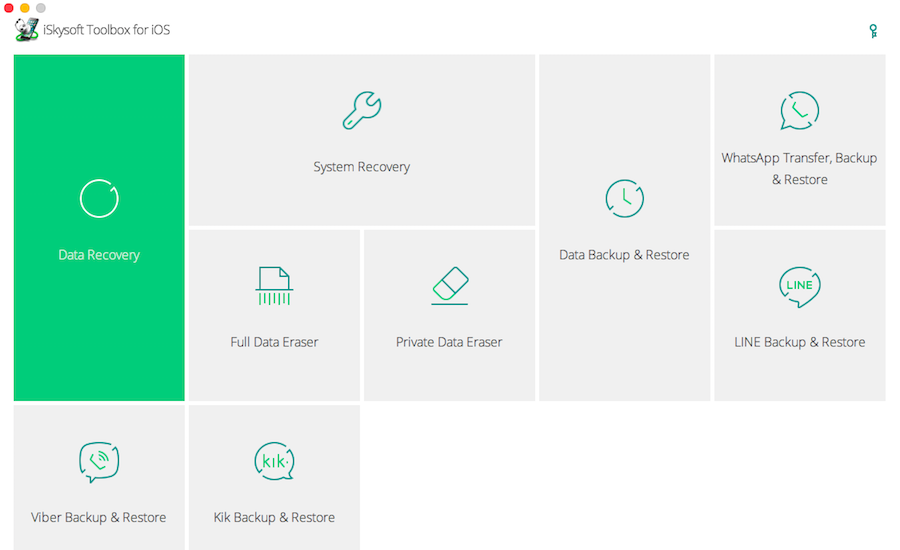 How to use iSkysoft Toolbox For iOS for completing different tasks?
In the points ahead, I'll be telling you about major features and functions of iSkysoft Toolbox.
Note: To use these features, you must be running the latest and updated version of iTunes on your Mac. Also note that while running iSkysoft Toolbox, you won't be able to use iTunes.
Data Recovery:
iSkysoft describes this feature as a way to recover deleted contacts, messages, photos, notes, etc. from iOS devices like iPhones, iPods, and iPads. You can also use this feature to recover data from iTunes and iCloud backup files.
As you'll click on this button, you'll be shown three options — Recover from iOS Device, Recover from iTunes backup file, and Recover from iCloud backup file. These options will be shown in the left pane. On the right side, you'll see different kinds of data that you can scan for. After choosing the correct options, you need to click on the Start Scan button in the right bottom.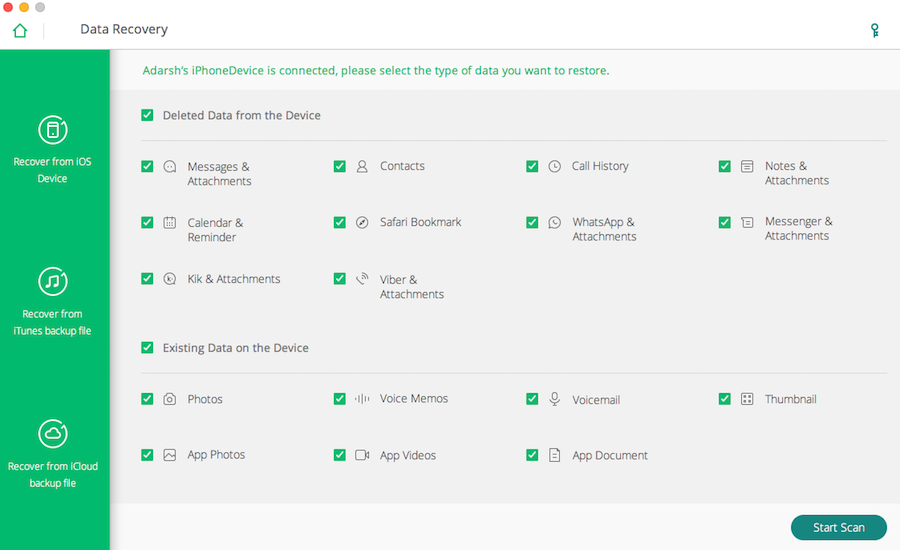 After I hit the scan button, the scan started. You'll also see a progress bar that'll show you the remaining estimated time and percentage of completed scan. You have the option to pause and terminate the scan. One of the best features of this option is the ability to preview the scanned data. You also get the option of search for the files using file name. Using the export option at the bottom right, you can restore the files.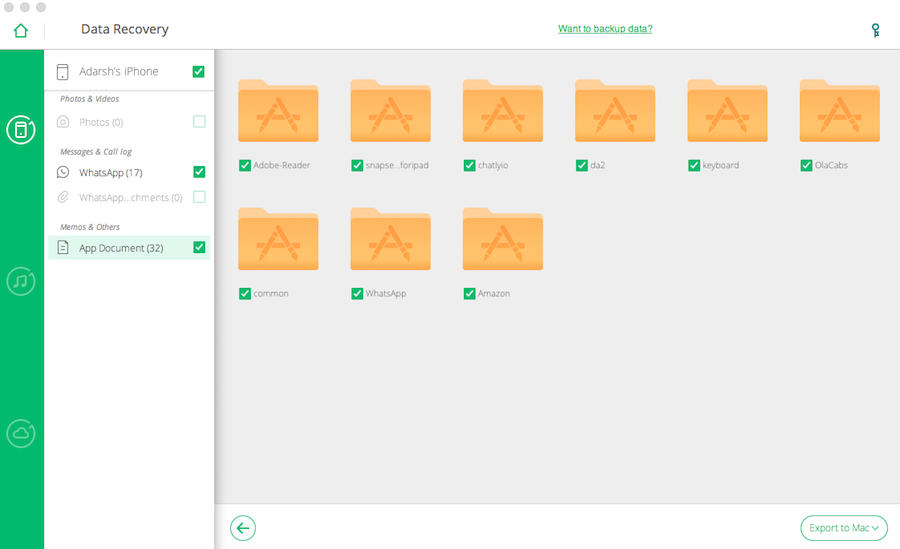 System Recovery:
The second major option in iSkysoft Toolbox is iOS System Recovery. It's designed to help you fix common problems faced by iPhone, iPad, and iPod users. These problems could be white screen, continuous restart loop, black screen, device stuck in DFU/recovery mode.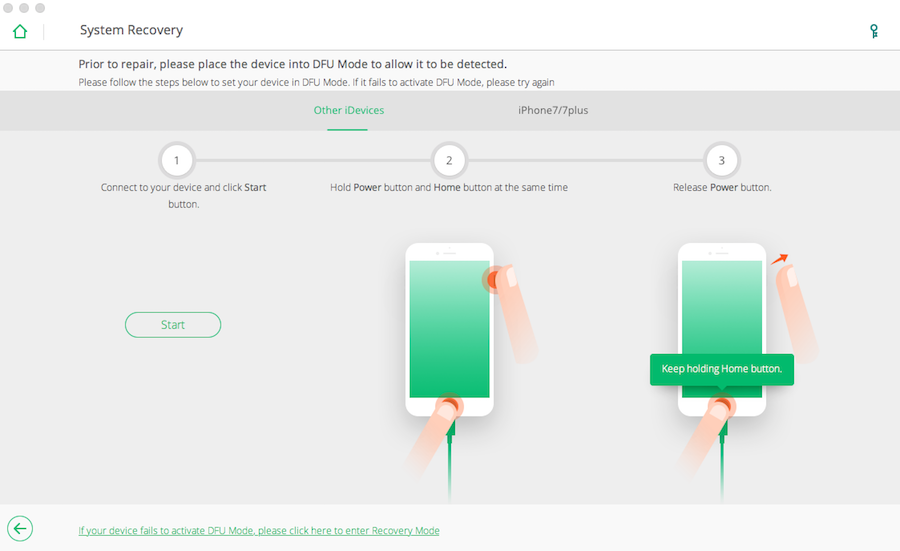 Please note that after using this option, your device will be updated to the latest iOS version. If the device is jailbroken, it'll become non-jailbroken. To do so, press the Start button on system recovery screen and read the instructions carefully. After pressing the required combination of buttons, the software will detect your device model and offer the right firmware. After downloading the firmware, iSkysoft will attempt to fix the iPhone.
Data Backup and Restore:
The third biggest feature of iSkysoft Toolbox is pretty straightforward and useful. After choosing this option, you'll be shown different file types to choose from. You can select the file types as per your convenience and press the Backup button at bottom right. Doing so will start the backup process. The progress of the backup will be shown in a progress bar. After that, you'll need to export the backup file to your Mac.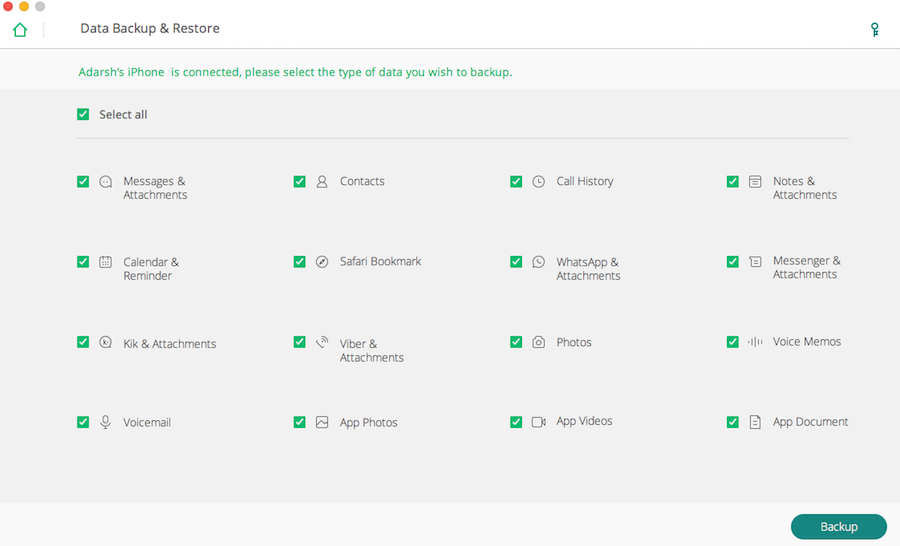 Just in case you need to restore the backup at a later point of time, you need to open the Backup and restore option and look for the "View the previous backup file" at the bottom of the screen. After clicking it, you'll be shown the backup files stored on your Mac and you can restore it on the connected iPhone or iPad.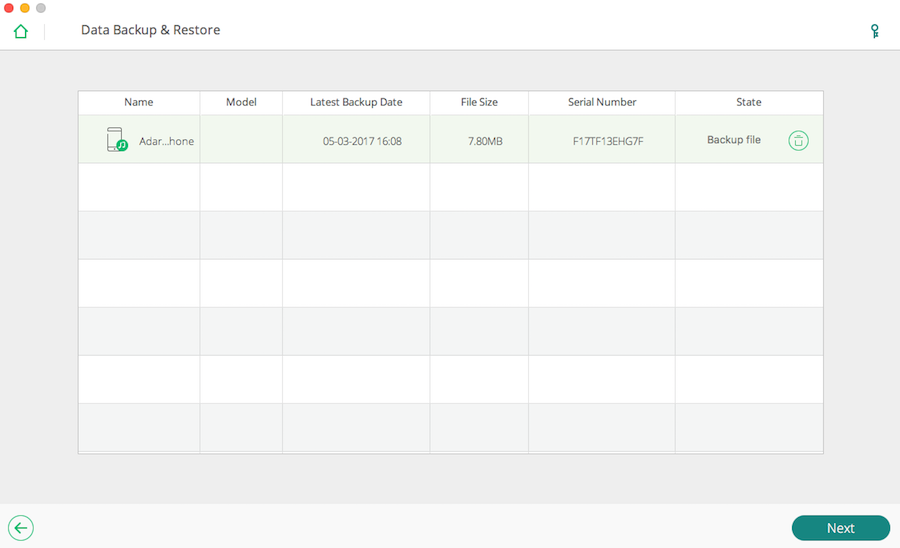 iOS Data Eraser:
Toolbox for iOS comes with two data erasing options. While Private Data Eraser option lets you select the files and erase them, the Full Data Eraser option cleans your phone entirely and permanently. Please note that the erased data is not recoverable.
WhatsApp, LINE, Viber, and Kik backup and restore:
While iSkysoft lets you backup and restore data from Kik, LINE, and Viber, it comes with some extra options for WhatsApp. You can use iSkysoft to transfer WhatsApp messages from one iOS device to other Android/iOS device.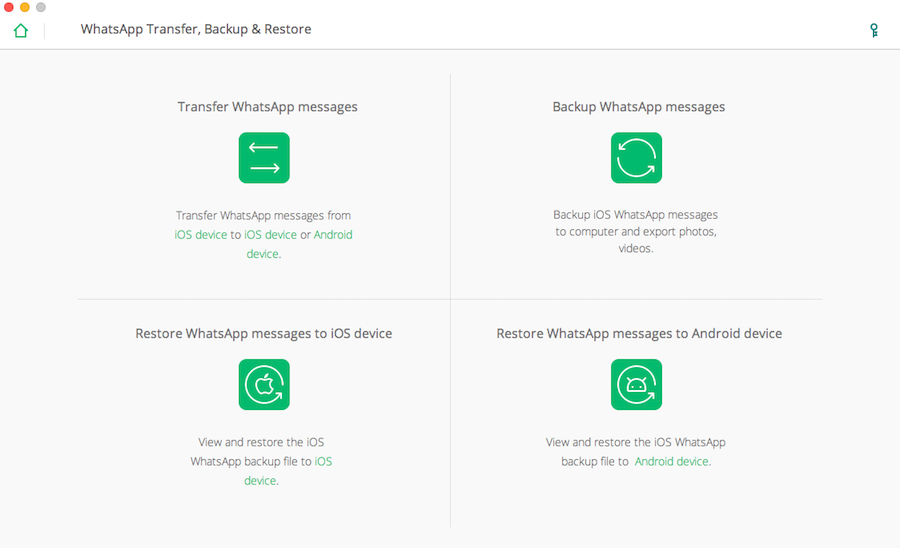 iSkysoft for iOS pros and cons
Compared to the Android version of iSkysoft, which we reviewed few weeks ago, the iOS version lacks some features like lock screen removal, rooting (jailbreaking), and SIM Unlocking. Another thing, Toolbox for Windows has screen recorder feature that I would have loved to find in the Mac version. Also, in my experience, the data recovery feature wasn't able to recover all the deleted pictures. I also didn't any pictures to erase in Private Data Eraser option.
Overall, iSkysoft for iOS is a well-designed application for dealing with iOS backup, restore, recovery, and data erasing. While it might not be as good as its Android counterpart, it comes loaded with many useful features.
You can grab iSkysoft Toolbox by visiting this link. It's fully compatible with iOS 10.3; it also has a free trial version.
This post is brought to you by iSkysoft.