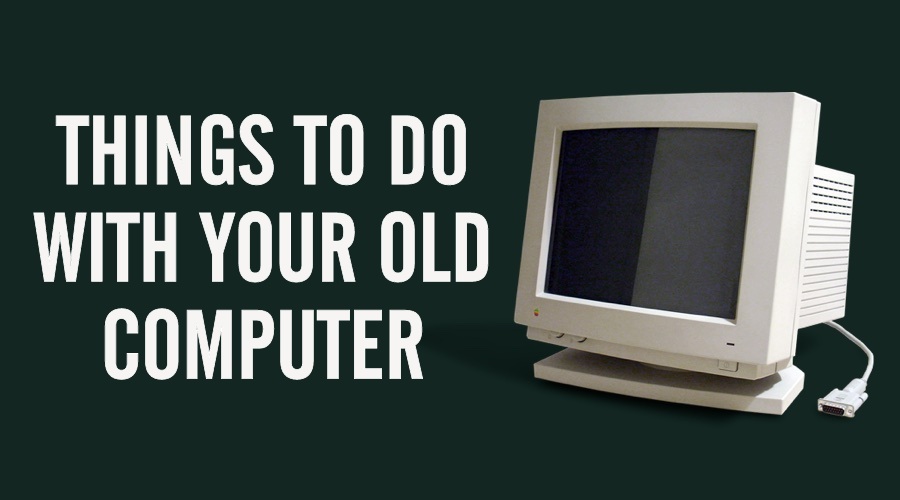 Short Bytes: Electronic waste is becoming a very big problem, especially with the commoditization of computers of all kinds. Many people have an old computer sitting in a closet or in their basement. Some of us have many. They might be old, but there are many things we can do with them.
H
ere are the 10 great things that one can do with an old computer. Let's take a look:
Donate to the less fortunate:
This should come as no surprise. First and foremost, a computer is the best tool for learning, and everyone should have one. If your computer is sitting around and collecting dust, the best thing you can do with it is bless the less fortunate around you.
Install Linux:
Again, no surprise here. There are distributions of Linux that are designed to run on older hardware, and they do so well. So, this can tie into number one as well. The gift of learning is an amazing one, and Linux enables education, especially with all the manuals. There are many lightweight distributions to choose from. You have Xubuntu and Lubuntu, Debian, Arch Linux, Gentoo Linux, and even Puppy Linux. Linux can give an old computer a second wind. What's even better is that in addition to the performance, you're also getting up-to-date software that is secure, and that's an intangible benefit. The best way to put an old computer to use is to use it, and that's what Linux will help you do.
File and Print Server:
Your old computer might not be up to par with the demands of daily use and web browsing, that's okay, we're not even half done the list. Storage needs are increasing, and it doesn't take much CPU power to drive a storage server. You might be inclined to upgrade the network card to one that supports gigabit connections for speedier file transfers, but that's completely user discretion. Having a file server means that you can maintain backups of your computer's local files. You can easily share files in your home office or between your family. And you can even share a printer over the network allowing anyone to access it, or only some if that's what your needs call for. Samba offers complete Windows, Mac OS X, and Linux support, so you can be sure that all of your devices will be compatible. And again, as with security, a proper backup's value can be immeasurable.
Media Server:
Media centers are becoming more and more popular, many of which pull from internet sources, but they can also connect to local servers as well. Storing your media on a server means that you and your family can all pool your music, digital movies, books, and photos. There are many types of software for media broadcasting, organization, sharing, and manipulation.
Test Bed:
We don't all have computers capable of running virtual machines on top of our host OSes. Having physical hardware comes in handy for all sorts of testing, whether it's trying out a new Linux distribution, practicing setting up a service, or deploying your own software for development purposes. Much can be learned about the operations of the largest of scale information systems from the comfort of your own desk or workshop. One of the best uses of an old computer is for your own education.
Media Center:
If you have a media server, you're likely going to want a media center. Not all older computers have the necessary graphics processing power to play modern high definition footage, but there are many low-end graphics cards that can provide that functionality for very little cost. Many of which will work well with Linux, too. One thing to note, though, is that older computers tend to be louder due to the wearing on the bearings in the fans, so it's advised that you change the fans for a more pleasant entertainment experience.
Version and Revision Control:
Turning your old computer into a Git server is one of the more powerful things you can do. Git enables collaboration between authors of computer programming code, websites, creative materials, and business materials. Not only does Git enable this collaboration, but it also enables sharing, which is the spirit of FOSS.
Web Server:
Host your own blog, create your own forum, share your ideas, do whatever you want and show it to the world with a web server. Setting up a web server is easier than ever and there are hundreds of tutorials online to help you configure your service. It doesn't take a powerful computer to host a small site. Hosting your own website is a rite of passage for techies around the world. Show us what you've got.
Pen Testing:
Set up a target and grow your hacking skills. Or, on the other side of that coin, try to make your system and secure as possible and let your friends try to hack it. Run different common attacks against it to see where you can improve your security. The best way to learn anything is by doing, and because it's ill advised to try hacking into something you don't own, this is the best way to learn.
Home Gateway:
Last on our list is building a home gateway. You'll likely need to buy a second network adaptor for this unless you have one laying around, but it can be well worth it. Many home routers are failing to meet the demands of the increasing internet speeds. One of the best ways to alleviate the router is to relieve the burden of Network Address Translation, but this is normally very dangerous to do and in many cases will only allow a single computer to function on the network. By creating a gateway router using an older computer, you can move all of the gateway services from the wireless router to the new gateway. This can increase performance, but it can also give you many more features. There is a wide variety of options ranging from Linux based to FreeBSD and OpenBSD based solutions. Any of these will provide capability far beyond that of your off-the-shelf router. There are many ways to configure these gateways, so it's best to do your research and make sure the solution you choose and the configuration you apply is right for your needs. It is very important to keep security in mind when it comes to public facing computers like gateways.
The best way to recycle is to reuse. Keep your old electronics out of the landfills and garbage dumps by re-purposing them, and when the time comes to dispose of them, remember to do so responsible at an e-waste recycling depot. What do fossBytes readers do with their old computers? Let us know in the comments below.
Also Read: What's Inside My Computer — Different Components Of A Computer