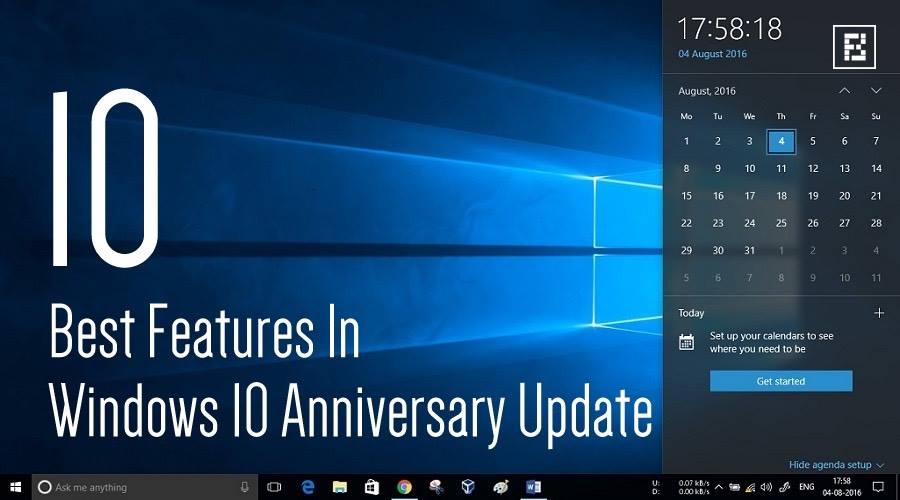 Short Bytes: Microsoft has just released Windows 10 Anniversary Update for its customers. This update brings many new features to Windows-powered computers. Some of the best features in Windows 10 Anniversary Update are Windows Ink, Extension support in Edge, Bash in Windows, and Dark theme.
B
ack in July 2015, Microsoft launched the 'last' version of Windows operating system. At that time, Microsoft ensured that Windows 10 users will keep getting timely updates each year. Past one year has seen numerous feature updates and Redmond has tried to address the grievances of the users in each push.
Windows 10 has just completed its first year, followed by the first major upgrade in the form of Windows 10 Anniversary upgrade. As promised, Microsoft is ready to make your Windows desktop improvements by implementing lots of new features and tweaks.
We have prepared a list of the best new features in the Windows 10 Anniversary Update. Let's take a look:
New features in Windows 10 Anniversary Update
Start Menu improvements:
Whenever we start working on a Windows operating system-powered computer, the first thing that comes in front of us is the Start Menu. Before releasing the Windows 10 Anniversary Update, Redmond told the world that they would be making some changes in the Start Menu for better usability. This change is reflected in the updated Start Menu. Now, instead of clicking on an All Apps tab, Microsoft has made the All Apps lists appear automatically. These apps appears right below the Most Used list of apps.
To the left of this list, you get icons for Settings, accounts, and Power for faster access. To the right, you get the live tiles of the installed and suggested apps.
Action Center is more helpful:
As another Windows 10 Anniversary Update feature, Microsoft has brought along numerous improvements to Windows 10 Action Center. Now you'll spot a richer notification tiles, cards, and widgets. A great addition to Windows 10 Action Center is the ability to manage notifications from your Windows Phone as well as Android device. You can manage your notifications by visiting Notification & actions option in the System settings.
As different applications have different priorities, users get the option to set the priority of each app, so that your preferred app notification appears at the top, regardless of the time of the push. This Windows 10 update also puts the Action Center button to the edge of the Task Bar, making sure that it's just a single click away.
Cortana becomes smarter:
To compete with the likes of Siri and Google Now, Microsoft debuted its own digital assistant Cortana. Since then, Microsoft is making continuous improvements and making Cortana smarter.
To make it more usable, Microsoft has added Cortana to the lock screen. So, you'll be able to access notes, reminders, notifications, and more without even logging in. Microsoft has also worked to make Cortana more intelligent as it gets older. Now, it offers more information in cards and suggest you reservations, flights, and similar information.
Dark theme in Windows 10:
While Windows 10 looks white and clean all the time, very often people feel the need for a dark theme that's good to eyes. I've personally loved Windows 10 dark theme.
You can simply visit the Colors option in system settings and pick the dark theme. This will enable an eye-friendly dark theme in the default Windows 10 apps like Settings, Maps, and Calculator. Blending with the black bezel of our Windows laptops, Windows 10 looks very attractive. I hope to see similar changes in the Windows Explorer in the upcoming days.
Read our complete Windows 10 guide here.
Extensions in Microsoft Edge:
For some, Extensions support in Microsoft Edge web browser is the most important feature. Microsoft has been working on this functionality ever since they released the first build of Windows 10 operating system. With Windows 10 Anniversary Update, Microsoft has opened its doors and now it's up to 3rd party devs to write extensions and upload them on Windows Store.
For the time being, extensions similar to AdBlock, LastPass, and EverNote are already available for download.
Other additions to Microsoft Edge:
Extension support is one of the most anticipated features arriving with Windows 10 Anniversary Update—so, I mentioned it separately.
Apart from extensions, Microsoft has made numerous other improvements to its Edge web browser to compete with the likes of Chrome, Firefox, and Opera. Microsoft is already busy making promotional videos that tell the users why Edge is better that Chrome. Here's the list of some major features coming to Edge:
Paste-and-go option in URL bar
Tab-pinning
Organized bookmarks and favorites
Swipe navigation
Flash videos won't play automatically
Web notifications in Action Center
A history menu
Windows Ink is here:
If you are using Windows 10 on a touchscreen PC or a tablet, Windows Ink is surely going to be the best new feature for you. It's actually a central hub for all the third-party or built-in applications that work with your stylus. Talking about the in-built applications, we've got Sticky Notes, Sketchpad, and Screen Sketch. While most of you must be using Sticky Notes on your Windows PC on a daily basis, Sketchpad could be your new addiction if you love doodles. The Screen Sketch feature lets you take a screenshot and ink all around it. You've also got the option to instantly share it.
How to use Windows 10 Ink on a PC without an active pen?
Well, if you don't have a touchscreen PC or a PC with an active pen, you can still play with Windows Ink Workspace. Simply right-click on the taskbar and click on the "Show Windows Ink Workspace" in the pop-up menu.
Windows Hello say hi to apps and websites:
With the launch of Windows 10, Microsoft advertised Windows Hello as a feature that will end the need for passwords. Windows Hello is already functional on Windows 10, letting you sign into your system using a fingerprint, an iris, or facial scanning.
As a great and new Windows 10 Anniversary Update feature, Microsoft is now allowing Windows Hello to be available on the supported websites while surfing the web using Microsoft Edge. Hopefully, we'll soon be able to sign into our Google account using Windows Hello. This biometric support will also work on Windows apps.
That's not all. Windows Hello will also allow you to unlock your computer using a USB token, smartphone, or fitness bands—something that's a 'companion device.'
Xbox One improvements:
For the gamers, there are two great features in Windows 10 Anniversary Update. So let's tell you about them one by one:
Xbox Play Anywhere: Xbox Play Anywhere gives you the power to play your games on Windows 10 PCs as well as Xbox. While this feature is currently limited to certain titles, it looks like a great opportunity for Microsoft to attract more gamers.
Windows 10 apps on Xbox One: Congrats gamers! Your wait is finally over as Microsoft is finally bringing Windows 10 apps to Xbox One. If you're failing to understand how it's going to happen, let me tell you that Xbox One is powered by Windows 10. Microsoft is now pushing updates to its gaming console, letting you use Cortana and Universal Windows Platforms apps on Xbox.
 Bash on Ubuntu on Windows 10:
Well, here comes the final entry on this list and my favorite one.
Earlier this year, Microsoft surprised the developer world by brining Linux subsystem on Windows 10. If you are a developer who loves both Windows and Linux ecosystems, this feature is a great new addition. Now, Windows 10 lets you download Ubuntu binaries from Canonical servers and run Bash on Windows 10. It's an option feature that could be enabled by activating the developer mode in Windows 10. With time, I hope to see more Linux features on Windows 10. After all, Microsoft <3 Linux.
How to get Windows 10 Anniversary Update right now?
In a dedicated article, we have already told you how to grab Windows 10 Anniversary Update right now and get these new features. You can either check for updates by visiting Windows Update section or visit Microsoft's  website to download Windows Media Creation Tool for performing a clean install.
Did you get the Windows 10 Anniversary Update? Share your experience in the comments section below.