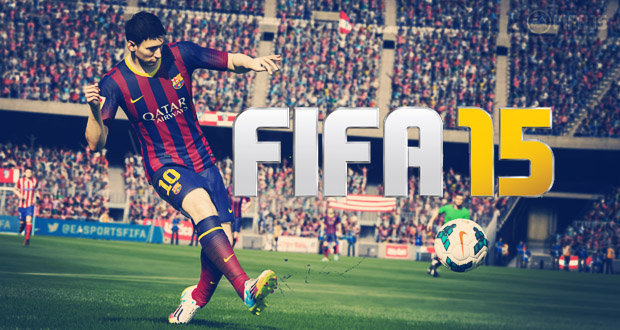 FIFA15 is developed by EA Canada and published by EA Sports. FIFA15 releases on Sept 23. in North America,  Sept 25. in Europe and Sept 26. in UK and Ireland. FIFA15 is being released on all platforms. FIFA15 runs on Ignite Engine for PC, PS4 and Xbox One and Impact Engine for PS3, Xbox 360. FIFA15 comes to town with 35 Leagues and 600 clubs. Official Premier League scoreboards and television graphics are also in the game, as well as real-life referees and advertising hoardings.
New features:
Emotional Intelligence: Players in FIFA 15 have memories and over 600 reactions driven by the context and moments of the match.
Incredible Visuals: FIFA 15 has been created with more detail to make players feel powerful and athletic. Kits move and change with the environment, becoming dirty with mud and grass as the match unfolds.
Living Pitch: Playing surfaces wear down as the match progresses, with boot marks, slide tackles, and debris visible on the pitch.
Better Ball Control: An overhauled dribbling and control system makes FIFA 15 responsive. You'll immediately notice better accuracy in the spin, curl and flight of the football as it moves realistically after each contact.
Better Tackles: Feel the impact with big fall physics; shirt pulling will also be visible with enhanced cloth technology. FIFA 15 fundamentally changes the way you compete for the ball.
Player Control: Leave defenders in the dust or control the ball like the world's best footballers. Players explode into action with improved balance, cuts and closer touches.
Next Gen Goalie: Goalkeepers have been rewritten for FIFA 15. Witness over 50 new save animations and last second save reactions.
More Alive Stadium: Improved commentary will highlight unique fan reactions, while chants and behaviors will be relevant to country or even your club. New bench reactions, side line character animations.
The rest you have to find out!
Also FIFA15 features a new Barclays Premier League :

The most popular league in the world is now the most authentic – with all 20 stadiums, authentic audio & commentary, and over 200 new player models.
This year's Ultimate Team features a new feature, in which users can sign loan players for a limited duration of matches. Another new feature is The Concept Squad, where players have an access to the game's database and can create a "dream squad". The concept player's card is grey colored. A number of new legends are also introduced to the game, including Franz Beckenbauer, Roberto Carlos, Peter Schmeichel and Hristo Stoichkov.
The game's soundtrack has the following tracks.
Avicii – "The Nights"

A-Trak – "Push"

Balkan Beat Box – "Bulgarian Chicks"

Broods – "L. A. F."

Catfish and the Bottlemen – "Cocoon"

ChocQuibTown – "Uh La La"

Death From Above 1979 – "Crystal Ball"

Dirty South – "Tunnel Vision"

Elliphant – "All or Nothing"

Elliphant – "Purple Light"

Emicida feat. Rael – "Levanta e Anda"

Foster the People – "Are You What You Want To Be?"

Jacob Banks – "Move With You"

Joywave – "Tongues"

Jungle – "Busy Earnin'"

Junior Jack – "E Samba"

Kasabian – "Stevie"

Kymani Marley – "Warriors"

Madden Brothers – "We Are Done"

Madeon – "Imperium"

Magic Man – "Tonight"

Milky Chance – "Down by the River"

MPB4 – "Agiboré (Marky's Ye-Mele Refix)"

Nneka – "Heartbeat"

Nico & Vinz – "When The Day Comes"

Prides – "Out Of The Blue"

Rudimental feat. Alex Clare – "Give You Up"

Saint Motel – "My Type"

Saint Raymond – "Wild Heart"

Santigold – "Disparate Youth"

Teddybears – "Sunshine"

Tensnake – "Pressure"

The Griswolds – "16 Years"

The Kooks – "Around Town"

The Mountains – "The Valleys"

The Ting Tings – "Super Critical"

Tune-Yards – "Water Fountain"

Vance Joy – "Mess Is Mine

"