Facebook is now letting users bulk transfer their text posts and notes to Google Docs, Blogger, and WordPress.com. Previously, the data transfer feature was only limited to photos and videos uploaded on Facebook.
This new option will come out handy for users who have a ton of Facebook posts and are planning to shift to a different medium or planning to quit Facebook once and for all. Here's how you can delete your Facebook account.
The best part about the new Facebook tool is that you don't need to copy-paste your past status updates manually. The copy of your transferred posts will also include the media shared along with the text post.
Without further ado, here's how you can export your Facebook text posts and notes using Facebook's Data Portability tool.
How to transfer Facebook posts to Google Docs, Blogger or WordPress.com?
1. Click on the downward arrow button in the top-right corner.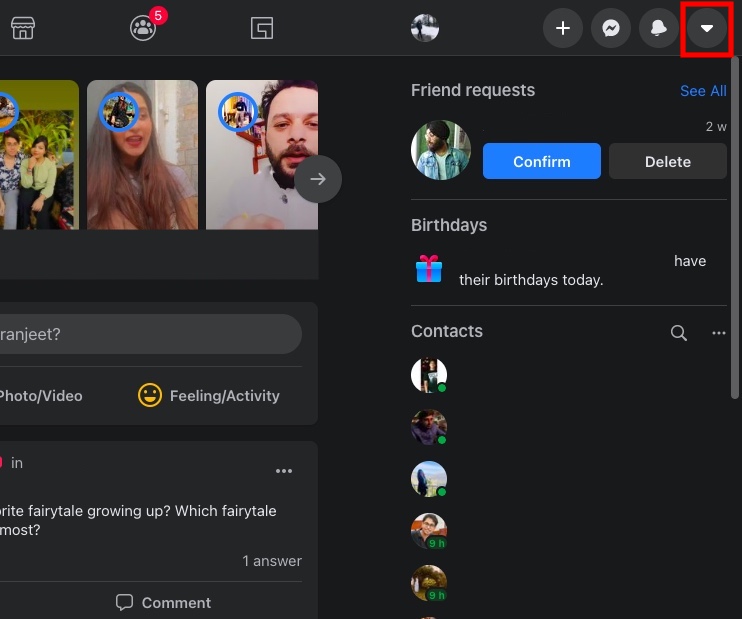 2. Click on Settings and Privacy. Then, click on Settings.
3. Select Your Facebook Information Tab.
4. Click on Transfer a copy of your information. Facebook may ask you to re-enter your password.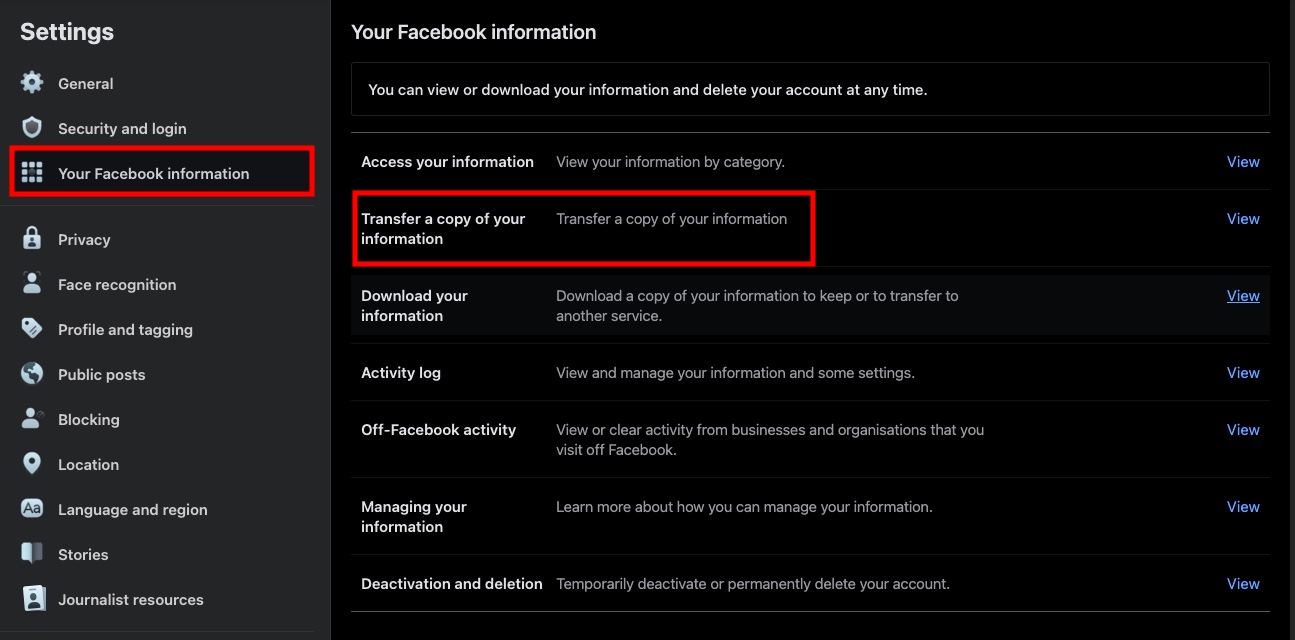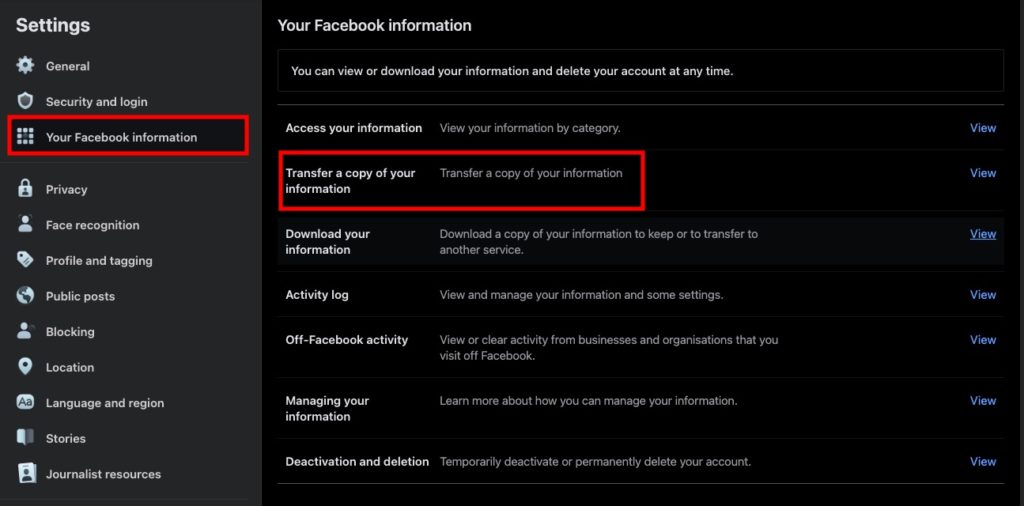 5. Choose Posts under the Choose what to transfer step.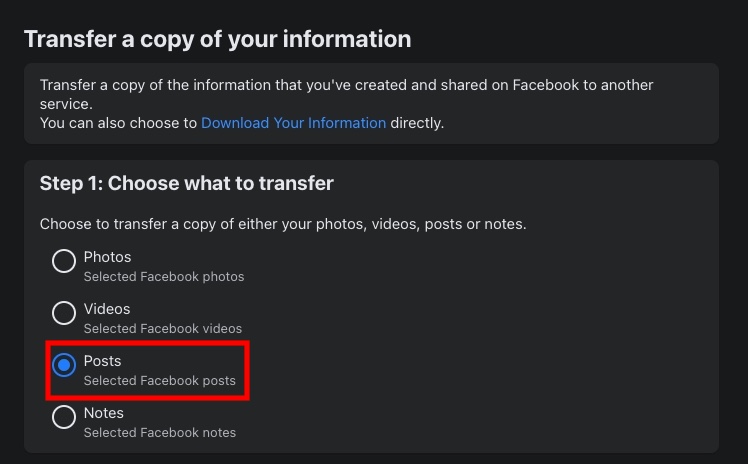 6. Under the Choose Destination section, select Google Docs or WordPress depending on where you want to export your Facebook posts. Tap on Next.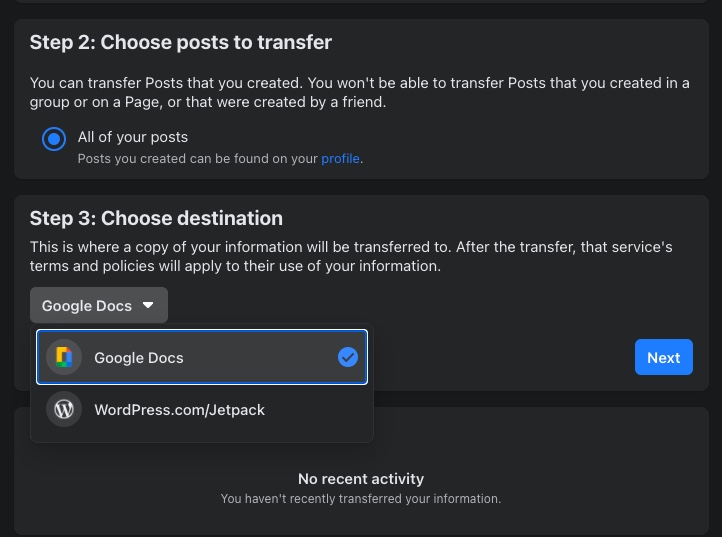 7. In the next window, connect your Google account to Facebook and give it permissions to create a Google Doc.
8. Click on Transfer.

9. Wait for the transfer to complete. It may take some time depending upon the number of Facebook posts.

10. Once the transfer is complete; you will receive a new notification saying that a copy of your Facebook posts was transferred to Google Docs.
Multiple copies of all your Facebook posts can be accessed in your Google Drive. You can also use this new tool to transfer Facebook Notes.
You will find similar steps on Facebook for Android and iOS apps.
How to download your Facebook posts directly?
Alternatively, you also have the option to download your Facebook posts in HTML format. To do so, simply go to the Your Facebook Information tab in the Facebook settings > Download Your Information > Click on Deselect All, and choose Posts > Click on Create File.
Facebook plans to add more options under the new "Transfer your Information" tab such as Contacts, Friend lists, and more.