The man, the myth, the legend, and probably Twitter's most favorite person, Elon Musk is a gem. Despite several controversies around Mars, Bitcoin, and claiming the title of the world's richest person, Elon Musk continues to a gift that never stops giving. So today, on his 50th birthday, here's a look back at the top 12 Elon Musk moments which prove why he's the most popular CEO on the planet.
1: Elon Musk Plans to Blow Nukes on Mars
Stephen Colbert asked a question about how long it will take for humans to be able to easily live on Mars. Well, Elon's answer dropped like a bomb. He said that humans could warm up the atmosphere of Mars (basically terraform it) with a couple of Nukes. Now I don't have a degree in Nuclear Physics or "Terraform engineering" but this was something which only Elon Musk could have said. And I love it.
2: Historic Landing of Falcon 9 Rocket
This particular event was quoted by National Geographic as "Space X Makes History", so you better believe that this will be in history books in the future. The epic launch of the Falcon 9 rocket was an event which was watched worldwide by millions of people. The tension and the drama during this event alone could be made into an Oscar-worthy movie. Needless to say, this was one of the best Elon Musk moments ever.
3: Elon Musk exposes Top Gear
The feud between Jeremy Clarkson and Elon Musk goes back several years. It all started when Clarkson reviewed the first generation Tesla Roadster on his popular show Top Gear and implied that the car had run out of battery during the road test. Later on, Elon came along to show that Clarkson was falsely implying a problem with the car. I'll let you watch the video for yourself as it is full of revelations and quite interesting.
4: Elon Musk Showcases Tesla Roadster
This might not exactly be among the best Elon Musk moments, but the Tesla Roadster is one hell of a car. It can do 0-60 mph in 1.9 seconds. Achieving this kind of acceleration is so difficult that there are actual YouTube videos explaining the same thing.
And it's not just that, the Tesla Roadster, which will launch in 2020 will have a 600miles/1000kms battery range. A lot of people are waiting for this car and for good reason. The Tesla Roadster is an economic hyper sports car; no one thought it could be possible, but Elon Musk still did it.
5: Elon Musk Talks About His Raging Mind
Elon Musk is a genius, there are no two thoughts about it. But everything comes at a cost, even being a genius. Most people remember the interview between Elon Musk and Joe Rogen for the moment when he tried out some weed. However, the most interesting part of the interview was when Elon talked about how his brain is constantly full of ideas and that he never gets any mental rest.
6: Elon Musk Had An Uninsured McLaren F1
As it turns out that besides running Tesla and SpaceX successfully, Elon Musk is also a pretty funny guy. In an interview with Pandodaily, Elon revealed the story of how is McLaren F1 is no longer driveable. It's one of the best Elon Musk moments and I'd love for you to see it yourself.
7: Elon Musk Wants a Catgirl Waifu
In the words of the great Elon Musk: "I love Anime". During his famous TED event, Elon explained the "need" to bio-engineer catgirls for the future. But again all of this is just pure fun and he obviously isn't going to start genetically engineering new organisms.
8: Elon Musk Hosts Pewdiepie Meme Review
Elon Musk showcased his love of memes by hosting a meme review with the most popular YouTuber Pewdiepie. The best part is that Elon was accompanied by the Rick & Morty creator Justin Roiland. Needless to say, it was a super exciting moment for the fans who had a great laugh alongside Elon when he reviewed the dolphin meme.
9: Elon Musk Donated $480,000 For Clean Drinking Water
Elon Musk recently donated a huge sum of money to schools in Flint, Michigan to help them clean their drinking water last year. Although some would say that Elon was late on his promise of donating to the charity about it, he still went through with it nonetheless. The official Twitter handle of Flint Schools made a heartfelt tweet after the donation, thanking Elon as well.
10: Elon Hires "The Absolute Unit" Meme Guy
This one is a tip for all the fans of Elon Musk, you guys need to follow all the social media accounts of Tesla. Elon has recently hired a really funny chap by the name of Adam Koszary as Tesla's new social media manager. Adam is the guy behind the viral "Absolute Unit" meme of a sheep. He used to work as a program manager for the Museum of English Rural Life but now he'll be tweeting for Tesla. Take a look at his details below.
11. Elon Musk Wants To Take Doge To The Moon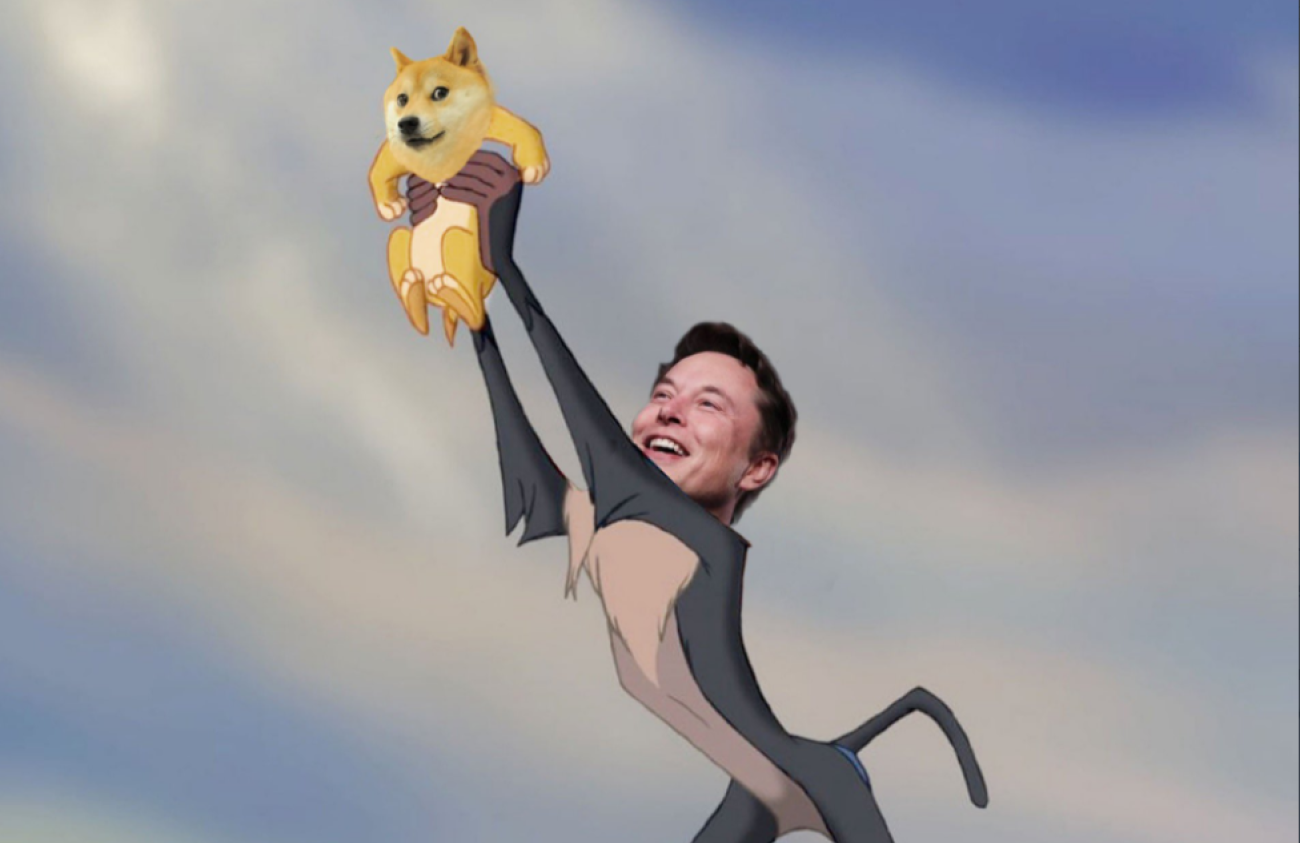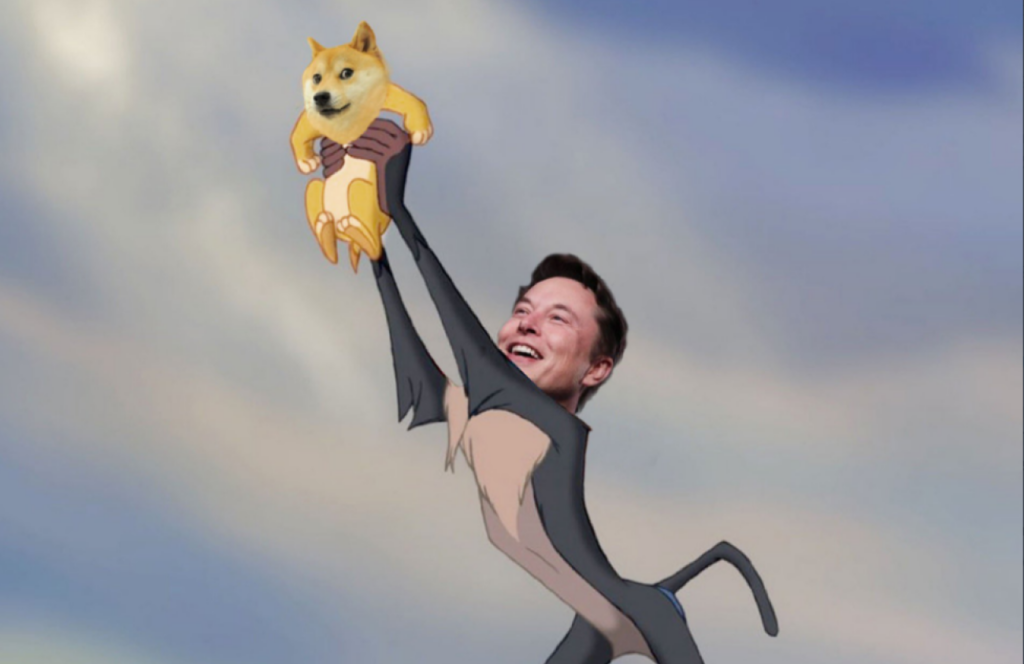 If 2021 is known for something, it's Elon Musk and Dogecoin. The romantic saga between the meme coin and Elon Musk has popularized Dogecoin. The price of Dogecoin rose exponentially and reached its all-time high of $0.69. Dogecoin was trending on Twitter with Elon Musk announcing that he'll talk about it on SNL. However, Dogecoin failed to reach $1 and currently, it's on a downward trend. Nonetheless, Elon Musk and Dogecoin could and Dogecoin could be a thing to look forward to in 2021. For those living under the shell, here's a link to help you get aware about Dogecoin.
12. Elon Musk Mocks The Anonymous Group Of Hackers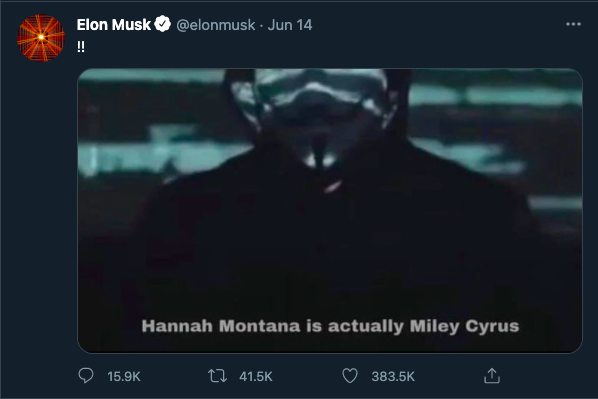 Elon Musk received a threat from the Anonymous hacker group who termed him as "a narcissistic rich dude who is desperate for attention". In response, Elon Musk mocked the hackers' group by posting a meme on his favorite social media website Twitter. He shared an image of a man wearing the Guy Fawkes mask and wrote "Miley Cyrus is Hannah Montana". Mocking the Anonymous group is nothing short of inviting trouble but he's Elon Musk after all.
Love him or hate him, you just can't ignore Elon Musk. He is also giving us ridiculously fun electric cars and a possibility for space exploration. Anyways, Happy Birthday Sensei.