Since the time app stores have become a thing, the Apple App Store has arguably been the safest and difficult-to-get-to place for malicious apps. However, a fake Amazon Alexa Setup app still was able to get listed on the App Store and as a surprise, is listed in the "Top Free" apps section.
As per a new report by 9to5Mac, a fake Amazon Alexa setup app, going by the name 'Setup For Amazon Alexa' was found in the US App Store ranking on #6 position under the Utilities category. Additionally, the app was able to acquire thousands of reviews mostly with a five-star rating.
The dupe app claimed to be a guide to the users to set up the Amazon Alexa devices along with listing down various commands, however, actually didn't help at all.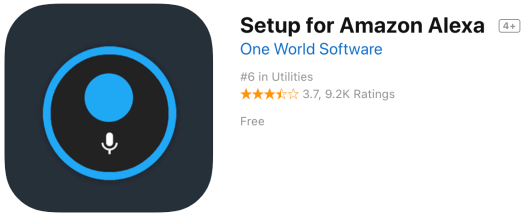 The fake app gaining popularity is attributed to the hike in the sales of the Amazon Alexa devices, providing the fraud app with the opportunity to trick users.
While the app was a phony one, it wasn't involved in anything malicious such as extraction of important details from the users. Furthermore, the app did not try to get money from users.
Additionally, the developer of the 'Setup For Amazon Alexa' is One World Software and has other apps on the App Store such as 'Marketplace – Buy\Sell' and 'Any Font for Instagram.'
Just to clear the air, the app no more exists on the App Store.
We hope Apple App Store takes care of this in the future. What do you have to say about it? Comment down below!