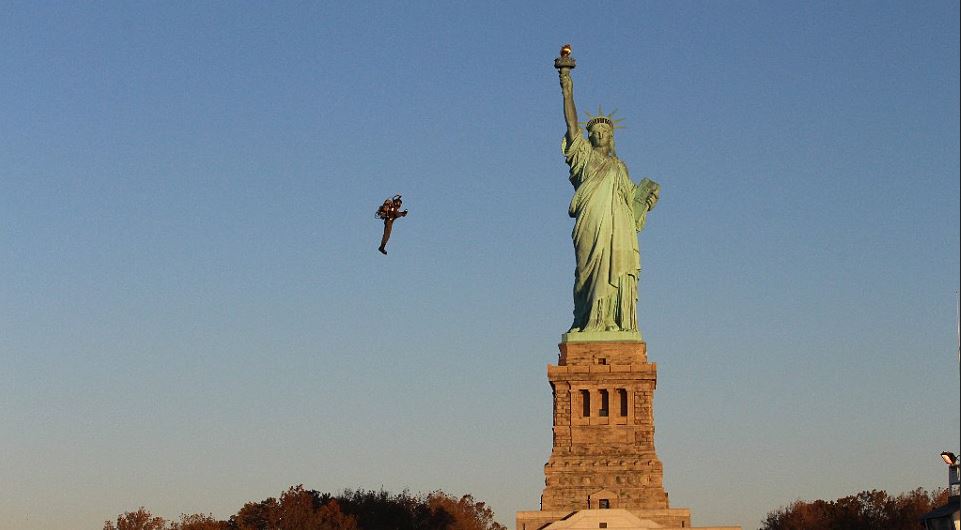 Short Bytes: JB-9 JetPack, from the company JetPack Aviation, has showed off its jet turbine powered machine. In a demonstration of its capabilities, it was flown around the Statue of Liberty and over the Hudson river.
T
he company JetPack Aviation calls itself the maker of world's only real jetpack. This device is a backpack powered by a jet turbine that lifts a person into the air.
On the other hand, it's being called the real jetpack as the other jetpacks are powered by streams of water, rockets – not jets.
The jetpack is approved by the Federal Aviation Authority and US Coast Guard, and took 40 years to develop – according to the website. David Mayman, company's CEO from Australia, flew this JB-9 jetpack around the Statue of Liberty and over the Hudson river to show-off a demo.
David Mayman has spent the last 10 years working with Nelson Tyler, a Hollywood-based inventor. They have designed prototypes of this jetpack and "spent millions of dollars and thousands of hours secretly developing the device."
On their website, JetPack Aviation says: "We believe a JetPack should be just that — a jet turbine powered backpack that is capable of vertical takeoff and landing (VTOL), is extremely light and small and can easily be carried around by the pilot."
The JB-9 can fly more than 100 miles per hour and can reach heights up to 10,000 feet for about 10 minutes. Watch the video below:
Tell us your views in the comments below.