Telegram is a popular privacy-focused encrypted instant messaging service. Recently, the messenger platform announced the launch of a new programming language 'Fift', created for its Telegram Open Network (TON).
According to a post published on the project's Telegram channel, the Fift language has been specifically designed for developing and managing TON blockchain smart contracts. The new language will also be used to interact with the TON Virtual Machine (TVM).
TVM will execute smart contract codes in the TON blockchain network, which in turn would support all operations that are required to analyze incoming messages and data to create new messages and modify persistent data.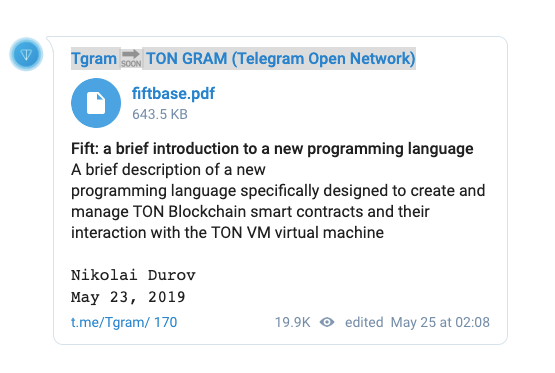 The document shared in the official post offers an overview of Fift — including the basics and TON-specific operations of the language.
The TON network will be used for hosting decentralized applications, just like the Ethereum network. Telegram is planning to launch TON in Q3 2019.
The release of TON is a highly anticipated one in the crypto and blockchain world. Telegram reportedly began private beta testing of the TON blockchain network back in April, and it was open to a limited number of global developers.
While there are no concrete outcomes of the beta testing, anonymous testers who got the chance to use it claimed that TON blockchain provides an "extremely high transaction speed."