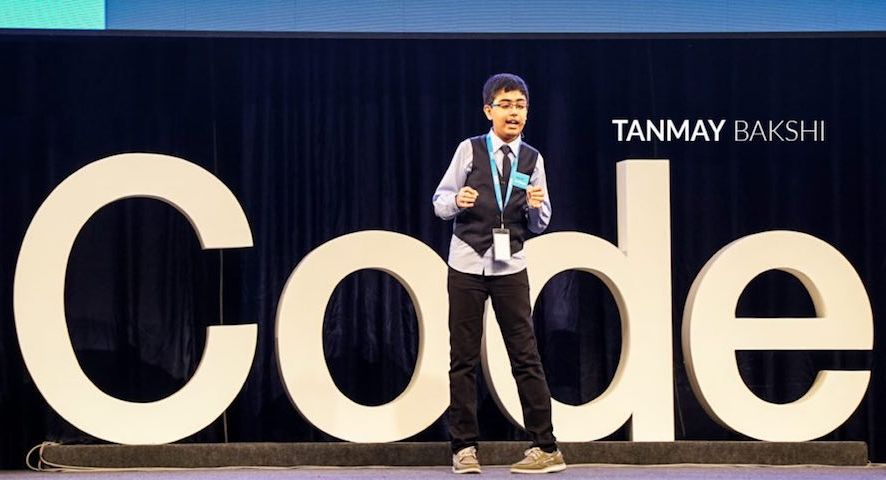 Short Bytes: Today, I'm going to tell you about 12-year-old app developer Tanmay Bakshi, who is making headlines after his recent talk at IBM Developer Connect In Bengaluru. He has developed an IBM Watson-based algorithm named AskTanmay, which is also the world's first Web-Based NLQA system.
Tanmay Bakshi, who lives in Canada, is the world's youngest IBM Watson programmer. To my surprise, he started coding at a very young age of five.
Tanmay has developed an algorithm called "AskTanmay", which is designed by taking assistance from IBM Watson's cognitive APIs. It's the world's first Web-Based NLQA system.
During his address at the developer conference, he showed how AskTanmay solves queries pertaining to 'Person,' 'Organisation,' 'Location,' or 'Date' type.
Tanmay has even open sourced his app to make it more accessible to his fellow developers.
Ever since publishing his first iOS app on the App Store, he has learned new technologies at an exponential rate, becoming fluent in today's all major programming languages.
He is currently in seventh grade and a co-author of a book called Hello Swift, which teaches the basics of iOS coding to the young learners.
Also Read: 10-year-old Kid Scores 100 Percent in Java Exam, Completes 150 Minute Paper in 18 Minutes
You can watch Tanmay's talk below:
LIVE on #Periscope: 12 Yr old coder Tanmay Bakshi on Stage at #IBMDevConnect https://t.co/NwU0Q4nfwq

— Abhishek Kumar Sahu (@shreya_08_92) June 17, 2016
Tanmay also loves to share his knowledge via his YouTube channel Tanmay Teaches that hosts more than 80 solution videos.
Currently, Tanmay is working to develop a way to make Apple Watch work independently from the iPhone, an application to help devs and students find algorithms, and a couple of other iOS apps.
"I want to become a better developer, write more books, deliver more keynote addresses and share my knowledge through my YouTube channel," he says.
Did you find this article interesting? Don't forget to drop your feedback in the comments section below.
Also Read: Learn HTML, CSS, And JavaScript With Mozilla's "Thimble" Online Code Editor