Short Bytes: It is hard to find a high-quality release for a movie leaked online. People spend hours on the internet and are still left with nothing. Squawkr is a website that sends automatic alerts as soon as a leaked movie appears on online platforms.
F
or pirates, especially newbies, keeping track of new movie leaks that too in high quality is a pain in the ass. The reason can be their lack of experience in finding a reliable source. Well, one website has popped up to help them out.
Squawkr sends email notifications (also provides PushBullet and Pushover notifications) whenever a new movie leaks online. In order to do so, you need to create an account on the website and add the name of the movie on it. Squawkr then keeps an eye on the movie title and alerts you when it comes online. It takes the help of the PreDB database which enlists thousands of releases.
And it's not just that the website wants to promote pirated content. It also displays the links website where the movie can be purchased legally.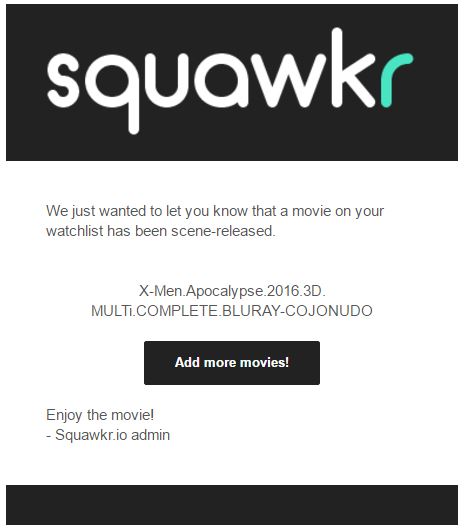 Currently, Squawkr only notifies about Blu-ray and DVD rips. A user can choose between 720p and 1080p qualities. If the demand arises for the formats like WEB-DL, they may be added in future.
The website is simple and free to use and it's created by Jakob, based in Denmark, who himself used to spend hours in search of a high-quality release. Prior to creating Squawkr, Jakob reached out to a lawyer for some legal advise. Since the website doesn't directly link to any illegal content, it is fine. Still, there are some risks associated.
You can check out Squawker using this link.