Short Bytes: The updated Google Home app for Android devices comes with improvements for the notification area. The cast notifications are now present on all the Android devices connected to the same network. This article covers a method to disable it.
C
hromecast by Google is a handy little device to push content directly from your smartphone or computer to your television using your WiFi connection.
The streaming device along with other hardware like Google Home can be controlled using the Google Home app (renamed from Chromecast). The updated app now puts a cast notification on every Android device connected to the same WiFi network as Chromecast and the Google Home app installed.
So, each one of them can pause, mute, and stop what is being thrown on the TV. It can be a handy feature if you have a number of devices lying in different rooms in your home. You have all the freedom to start a cast from on device and pause it from another.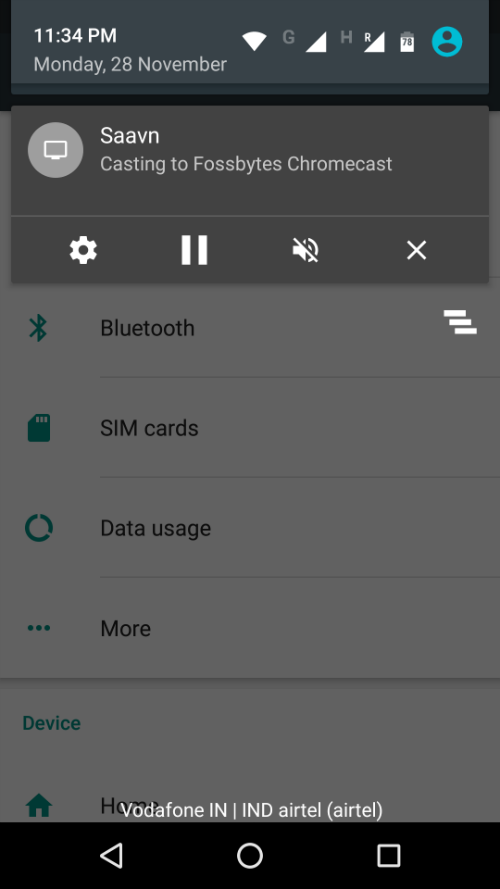 The situation is not fun every time. There might be other people in your house who may not like the constant irritation popping up on their device. It can also ruin your plan to secretly watch Netflix during exams. However, you have all the privilege to turn off the remote control notifications.
How to Disable Google Cast Remote Control Notification on your Android device?
Open the Google Settings app.
Tap Google Cast.
There is a catch; you don't have to do this on your own device. Instead, you have to do this on every other Android device which you want to get rid of.
If you have something to add, tell us in the comments below.
Also Read: How To Find If Someone Logged Into Your Windows PC At A Given Time?