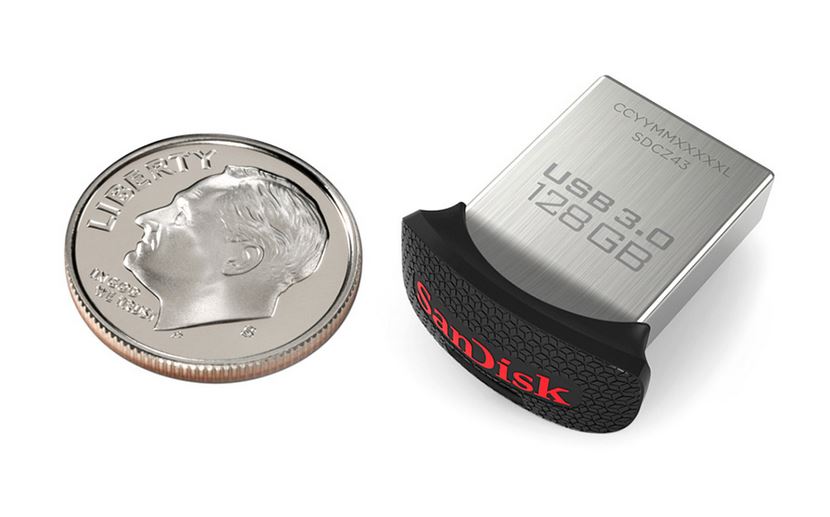 World's smallest flash drive is now even smaller as SanDisk has announced that it is upgrading its Ultra Fit USB 3.0 flash drive that comes with a whooping 128GB storage. SanDisk made world's smallest USB flash drive measures 0.75×0.63×0.35 inches.
The majority of this USB stick actually consists of the USB connector and the 128GB storage is somehow squeezed in the small plastic end. This USB drive hardly sticks out of your PC and takes very little space in your pocket.
Apart from the regular use of a USB drive, this SanDisk USB drive could be used as a handy way to expand storage space on laptops and PCs with ease as it nearly disappears when inserted in the PC. All you need to do is plug in the USB drive and you've got about 128GB of extra space. So you can now carry around more pictures, songs, videos and other documents without connecting or disconnecting the USB drive.
SanDisk says that this drive is for "media enthusiasts who want to expand storage of their notebook, tablet, TV, in-car audio system, gaming console and more."
This USB drive is also available in capacities of 16GB, 64GB and 128GB and offers speeds up to 130 megabytes per second if connected to 3.0 port. You get the 128GB version for a $119.99.
The storage solutions leader has also released a 256GB version of its Ultra USB 3.0 flash drive that costs $200. The 256GB version is larger than its younger sibling but it offers twice the storage capacity.
CNet writes that these USB drives come with SanDisk's SecureAccess that enables you to make password protected folders for your private documents.
Specifications of USB drive:
Performance/Speed:

16/32/64/128GB: Transfer up to 10 times faster than standard USB 2.0 drives; up to 130MB/s read speed
16GB: Transfer up to 5 times faster than standard USB 2.0 drives; up to 130MB/s read speed

Available Capacities: 16GB, 32GB, 64GB and 128GB
SanDisk SecureAccess software
RescuePRO file recovery software(one-year subscription offer)
USB 3.0 enabled (USB 2.0 compatible)
Dimensions: 19.1 x 15.9 x 8.8 mm; 0.75 x 0.63 x 0.35 in (LxWxH) – without cap
Operating temperature: 32° – 113° F (0° – 45° C)
Storage temperature: 14° – 158° F (-10° – 70° C)
Did you find this news exciting? Tell us in comments.
Image credit: HUH.
Recommended: SanDisk Makes Super-fast SSDs As Cheap As Ordinary Hard Drives