Sophos has finally open-sourced its sandboxing tool 'Sandboxie' by releasing the source code of the application. Sandboxie was acquired by Sophos in 2017 and converted into free-to-use software last year.
It has been 15 years since the original release of Sandboxie and now this favorite Windows utility for sandboxing applications will live on in the hands of its dedicated users.
Isolate applications on Windows with Sandboxie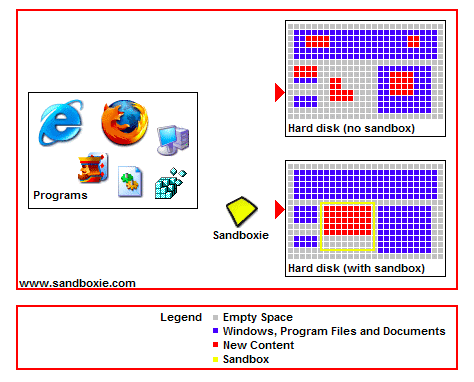 In Sandboxie, users can run any Windows app that requires a secure virtual sandbox while running. Here, the programs are run an isolated space to preventing them from making permanent changes to other programs and modifying the data on your computer.
You can run programs in Sandboxie and use it as you do normally by visiting websites, clicking on links and downloading files. In case you end up encountering any malware, you can simply shut down your Windows PC and your system would remain safe.
A variety of applications can be run in Sandboxie such as web browsers, instant messengers, chat clients, P2P networking, several games including online games that download extension software code, and much more.
Open Sourcing Sandboxing

Last year, Sophos had updated the latest version of Sandboxie to V5.33.3 for Windows 7, 8.1, and 10. The company had already released all the features reserved for commercial versions of Sandboxie in that release. Now, the source code version is 5.40.
The company plans to shut down the license server and the Sandboxie community forum on June 1st, 2020. So further updates, bug fixes, and improvements will have to be made through the community that continues to develop it.
Sophos pointed out that Sandboxie's driver needs to be signed and Microsoft Visual Studio 2015 is required to compile the code. For further instructions on compiling the source code and downloading the application, you can refer to its official website.