Out of all the gaming smartphones released over the past couple of years, Razer Phone was the only one that managed to strike a balance between a constant buzz of headlines and sales. The device's 120 Hz refresh rate turned out to be the major factor that set it apart from the competition.
Just last week, we came across the first Razer Phone 2 rumors, and today we're going to tell you about some major specifications of the smartphone.
The early AnTuTu benchmarks have revealed a score of 283,397, which is higher than the latest Samsung Galaxy Note 9. This score was achieved by the Razer Phone powered by Snapdragon 845 processor, Adreno 630 GPU, 8GB RAM, and 512GB of storage. As it's a gaming phone, a version with lots of room makes perfect sense.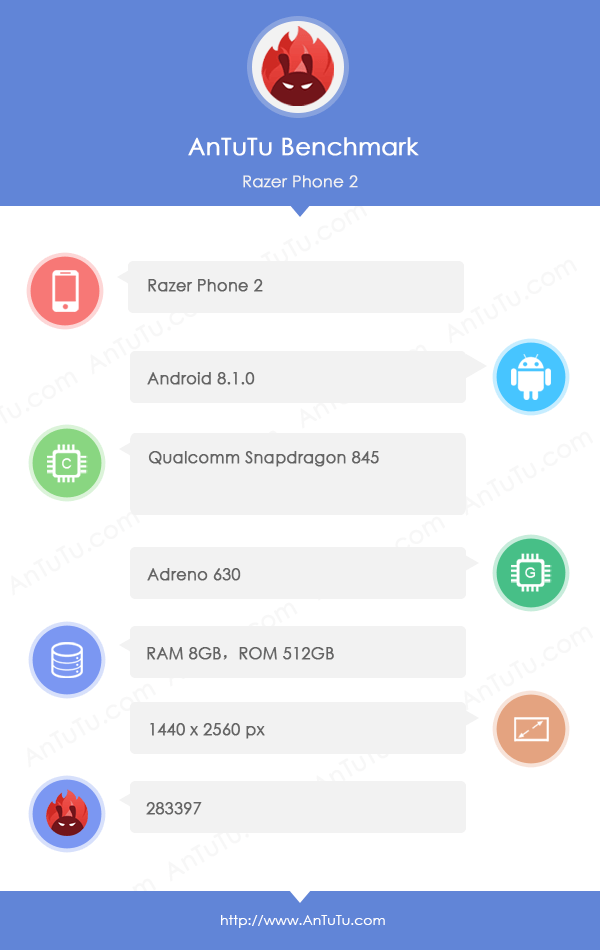 A previous Geekbench listing in September also suggested similar specifications. There, Razer Phone 2 managed to score 2,026 in single-core test and 8,234 in multi-core test.
It's worth noting that Razer has chosen to continue the previous iteration's screen resolution of 2560×1440. This 16:9 QHD screen is also expected to comes with the much-loved 120 Hz refresh rate.
Talking about the design aspect, there aren't any leaks yet and I don't expect Razer to join the notch brigade.
What are your expectations for the Razer Phone 2? Do share your thoughts in the comments section below and keep reading Fossbytes.