Recently, the Indian Government banned PUBG Mobile along with other 118 apps amidst the rising tension between China and India. According to the IT Ministry, the major issue with PUBG Mobile was that it was storing Indian users' data outside of the country.
Several PUBG Mobile players are heartbroken after the news of PUBG Mobile ban in India; however, most of them are already moving on to the next best options, i.e., Call of Duty Mobile and Garena Free Fire.
PUBG Mobile Players Are Moving On
PUBG Mobile became a wildly popular title in the Indian gaming community. Several people were introduced to gaming because of PUBG Mobile in the first place. That's why no longer being able to play the mobile game is a big deal for Indian players.
However, PUBG Mobile has started an addiction for the battle royale genre that isn't going to fade anytime soon, even if PUBG Mobile itself is out of the picture. That's because there are a lot of good alternatives to PUBG Mobile, such as Call of Duty Mobile and Garena Free Fire. That's why we are now witnessing a considerable number of players migrating to other mobile battle royale games.
For instance, a lot of my friends and colleagues who were playing PUBG Mobile for the last two years have now moved their focus towards Call of Duty Mobile. What's fascinating is that after giving a week or so to the new game, they are actually starting to enjoy it even more than PUBG Mobile.
Of course, there are several players who want PUBG Mobile ban to be lifted. However, a huge number of PUBG Mobile players have actually stopped dwelling on this fact and are adapting to new games.
Which Game Is Attracting More Players After PUBG Mobile Ban?
When it comes to PUBG Mobile alternatives, there are other options as well, like Fortnite. However, recently, Fortnite got into a lot of trouble with Google and Apple, which resulted in the app's removal from the Play Store and App Store. So, let's keep Fortnite out of the equation for now.
On the other hand, things are going incredibly well for both Activision and Garena. According to a report by Entrakr, Call of Duty Mobile and Garena Free Fire witnessed a massive spike in downloads. In the last four days, Garena Free Fire recorded 2.1 million downloads from India, whereas Call of Duty Mobile received 1.15 million downloads since PUBG Mobile got banned.
Of course, the numbers are great for Garena Free Fire, but for some reason, some players aren't even considering Free Fire as an option. For instance, a poll conducted on Fossbytes' Instagram account states that more than 80% of gamers prefer COD Mobile over Free Fire as the next best option after PUBG Mobile. That's maybe because Call of Duty Mobile has more rich graphics when compared to Garena Free Fire.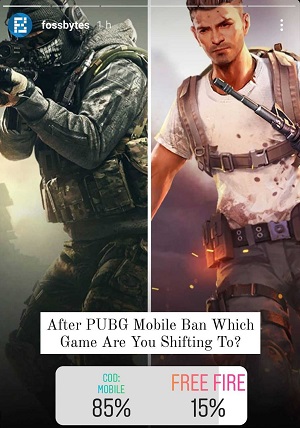 Are COD Mobile & Free Fire Worth Playing After PUBG Ban?
To be honest, Call of Duty Mobile was worth playing even before the PUBG Mobile ban. There are a number of mobile gamers who always prefer COD Mobile over PUBG Mobile because of its fast-paced gameplay.
The Battle Royale of Call of Duty Mobile is unique and doesn't look like a ripoff of PUBG Mobile. Moreover, COD Mobile's Multiplayer is unbeatable in every aspect. That's why it comes as no surprise that worldwide, Call of Duty Mobile has already crossed PUBG Mobile in terms of the player base.
On the other hand, Free Fire was already quite popular in India. Like PUBG Mobile, the gameplay of Free Fire is also realistic. So, it has always been a worthy opponent of PUBG Mobile. However, several players still hate Free Fire because of its low graphics quality.
PUBG Mobile Might Get Unbanned, But Will Players Go Back?
Now PUBG Corporation, the company that started the PUBG franchise, announced that it is working on bringing back PUBG Mobile in India. For that, PUBG Corp is planning to snatch PUBG Mobile's publishing rights from Tencent within the country.
Obviously, this is good news for Indian PUBG Mobile fans. However, the big fat question is, will players go back to PUBG Mobile after spending so much time in learning a new game? I mean, it's tough for a player to get comfortable with a video game and then transition to somewhere else instantly.
Nevertheless, if players go back to PUBG Mobile, it's highly unlikely that they'll stop playing COD Mobile or Free Fire entirely. So, a big shift in the Indian mobile community has already happened and to some extent, it's likely to stay that way.