A study conducted by Common Sense, a nonprofit media organization, has revealed that teens and tweens (youngsters between 10 and 12 years of age) that belong to families earning less than $35,000 per year spend more time engaging with a screen than their rich counterparts.
The report says that youngsters belonging to less affluent families spend more than 8.5 hours each day as compared to rich kids (belonging to families earning more than $100,000) who spend 6 hours and 49 minutes in front of the smartphone, PC, tablet, TV and other gadgets.

The report breaks down the stereotype that rich kids spend more time with gadgets because they have greater ownership of gadgets.
One of the reasons behind this disparity is the fact that technology is a cheap means of entertainment. For tweens and teens belonging to poor families, getting access to devices and online content is much affordable as compared to other activities that usually cost money.
Some of the other key findings of the study are:
The percentage of youngsters watching videos daily has doubled since 2015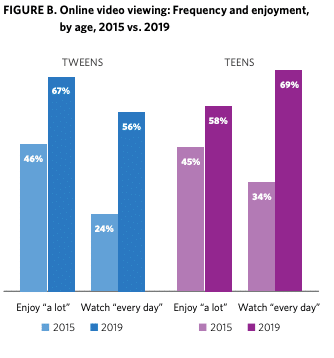 The percentage of youngsters who consume video content "every day" has drastically doubled since 2015. Earlier, the percentage was 24%, now it stands at 56% among 8 to 12 years old, whereas it has increased from 34% to 69% among 13 to 18 years old teens.
53% of kids own a smartphone by the age of 11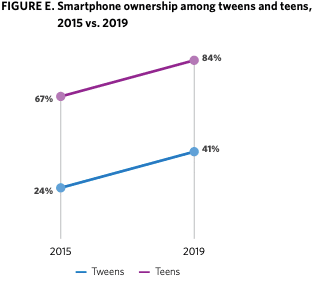 The report reveals that smartphone ownership has risen up dramatically. Nearly one kid in five (8-year-olds) own a smartphone now. By 12 years of age, more than two-thirds or 69% of kids own a smartphone.
Playing video games is the favorite online activity of boys; for girls, it's one of the least favorite activity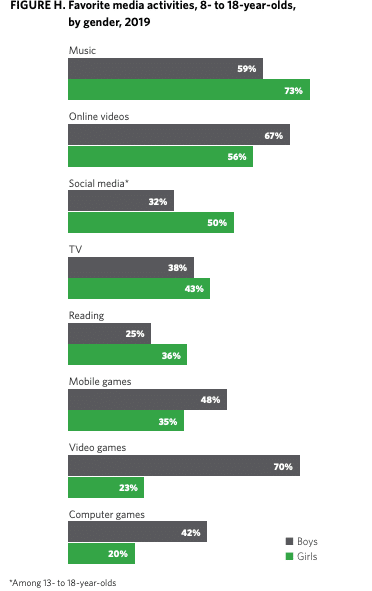 This comes as no surprise. Boys enjoy video games more than girls do. 70% of boys aged between 8 and 18 say that they enjoy playing video games "a lot" whereas only 23% of girls love playing video games. Girls' favorite media activity is listening to music and 73% of girls aged between 8 and 18 say that they enjoy it "a lot."
You can read the complete report here.