The Latest Steam Hardware & Software Survey reports show NVIDIA topping the market share with its graphic cards (no surprises there). However, AMD seems to creep on to gain a bit more market share.
While NVIDIA's GeForce GTX 1060 and GeForce GTX 1050 Ti have the lead in terms of numbers, the GeForce RTX 3070 is playing at 1.58%, with a growth of 0.06%. Despite the GeForce GTX 1060's fall of 0.71%, the pascal card has kept its lead since December 2017. However, given the fact that the newer graphic cards are slowly replacing their predecessors, following availability.
AMD gaining ground, but slowly!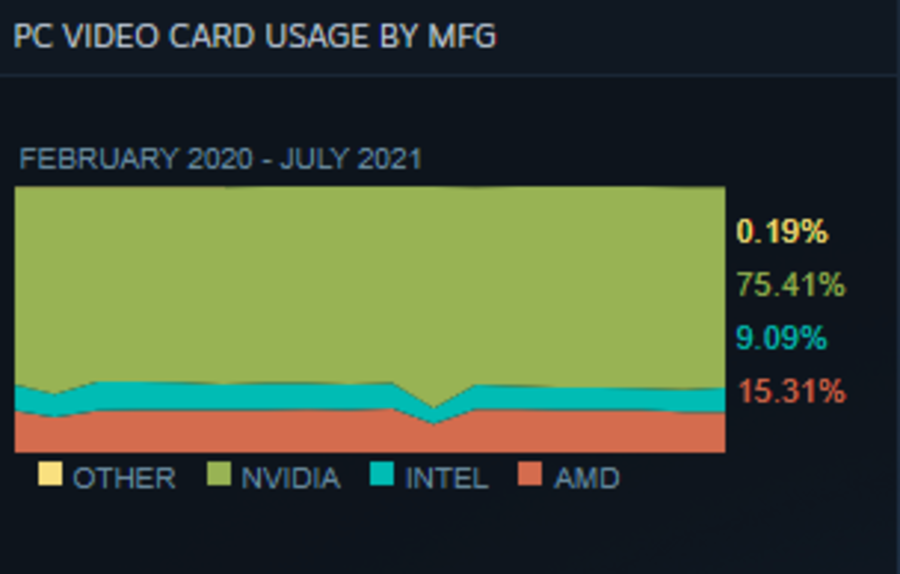 In all this, AMD is slowly but getting there. The AMD Radeon RX 570 is gaining on NVIDIA GeForce GTA 1080 with a 1.73% market share as compared to the GTX 1080's 1.67%. Meanwhile, the newest GeForce RTX 30 series is growing at a marginal rate, with the GeForce RTX 3060 laptop GPU showing a 0.16% increase. Meanwhile, followed by the RTX 3060 with 0.14% and RTX 3070 with 0.07% growth.
However, it might not seem much. But, given the global chip shortage and skyrocketing prices of the latest gen of graphic cards, this can be seen as a steady growth. In addition, the NVIDIA GeForce RTX 3090 saw a 0.03% growth rate despite reports of Amazon's New World frying NVIDIA's flagship graphic card.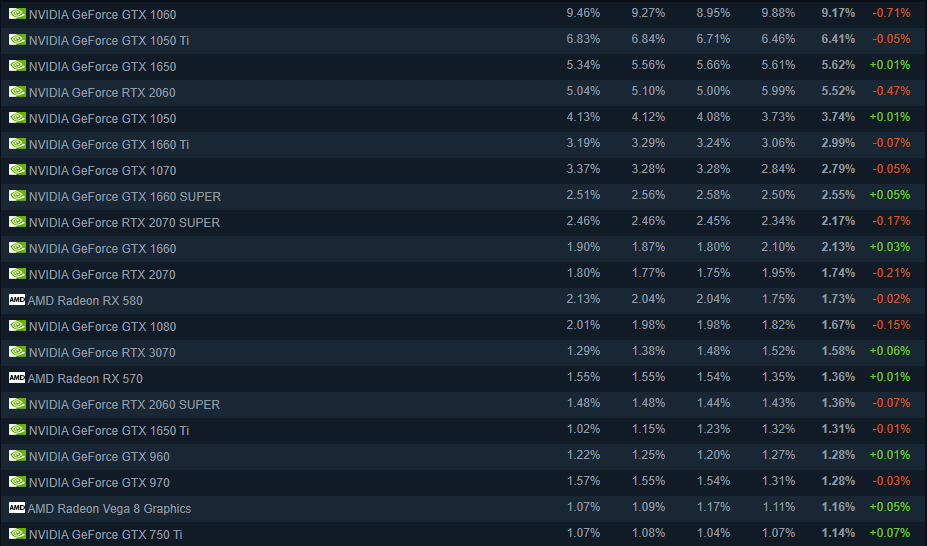 While the latest Steam Hardware & Software Survey reports show AMD creeping in on the graphic card market share, the AMD Radeon RX 6000 lineup is nowhere to be seen. The report shows no data on the first of the series, Radeon RX 6800 and Radeon RX 6800 XT, released last year. Part of which can be owed to the availability issues. Talking about availability issues, AMD's Radeon RX 6000 series has faced the worst of the lot.
While the latest Steam Hardware & Software Survey reports show the data until July 2021, we're hoping that AMD would soon capture a bit more ground once the global availability issues resolve.