Nintendo Switch has finally announced the highly anticipated new Nintendo Switch with an OLED screen. Rumors around the launch of a new Nintendo Switch have been with us for the past few months. However, Nintendo was very secretive about the handheld console.
Meanwhile, previous leaks suggested that the new Nintendo Switch will come with an OLED screen and DLSS support. However, there's no DLSS support in the newly announced switch, but it comes with a crisp OLED panel.
Nintendo Switch (OLED Model)
The Nintendo Switch (OLED Model), which Nintendo is officially naming it, launches on October 8th, 2021. In addition, the new Switch will have a 7-inch screen, which is big compared to the previous 6.2-inch screen on the previous Nintendo Switch model. Along with this, the new Switch will feature a wide adjustable stand, a dock with a wired LAN port, 64 GB of internal storage, and enhanced audio.
Now all these new features have us excited, but as far as "enhanced audio" is concerned, we guess we'll have to wait until the actual product drops in the market.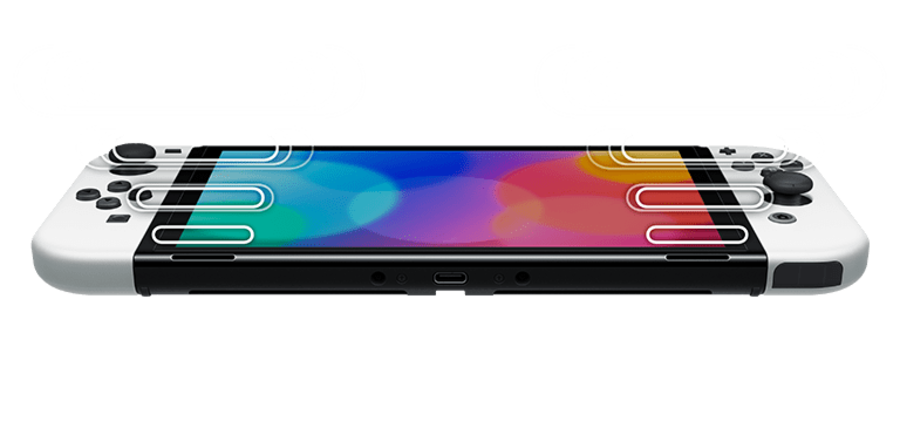 As for the pricing, the upcoming OLED Switch will cost $349.99, which is $50 more than the original Nintendo Switch launched in 2017. Furthermore, the new OLED Switch will have two color options, one with white Joy-Cons and another with neon red/blue Joy-Cons.
Meanwhile, the community would've loved it; had Nintendo announced the Nintendo Switch's new model with an Nvidia chip featuring DLSS support, as the rumors suggested. Then we guess a 7-inch OLED panel on the handheld device would do wonders. In case you wish to upgrade your Nintendo Switch, we suggest waiting for some time. Nintendo might release another Nintendo Switch with upgraded hardware soon.
Incidentally, the new Nintendo Switch OLED will launch alongside the highly awaited title Metroid Dread. Moreover, if you're looking for some upcoming Nintendo Switch games, look no further as we have the list you need.