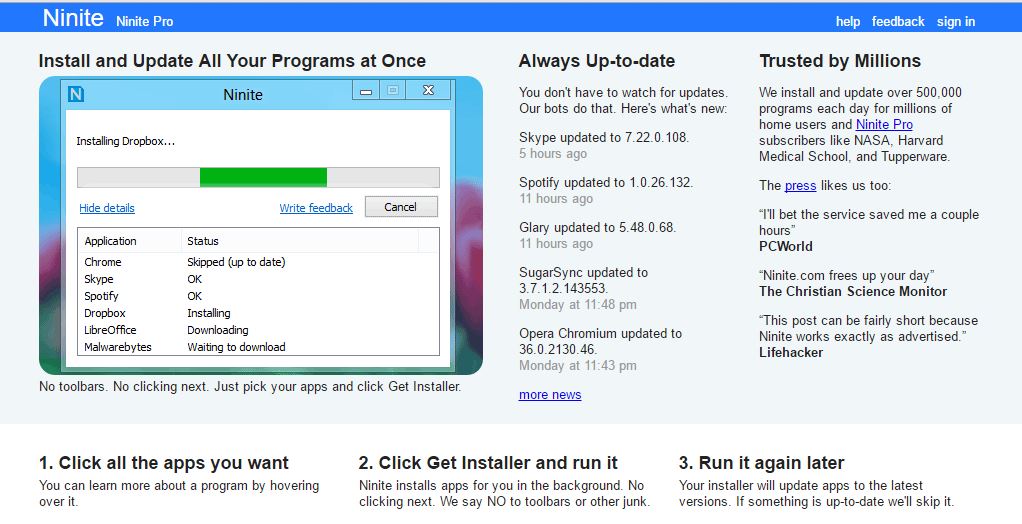 Short Bytes: Ninite is a platform from where you can download multiple Windows software and apps at the same time and install them as well. You just have to click a set of the software you want to install on your PC and it works like a charm.
W
hen we upgrade from an earlier version of Windows to the latest versions, we spend a lot of time figuring out the installers for different applications. We spend hour installing some of the most primary software like Skype, Adobe Reader, Google Chrome, VLC media player, uTorrent etc.
We download these software individually and install them one by one. So, that's more like click-click and next-next-next business.
How about you can get and install the desired apps and free software all at once? Is that possible? Yes, there is a way to it and that is with the help of Ninite.
Ninite.com is a site where you can bulk-install the best free software at once. You just have to select a set of software and you are done. Ninite describes this in very easy and simple terms:
Click all the apps you want: You can learn more about a program by hovering over it.
Click Get Installer and run it: Ninite installs apps for you in the background. No clicking next. We say NO to toolbars or other junk.
Run it again later: Your installer will update apps to the latest versions. If something is up-to-date it'll skip it.
Now you must be wondering how this website makes money. This website makes money by offering some free services.
The Ninite Updater is a small tool that runs in your system tray. The Ninite updater keeps on checking for application updates and allowing you to install multiple updates with a single click. It costs $9.99 per year for home users.
For corporate users, Ninite offers a $20 per month application called Ninite Pro that will allow you to centrally manage the software on up to 100 computers on a Windows domain. This also includes Ninite One, a desktop application for installing applications without visiting the Ninite website first.