According to a Fortune Business Insights report, the Linux market is expected to see a whopping 19.2% growth by 2027. The market size is expected to reach $15.64 billion by the end of 2027, compared to $3.89 billion in 2019.
The company also claims that a major contributing factor behind this growth could be Linux becoming a viable OS option for gaming and the support for more games will be added over time.
Linux is used in different industrial sectors by large companies, and an increase in product application in these sectors will play a key role in the growth of the Linux market. One of the other main factors is Linux-based cloud platforms used in a lot of industrial sectors and applications due to their speed, reliability, and cost.
The COVID-19 pandemic has affected almost all the markets, including Linux's. According to Fortune Business, there has been a slight dip in Linux interest on virtual machines and servers. The company also claims that profits cannot be determined and will remain uncertain due to the direction where the market is headed.
Nevertheless, the company claims that the Linux market will continue to grow at a strong annual growth rate until 2027.
Open Source Goodness
Due to its open-source nature, Linux is also playing a critical role in helping software developers and scientists contain COVID-19 in many countries. Different applications to help detect the virus with the help of embedded hardware like Raspberry Pi are almost being used everywhere during these hard times.
The report also stated that tech giants Facebook will also create growth opportunities. Arch Linux, Canonical, ClearCenter, Debian, Elementary, IBM, Amazon Web Services, etc., were also mentioned in the report.
Linux and Market Trends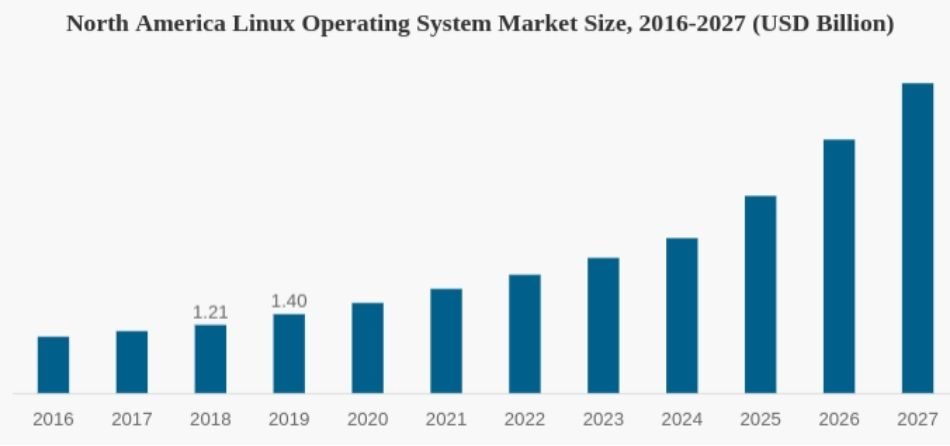 Studies have shown that some of the other factors contributing to the growth of Linux are the growing number of corporate mergers and acquisitions. There have also been a lot of interesting changes in market trends worldwide. A report suggests that the US Linux market was at $675.5 million and is bound to grow more, followed by the European market.
Apart from the European market, other markets in the Asia Pacific, including India, South Korea, and China, are also expected to contribute more to the overall growth due to the presence of a large number of data centers in South Korea, China, and Japan.
Growing usage of the internet has also contributed to the growth in countries in the Middle East, Latin America, and regions like Germany, Spain, Italy in Europe. Currently, there are over 400 data centers in the Asia Pacific regions which include 79 in China, 100 in India, 19 in South Korea, 47 in Japan, and 26 in Singapore, and a lot more.
Nonetheless, the future of Linux looks bright!