Here is a comparison of the two hot sub-compact SUVs in India: Kia Seltos and Hyundai New Creta. Hyundai Creta is one of the best selling sub-compact SUVs, and many people are quite familiar with the car.
However, the entry of its cousin Kia Seltos has divided the interest of the masses. Kia Seltos is quite attractive, both in terms of features and design, and comes with a similar price tag.
In 2019, the South Korean automaker Kia Motors made its debut in the Indian market with Seltos. The company is owned by Hyundai Motors; therefore, both Kia Seltos and Hyundai Creta share the same platform, chassis, and even engines.
However, there are subtle changes in the features, looks, and interior that make the difference. Today, we will be comparing all those, and in the end, we'll try to conclude which one will be better for you?
2020 Kia Seltos Vs Hyundai Creta: Base Variant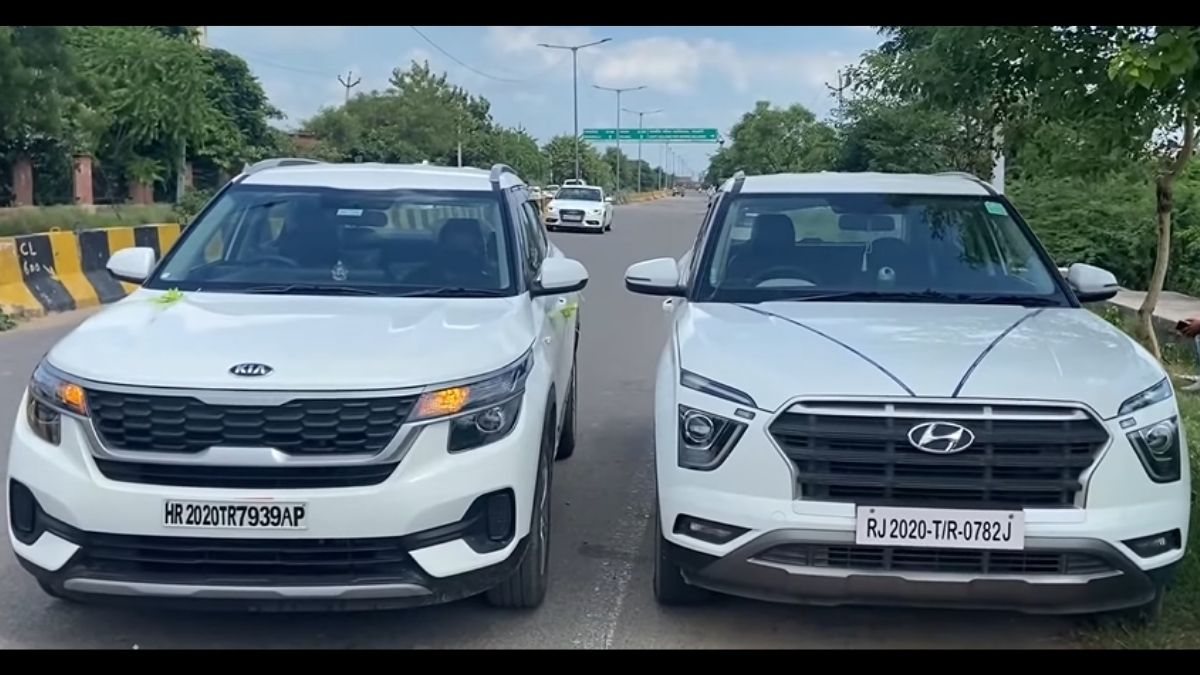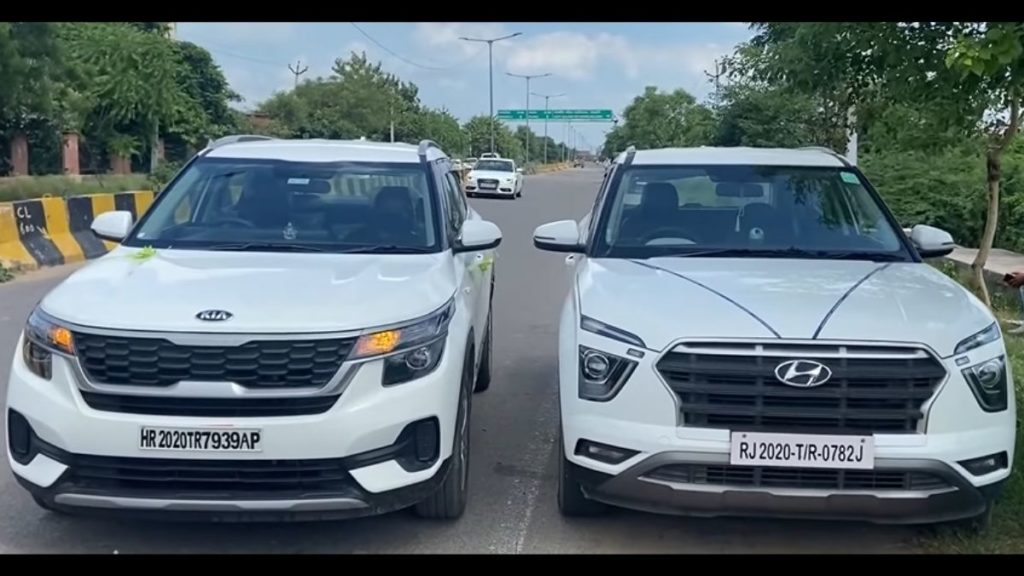 Both Hyundai Creta and Kia Seltos are available in petrol and diesel variants. However, here we'll be comparing only the petrol versions of these sub-compact SUVs. The base variant 'Hyundai New Creta E' is priced at Rs 9.81 lakh (ex-showroom), whereas the price of Kia Seltos HTE (base model) starts at Rs 9.89 lakh (ex-showroom).
Also Read: Hyundai New Creta Vs Hyundai Venue
Exterior Features Comparison
Starting from the front profile, the new Creta E is equipped with halogen headlamps, indicators, DRL, and the front grilles without the chrome-finished border. On the other hand, Kia Seltos has halogen headlamps, indicators, and parking lights. Also, the front grilles of Seltos come decorated with a chrome border.
LED DRLs and fog lamps are available in the higher-end variants of both cars.
Moving on to the side profile, the side indicator of Kia Seltos is present on the fender. However, in Hyundai Creta, it's integrated with the side mirror, which looks more streamlined. Both cars have the same 16-inch wheels with different styles of steel caps.
If we talk about the rear profile, then Creta looks slightly better. It has got DRL-like taillight with halogen lamps, indicators, reflectors, and parking sensors. Kia Seltos, on the other hand, has similar features; however, its taillight looks more like the older variant of Creta.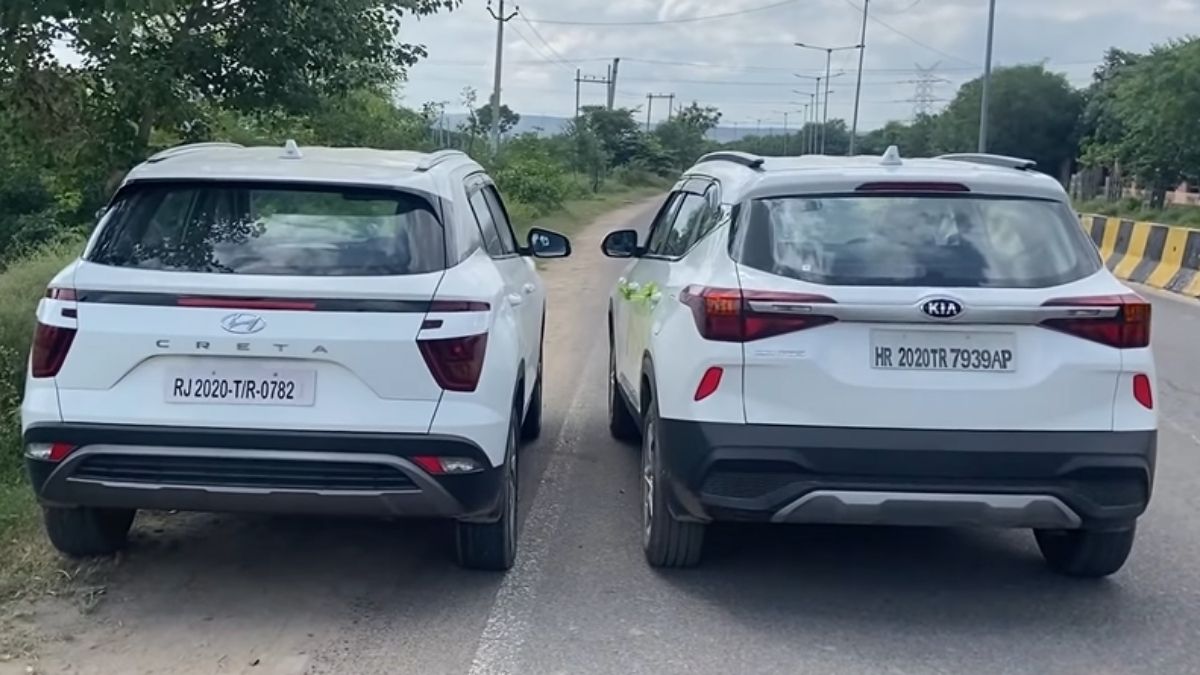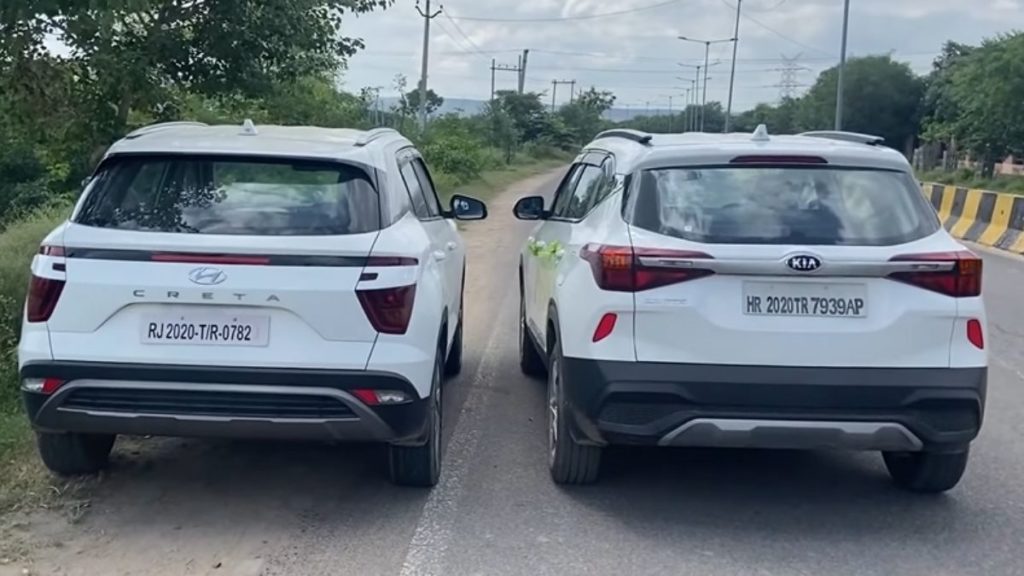 The base variant of Creta comes with a spoiler, and the Seltos has a shark fin antenna. Apart from this, Kia Seltos HTE is only available in two colors and is too non-metallic. In contrast, Hyundai provides metallic paint with six different color options in the base variant Creta E.
Interior Features: Explained
Kia Seltos comes with steering modded audio controls. It also provides a four-speaker and single din stereo system. Also, there are two USB ports and a sunglasses holder. All of these features are missing in Hyundai Creta E.
What's not in Seltos and offered in Creta are a cooled glovebox, electronically adjustable side mirrors, flat-bottom steering, and a dual-tone interior. Furthermore, both cars have all four power windows and charging port.
Performance
As mentioned earlier, both cars share the same 1.5-liter MPi BS6-compliant petrol engine. It is capable of producing around 113 BHP and 144 Nm of peak torque. The engine is paired with a six-speed manual transmission.
Furthermore, both compact SUVs have a fuel capacity of fifty liters. One of the biggest advantages of Kia Seltos over Hyundai Creta is that it has an option of all four disc brakes, which makes the braking better and safer.
Conclusion Kia Seltos Vs Hyundai Creta: Which One You Should Buy?
It's quite difficult to choose between the two cars based on their specs as more or less they are the same. However, if you consider the service network and after-sales value, then Hyundai clearly stands out in both. However, we hope that in the next four to five years, Kia Motors can easily expand its service network all over the country.
If we talk about design, then the front look of Kia Seltos looks better than New Creta, and the interior too looks more premium. Anyway, it largely depends on an individual, which attracts them more.
In short, Hyundai Creta is a great car but if you are looking for something fresh then Kia Seltos is worth buying.
It's just a personal opinion and we would love to know your views on the same. So, drop your views in the comments section below.